No. 214 (Federated Malay States) Squadron
Royal Air Force


CREWS & LOSSES
HARROW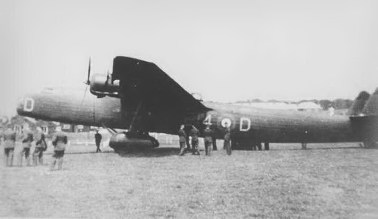 214 Squadron Harrow (prewar)
NOTE: If the serial number in the aircraft listings on the left is underlined, clicking on the serial number will take you directly to further details. If the serial number is in black, then no further details are available yet. Alternatively, you can scroll down through the Crews section using the scroll bar on your right.
---
NOTE: Pat Cunningham is researching K6989 and reports the following. 214's Handley Page Harrow K6989 which was delivered to 214 Sqn on 16 Sep 1937. Initially coded 214-K, it was later changed to UX-K. It apparently became lost on 08/07/1939, 'a foggy day', and forced-landed in a field at Barlow, just west of Sheffield, apparently damaging only its tailplane. The machine, (or major components of it), was recovered by 9 MU on 11 Jul 39 and it was struck off charge on 30 Nov 1939 as being beyond economical repair: although much was broken up by locals at the crash site. The F1180 (crash report) for this aircraft has been lost.
SOURCE & RESEARCH: Pat Cunningham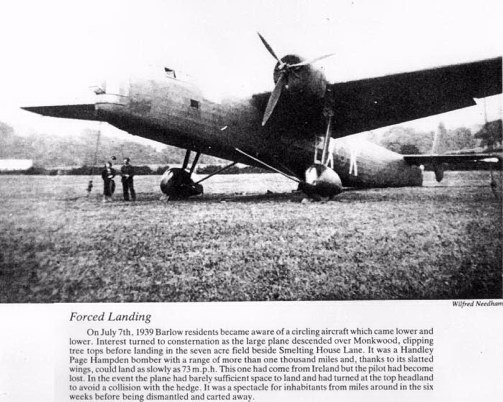 SOURCE & COPYRIGHT Wilf Needham and Author Roger Redfern
"Dronfield Round About" 1988.
For more information visit the wonderfull memorial and website dedicated to the air crashes near the village of Barlow established by Nick Wheat (Holmesfield) and friends at:
http://www.millthorpeaircrash.org.uk
---
The crew of Harrow ???? were:
Sgt Thomas Garside
Sgt Joseph McCarthy
P/O Wilfred Warner
Sgt John Simpson
????
Mid air collision between two Harrows aircraft.
The crash took place on April 29th.1937. Three aircraft flying in formation when one of the rear planes sliced the tail of the leading plane with the prop. I think 5 men died altogether. I recall a couple of names, Thomas Garside, Joseph McCarthy. Pilot Officer Wilfred Warner and a John Simpson who was apparently thrown clear of the wreckage but died later in hospital. One of the aircraft was recovered from the River Wissey, in this plane were the bodies of Thomas Garside and one other, a dredger from the Great Ouse Catchment was used to recover the wreck from the river. The incident was reported in the Daily Express and the Daily Herald on the 30th. April 1937.
Sgt Thomas Garside and two of the other crew are buried alongside in the cemetery behind the small church next door to the Chequers pub in Feltwell. .
SOURCE & Research: Peter Garside, Family of Thomas.
---
TOP OF PAGE