---
Valiant (model unknown) WZ379
This photograph was taken by David Bawden on the 3rd or 4th of November 1956 at Luqa Malta
Source : David Bawden

Date record last updated : 27 October 2017

---
Valiant (model unknown) XD812
http://www.youtube.com/watch?v=0pLQD-LuCho
Snapshot pieces of cine film taken in the early 1960's by RAF Pilot, F/Lt David Wright, showing the Vickers Valiant V-Bomber at outstations. (Karachi, Nairobi, Marham) Included are short flying sequences, and scenic shots of the Alps, Mont Cenis, Crete and Mount Ararat. The landing at RAF Marham, Norfolk (214 Squadron's base) is filmed from a De Havilland Chipmunk. Crew: F/Lt Boyd, F/O Ken Snape, M/Sgt John
Spear, F/Lt David Wright (last on board) and F/Lt Trevor Hurrell.
Professional film www.amazon.com "Look at Life" Volume 2 Military (Pipeline) shows same crew flying the receiver tanker Valiant XD812 during Valiant to Valiant flight refuelling, trailed by 214 Squadron, RAF Marham Norfolk. Filmed by the Rank Organisation on 23 August 1960, and referenced in F/Lt David Wright's logbook.
Crew of Valiant (model unknown) XD812 consisted of :
Flt/Lt Boyd
Flt/Lt Trevor Hurrell
Fg/Off Ken Snape
Sgt John Spear
Flt/Lt David Wright
Source : Judi Wright (daughter of Flt Lt David Wright)

Date record last updated : 28 December 2011
---
Valiant (model unknown) XD861
XD861 was in Capetown the same time that Sir Michael Beetham made his historic flight non-stop from Marham to Cape Town in XD858. It was carrying spares needed to repair a fault with XD 858's undercarriage.
Crew of Valiant (model unknown) XD861 consisted of :
Wg/Cdr Robert McAlistair 'Mac' Furze AFC
Source : Rowland White, the author of the book Vulcan 607' the epic story of the "Black Buck" bombing operations against Port Stanley airfield in the Falklands War and Nightjar Newsletter Winter / Spring 2007

Date record last updated : 30 December 2011
---
Valiant B Mark I XD869

Flew into the ground on takeoff. Crashed 2.5 miles North East of RAF Marham. Night takeoff on a trip to Nairobi. All 6 crew members were killed.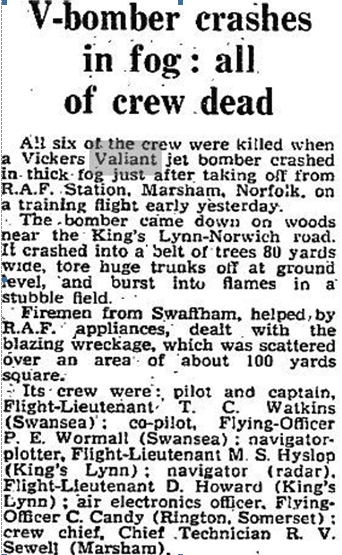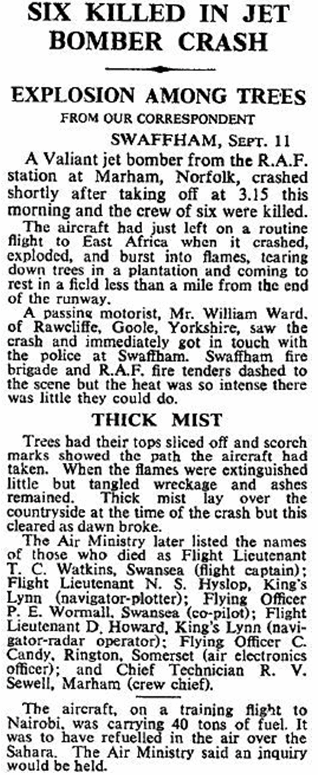 Ian Andrew states "There were 6 seats in a Valiant, two ejector seats for Captain and Co-pilot, 3 rear facing seats for 2 Navigators and 1 WOP/AEO. There was a 'jump seat' that was used by the Crew Chief on the occasions that he was needed to fly in the aircraft."
According to "Vickers Valiant - The first of the V-Bombers" by Eric B Morgan, (Aerofax 2002) the Valiant was lost for tailplane linked reasons.
XD869 Crash at Marham by Ian Andrew February 2009
"I was serving on 214 Sqdn when this event occurred. I was a 22-year-old, Cpl. Air Radar technician at the time. I had joined the Sqdn. In February 1959.
The Sqdn was engaged in an 'Exercise Sunspot' for 6 weeks. Most of the A/C and personnel, including myself, were in Malta at RAF Luqa.
XD869 was scheduled to carry out a 'Lone Ranger' flight from RAF Marham to RAF Eastleigh (Nairobi). This would necessitate in-flight refuelling from the tanker A/C operating from Luqa.
I was assigned to the night shift that was to pre-flight, see off and then see in and after flight the two tankers operating from Luqa. I cannot recollect the time that the shift was scheduled to start, but it was brought foreword and we were summoned from our accommodation about an hour early. We were told that this was because the weather at Marham was deteriorating and the schedule had been advanced to beat the weather.
I was the only Radar Fitter on the shift so I had to do both pre-flights. I had completed the inspection and signed the F700 of one A/C and while I was carrying out the 2nd pre-flight, one Cpl Greaves, an Armourer, came to the A/C to tell us that flying was scrubbed, 'because of the weather at Marham'.
The shift then closed up the A/C and put the bung's in the engines etc. And we went to an unexpected early night in bed. I believe that this was about 02:00 local time.
The following morning we were awakened by a very noisy day shift. This was most unusual as day workers normally respected the night workers rest period. They had heard on the radio that a Valiant had crashed at Marham.
We immediately assumed that this was why 'our' flight had been cancelled, awaiting an investigation. The next we knew was when the morning newspapers arrived by civilian airline. The casualties were named in one paper; this told us that it was a 214 Sqdn. Crew. The Crew Chief named was Chief Tech Bob Sewell. Bob was the Crew Chief of XD858, so we assumed that it was this A/C that had crashed.
About mid day, we had a Valiant fly in from Marham and we were assembled for a briefing where we learnt that the A/C involved was XD869.
All of the above are my recollections of the night, what follows is what I gleaned later, so I suppose it is hearsay, but it is 1st hand hearsay from other Sqdn. Members.
As was normal for 'Lone Ranger' flights, two A/C were prepared and two air crews readied. Because of the schedule being advance very close to ETD. The spare aircrew did the A/C 'walk around' while the prime crew attended their briefing.
On 'Lone Ranger' flights, where the Crew Chief was flying in the A/C, another Crew Chief was assigned to do the actual seeing off. In this case Bob Sewell was the 'other' Crew Chief. The Crew Chief of XD869, whose name escapes me, was suffering from a heavy cold or 'flu, so asked Bob to take his place on the 'Lone Ranger'. Bob went home to his family in Married Quarters to pack a bag and promised to bring home some pineapples for his kids. The 'Lone Rangers' to Eastleigh were known as 'the pineapple run'.
I know that the person that did the Radar pre-flight was one Cpl Mick Dunn, as he later told me how worried he was about having done a pre-flight on an A/C that crashed. Mick later became a navigator and was commissioned. He came from Leeds.
The Officer Commanding 214 Sqdn at the time was Wg. Cdr. Mike Beetham DFC, he later became Chief of the Air Staff, Marshal of the Royal Air Force Sir Michael Beetham GCB, CBE, DFC, AFC, DL, FRAaes. He is still alive, albeit now in his 80's."
Peter Walker writes:
"The crash of Valiant XD869 occurred almost exactly 12 monthas after I had left the RAF. It was very sad for me because I was on the groundcrew of this aircraft working in Chief Tech Sewell's team. Indeed I had flown a couple of times in XD869, including some of the early air to air refuelling trials in 1957/58. The morning of the crash I had to travel to Kings Lynn and knew nothing about it until just passing Swafham off the A47 there were the remains of a Valiant burnt out in a field. As far as I can remember it was some weeks after that I found out that it was XD869, my old aircraft".
Date of loss : 11 September 1959
Crew of Valiant B Mark I XD869 consisted of :
Fg/Off Christopher Candy AFM
, 4230039, Air Electronics Officer, Royal Air Force, Nationality : United Kingdom, KIA 11 September 1959, Aged 22
Flt/Lt Donald Howard AFM
, 2238475, Navigator / Radio Operator, Royal Air Force, Nationality : United Kingdom, KIA 11 September 1959, Aged 31
Flt/Lt Murray Frederick Hyslop AFM
, 3514067, Navigator / Plotter, Royal Air Force, Nationality : United Kingdom, KIA 11 September 1959, Aged 27
Chf/Tech Robert Vernon Sewell AFM
, 573172, Crew Chief, Royal Air Force, Nationality : United Kingdom, KIA 11 September 1959, Aged 37
Flt/Lt Thomas Cledwyn Watkins AFM
, 2567833, Pilot, Royal Air Force, Nationality : United Kingdom, KIA 11 September 1959, Aged 28
Fg/Off Peter Edward Wormall AFM
, 607747, Co-pilot, Royal Air Force, Nationality : United Kingdom, KIA 11 September 1959, Aged 22
Source : Jock Whitehouse (Squadron Association Historian) and Armed Forces Memorial and Eric B Morgan (author) and Ian Andrew and Peter Walker (Squadron Association Secretary) and old newspaper clippings after the crash

Date record last updated : 9 March 2009