214 WELLINGTON
'APRIL FOOLS DAY' TRAGEDY
A BLACK DAY FOR 214 SQUADRON
R1789X9979 Z1052 Z1156 Z8805 Z8842 Z8979
Wellington (model unknown) C9606

3 May 1943 Air Sea Rescue - no further details known

Crew of Wellington (model unknown) C9606 consisted of :

Plt/Off Hurley, Pilot
Flt/Lt Donald 'Mac' MacGilchrist, 169977, Bomb Aimer, Royal Air Force, Nationality : British

Source : Donald MacGilchrist

Date record last updated : 20 September 2008
---
Wellington Mark I C DV518 BU-C

Take off was from Sradishall at 19.55 hrs on 1 April 1942.

The target was Hanau and other targets in the region East and South of Frankfurt - low-level attacks on railway targets.

Bombed a railway bridge (11 spans, steel construction, and touching the end of a long thin island) over the River Rhine at Mainz at 23.00 hrs from 12,000(?) ft. Bombs seen to burst on the bridge and crew were sure that it was blown up.

Returned at 03.10 hrs.

Crew of Wellington Mark I C DV518 BU-C consisted of :

Wg/Cdr Cyril George Miles, Pilot, Nationality : United Kingdom
Sgt Terris, Co-pilot

Source : Ian Hunt

Date record last updated : 28 March 2015

---
Wellington Mark I C DV768 BU-?

Take off was from Stradishall. The operation was Kiel. Presumed to have crash landed in the sea close to the target. Four bodies were washed ashore and buried locally. Since 1945 they have been re-buried at Kiel War Cemetery. The two bodies not found are named on the Runnymede Memorial.

This was the last Wellington aircraft reported missing from 214 Squadron who were beginning a Stirling Conversion Programme.

Date of loss : 28 April 1942

Crew of Wellington Mark I C DV768 BU-? consisted of :

Sgt Sydney Walter George Avent, 1283173, Pilot, Royal Air Force Volunteer Reserve, KIA 28 April 1942, Aged 21
Sgt Allan John Hyde, 1375119, Co-pilot, Royal Air Force Volunteer Reserve, Nationality : United Kingdom, KIA 28 April 1942, Aged 21
Sgt Gordon Kenneth Moyle Newman, 118418, Royal Air Force Volunteer Reserve, Nationality : United Kingdom, Aged 19
Sgt G T Owen, 1007568, Air Gunner, Royal Air Force Volunteer Reserve, Nationality : United Kingdom
Sgt Harold Frank Vernon Wheway, 925047, Royal Air Force Volunteer Reserve, Nationality : United Kingdom, KIA 28 April 1942, Aged 22
Sgt Fernley Thomas Williams, 1201671, Air Gunner, Royal Air Force Volunteer Reserve, KIA 28 April 1942, Aged 30

Source : Chorley

Date record last updated : 28 March 2015
Wellington Mark I C L7849

The take off was at 16:06hrs from Stradishall on an operation to Le Havre. Upon return the aircraft crashed at 02:30hrs into the sea off Winterton Norfolk. A local Coast Guard vessel managed to rescue three of the crew, but the remainder drowned. The bomber's wireless was un-serviceable at the time of the crash.

Date of loss : 28 December 1940

Crew of Wellington Mark I C L7849 consisted of :

Sgt Alleway
Sgt Albert William Hodgson, 636770, Wireless Operator / Air Gunner, Royal Air Force, Nationality : United Kingdom, KIA 28 December 1940, Aged 20
Sgt John Francis Huxtable, 901860, Royal Air Force Volunteer Reserve, Nationality : United Kingdom, KIA 28 December 1940, Aged 24
Sgt Edward Bertram Douglas Jenkins, 748696, Pilot, Royal Air Force Volunteer Reserve, Nationality : United Kingdom, KIA 28 December 1940
Plt/Off J A Temperley
Sgt Vaughan-Davies


Source : Nightjar Newsletter Winter / Spring 2006 and Chorley

Date record last updated : 10 January 2016
Wellington L7859 BU-C

Wellington (model unknown) L7859 (29 November 1940) BU-C

Wellington (model unknown) L7859 (29 November 1940) BU-C

Target was Cologne West Bank industrial port . No results seen due to cloud cover.

Crew of Wellington (model unknown) L7859 (29 November 1940) BU-C consisted of :

Sqn/Ldr D F Balsdon, Pilot
Plt/Off Lodge, Co-pilot

Source : Ian Hunt

Date record last updated : 19 April 2009
---
January 10 1940

Colin fetched Wellington N2529, a new Mk 1A, from Weybridge.

Crew of Wellington Mark I N2529 consisted of :

Sqn/Ldr Colin Leslie Gilbert, 39458, Royal Australian Air Force, Nationality : Australian, KIA 7 May 1942, Aged 24

Source : Noel Baker

Date record last updated : 28 September 2013


Wellington Mark I C N2746 (29 November 1940) BU-M

Target was Cologne West Bank industrial port No results seen due to cloud cover.

Crew of Wellington Mark I C N2746 (29 November 1940) BU-M consisted of :

Fg/Off E Dawes, Pilot
Fg/Off Maclean, Co-pilot

Source : Ian Hunt

Date record last updated : 7 April 2009

Wellington Mark I C N2746 (13 March 1941) BU-M





On 13 March 1941 the crew took off at 2000 from their base Stradishall, Suffolk in Wellington IC N2746 BU-M. Their target was Hamburg .

They were on the way to their target, flying over the Dutch province of Groningen, when they were intercepted around 23.00 by a German night fighter, piloted by oberfeldwebel Paul Gildner. Gildner had been successful only twenty minutes prior, when he shot down a Blenheim of 110 squadron (with crew Flt/Lt Dickinson DFC, Sgt Charles William Fry and Sgt Robert Mower) which crashed west of Groningen, near Tolbert.

Shortly after shooting down the Blenheim he engaged the Wellington flown by Sgt Elder and his crew over the town of Jispinghuizen. Machinegun fire was heard among the roaring engines of the planes. The Wellington was hit and started to burn. Soon after the Wellington crashed on the eastside of the main road running from Vlagtwedde to Ter Apel.

Only the nose turret gunner, Sgt Douglas Wilmott Waters, managed to bail out of the burning plane. He was taken prisoner.

The rest of the crew was buried at the Esserveld cemetery in Groningen, where they were laid to rest together with the Blenheim crew that was shot down only minutes earlier.

A picture of the German fighter pilot (Ofw. Gildner) and his wireless operator, inspecting the wreck of Elder's Wellington which has been located by Stevin Oudshoorn (see below).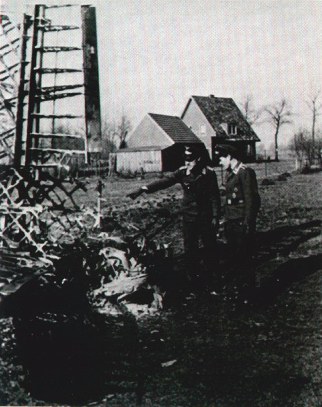 Ian Waters was able to take Douglas to visit the graves in 1999, but were unable to locate the crash site in the time they had.

In March 2016 Ian visited Holland on the occasion of the 75th anniversary of the crash. With the assistance of local help he was able to meet up with Mr & Mrs Abbes and their two sons. The Wellington had crashed just short of their farmhouse in the village of Jipsinghuizen. Mr Abbesís parents were living there at the time, and whilst they have sadly passed away, Mr Abbes was able to tell of his parents experience. Mr Abbes clearly recalled his mother having told him she saw the Germanís extract five crew from the plane, so my fatherís report, in which the Germans had told him Tommy had also jumped, but was too low, appears incorrect.
The following day Ian was taken to meet a Mrs Hulskar, a charming lady of 90 years old. She didnít speak English but the Abbesís were able to interpret. As a 14 year old she had a first hand account of the events of the night of 13/14 March 1941. She recalled a terrifying experience from the noise of gunfire of the German nightfighter shooting at the Wellington at a low altitude. She then saw a fully deployed parachute coming down, which implies his father left the aircraft at a higher altitude than 400 feet. This landed in a tree which she was able to show Ian.

Douglas had told Ian that he had seen lights of the German border post. This had previously caused them considerable difficulty in locating the crash site, and as the Abbesís were to inform us, this was not a border post but a concentration camp, several of which were along the border.
Mrs Hulskar told us, as a child, she was in the farmhouse with her parents and two friends. Douglas had knocked on the door and they took him inside. He was taken to the kitchen and offered coffee. A knock on the door revealed two gentleman known to the occupants of the farmhouse as German collaborators. Mrs Hulskarís father and his friend said they had seen no-one but would come and help find the parachutist, leaving their wives, Douglas and Mrs Hulskar in the house.

A subsequent knock on the door revealed the mayorís secretary who said they were aware of an escape network who would get Douglas to England. He left and they never saw him again. The mayorís office informed the farmhouse occupants that he had made it to England. That was incorrect as he was arrested shortly afterwards.

Mrs Hulskar did say Douglas returned to see them after the war and thank them for their help.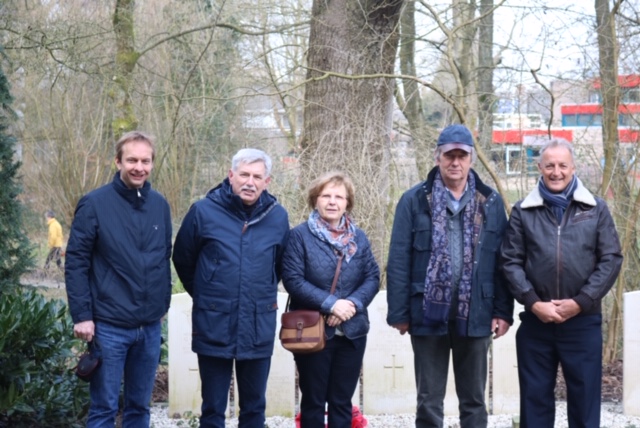 This photograph was taken when they placed at wreath at the graves on the 75th anniversary. They are from left to right Gert Abbes (son of Mr & Mrs Abbes), Klass Niemeijer of the Dutch WW2 aircrash investigation unit, Mrs Abbes, Mr Abbes and Ian Waters.

Sadly Mr Abbes passed away in August 2016 and Mrs Hulskar in October 2017.

Date of loss : 13 March 1941

Crew of Wellington Mark I C N2746 (13 March 1941) BU-M consisted of :

Sgt Victor Lawrence 'Vic' Bagley, 754080, Pilot, Royal Air Force Volunteer Reserve, Nationality : United Kingdom, KIA 13 March 1941, Aged 21
Sgt George Cedric 'Danny' Daniel, 618264, Air Gunner, Royal Air Force, Nationality : British, KIA 13 March 1941
Sgt Alexander Graeme 'Mick' Elder, 754780, Pilot, Royal Air Force Volunteer Reserve, Nationality : British, KIA 13 March 1941, Aged 19
Sgt Sol Glazer, 40621, Navigator / Observer, Royal New Zealand Air Force, Nationality : New Zealand, KIA 13 March 1941, Aged 29
Sgt John La Bassee 'Jack' Tomkinson, 701366, Wireless Operator / Air Gunner, Royal Air Force Volunteer Reserve, Nationality : New Zealand, KIA 13 March 1941, Aged 22
Sgt Douglas Wilmott Waters, 910761, Nose Gunner, Nationality : British, POW 13 March 1941

Source : Stevin Oudshoorn (Nachtjagdarchiv Horst Diener, via Ab Jansen in Wespennest Leeuwarden, vol. I, pg 116) and Chorley and Ian Waters (son of Sgt Douglas Wilmott Waters)

Date record last updated : 8 March 2019
Wellington (model unknown) N2776 BU-G

Wellington (model unknown) N2776 BU-G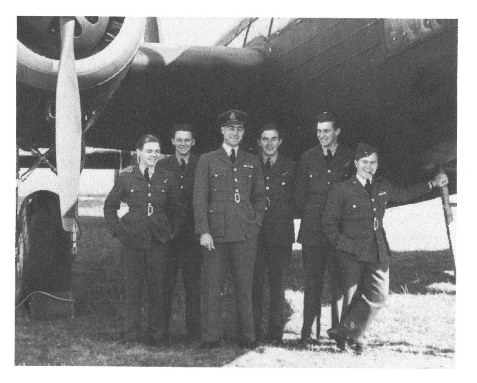 Crew (left to right) Ted Hargest, Sgt Evans, Maurice Hartford, George Steven, John Potter and Jack Wetherly (leaning on ladder). September 1940.

Several of this aircrew's early operations formed Bomber Command's contribution to the Battle of Britain: their attacks were on the German invasion barges gathering in the Channel ports.

Crew of Wellington (model unknown) N2776 BU-G consisted of :

Sgt Evans, Rear Gunner
Sgt Clayton Edward 'Ted' Hargest DFM, Wireless Operator
Flt/Lt Maurice Walter Hartford DFC, Pilot, Royal Air Force
Sgt John Frederick Potter DFC, Navigator
Sgt George Steven, Air Gunner
Flt/Lt Jack Harold 'Shorty' Wetherly DFC MiD, 82716, Co-pilot, Royal Air Force Volunteer Reserve, Nationality : United Kingdom, KIA 30 March 1943, Aged 28

Source : Christopher Jary, Author - Portrait Of A Bomber Pilot.

Date record last updated : 19 April 2009

Wellington (model unknown) N2776 (pre September 1940) BU-G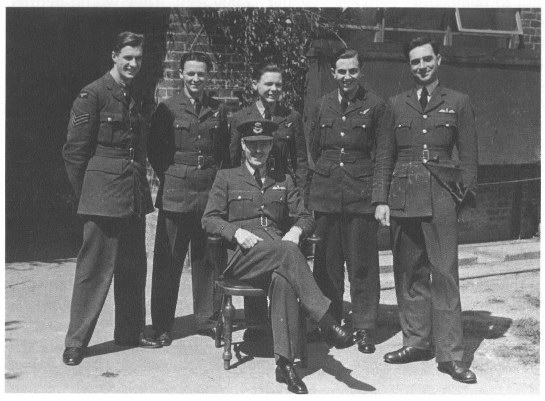 From left to right: John Potter, Sgt Evans, Ted Hargest, George Steven, Maurice Hartford and Fg/Off John Beck (in front sitting)

Crew of Wellington (model unknown) N2776 (pre September 1940) BU-G consisted of :

Wg/Cdr John Leighton Beck DFC & Bar MiD, Pilot
Sgt Evans, Rear Gunner
Sgt Clayton Edward 'Ted' Hargest DFM, Wireless Operator
Plt/Off Maurice Walter Hartford DFC, Co-pilot, Royal Air Force
Sgt John Frederick Potter DFC, Navigator
Sgt George Steven, Air Gunner

Source : George Coates (grandson of WC J L Beck) and Christopher Jary, Author - Portrait Of A Bomber Pilot

Date record last updated : 19 April 2009

Wellington (model unknown) N2776 (21 December 1940) BU-G

Target : Porto Maghera, Venice. Op duration 18.53 to 04.53.

Crew of Wellington (model unknown) N2776 (21 December 1940) BU-G consisted of :

Flt/Lt Frank Leslie Herbert Eddison DFC, 39377, Pilot, Royal Air Force Volunteer Reserve, Nationality : United Kingdom, KIA 9 May 1941, Aged 30
Plt/Off Walter Ronald Nisbett Sturdy DFC & Bar, 42906, Co-pilot, Royal Canadian Air Force, Nationality : Canadian

Source : Ian Hunt

Wellington (model unknown) N2778 BU-R

Wellington (model unknown) N2778 (29 November 1940) BU-R

Target was the West bank industrial port Cologne. No results seen due to cloud cover.

Crew of Wellington (model unknown) N2778 (29 November 1940) BU-R consisted of :

Flt/Lt Frank Leslie Herbert Eddison DFC, 39377, Co-pilot, Royal Air Force Volunteer Reserve, Nationality : United Kingdom, KIA 9 May 1941, Aged 30
Fg/Off O'Connor, Pilot

Source : Ian Hunt

Date record last updated : 3 October 2010

Wellington (model unknown) N2778 (19 December 1940) BU-R

Target : Boulogne. Unable to locate target due to cloud cover. Brought bombs back and landed Debden. (Op duration 23.18 to 04.55?)

Crew of Wellington (model unknown) N2778 (19 December 1940) BU-R consisted of :

Sgt William Herbert Browell, 754853, Co-pilot, Royal Air Force Volunteer Reserve, Nationality : United Kingdom, KIA 9 May 1941, Aged 25
Plt/Off Walter Ronald Nisbett Sturdy DFC & Bar, 42906, Pilot, Royal Canadian Air Force, Nationality : Canadian

Source : Ian Hunt

Date record last updated : 3 October 2010

Wellington (model unknown) N2778 (01 January 1941) BU-R

Target : Bremen. Op duration 18.12 to 23.40.

Crew of Wellington (model unknown) N2778 (01 January 1941) BU-R consisted of :

Sgt William Herbert Browell, 754853, Co-pilot, Royal Air Force Volunteer Reserve, Nationality : United Kingdom, KIA 9 May 1941, Aged 25
Plt/Off Walter Ronald Nisbett Sturdy DFC & Bar, 42906, Pilot, Royal Canadian Air Force, Nationality : Canadian

Source : Ian Hunt

Date record last updated : 3 October 2010

Wellington (model unknown) N2778 (29 January 1941) BU-R

Target : Wilhelmshaven (The 'Tirpitz'). Hit close to aiming point and caused 15 small fires and 2 explosions. Fires still visible 40 miles from target. Landed ok at base although cloud base only 150 ft. Op duration 02.52 to 08.17.

Crew of Wellington (model unknown) N2778 (29 January 1941) BU-R consisted of :

Sgt William Herbert Browell, 754853, Co-pilot, Royal Air Force Volunteer Reserve, Nationality : United Kingdom, KIA 9 May 1941, Aged 25
Plt/Off Walter Ronald Nisbett Sturdy DFC & Bar, 42906, Pilot, Royal Canadian Air Force, Nationality : Canadian

Source : Ian Hunt

Date record last updated : 3 October 2010

Wellington (model unknown) N2778 (10 February 1941) BU-R

Target : Hanover. Bombed at 23.00. Fires visible from 20 miles away on return. Op duration 20.53 to (03.--?)

Crew of Wellington (model unknown) N2778 (10 February 1941) BU-R consisted of :

Plt/Off Gilbert, Co-pilot
Plt/Off Walter Ronald Nisbett Sturdy DFC & Bar, 42906, Pilot, Royal Canadian Air Force, Nationality : Canadian

Source : Ian Hunt

Date record last updated : 3 October 2010

Wellington (model unknown) N2778 (14 February 1941) BU-R

Target : Gelsenkirchen (Nordstern Oil Refinery). Unable to locate target so bombed factories on eastern outskirts of Essen at 21.00 from 10,000 ft instead. One large explosion seen after the bombs had burst. Op duration 18.55 to 23.31.

Crew of Wellington (model unknown) N2778 (14 February 1941) BU-R consisted of :

Plt/Off Gilbert, Co-pilot
Plt/Off Walter Ronald Nisbett Sturdy DFC & Bar, 42906, Pilot, Royal Canadian Air Force, Nationality : Canadian

Source : Ian Hunt

Date record last updated : 3 October 2010

Wellington (model unknown) N2778 (22 February 1941) BU-R

Target : Brest ('Hipper' Class Cruiser). Returned with bombs. Landed Hatfield. Op duration 02.36 to 09.00.

Crew of Wellington (model unknown) N2778 (22 February 1941) BU-R consisted of :

Wg/Cdr Loughnan, Co-pilot
Plt/Off Walter Ronald Nisbett Sturdy DFC & Bar, 42906, Pilot, Royal Canadian Air Force, Nationality : Canadian

Source : Ian Hunt

Date record last updated : 3 October 2010


Wellington (model unknown) N2778 (25 February 1941) BU-R

Target : Düsseldorf. Bombed on ETA as 10/10 cloud. Large red glow seen after bombing. Op duration 18.51 to 23.43.

Crew of Wellington (model unknown) N2778 (25 February 1941) BU-R consisted of :

Sgt William Herbert Browell, 754853, Co-pilot, Royal Air Force Volunteer Reserve, Nationality : United Kingdom, KIA 9 May 1941, Aged 25
Plt/Off Walter Ronald Nisbett Sturdy DFC & Bar, 42906, Pilot, Royal Canadian Air Force, Nationality : Canadian

Source : Ian Hunt

Date record last updated : 3 October 2010
Wellington (model unknown) N2800 BU-P

Wellington (model unknown) N2800 (3 January 1941)

Raid on Bremen - Blitz

Crew of Wellington (model unknown) N2800 (3 January 1941) consisted of :

Flt/Lt Beck
Wg/Cdr Peter Doig 'Scotty' Scott MiD, 104442, Rear Gunner, Royal Air Force, Nationality : United Kingdom
Sqn/Ldr A H 'Pug' or 'Sniffer' Smythe, Pilot

Source : Sheila Scott Byrne (daughter of Wg/Cdr Peter Doig Scott)

Date record last updated : 10 July 2011

Wellington (model unknown) N2800 (9 January 1941)

Raid on Gelsenkirchen - Blitz

Crew of Wellington (model unknown) N2800 (9 January 1941) consisted of :

Wg/Cdr Peter Doig 'Scotty' Scott MiD, 104442, Rear Gunner, Royal Air Force, Nationality : United Kingdom
Sqn/Ldr A H 'Pug' or 'Sniffer' Smythe, Pilot
Plt/Off J A Temperley

Source : Sheila Scott Byrne (daughter of Wg/Cdr Peter Doig Scott)

Date record last updated : 10 July 2011

Wellington (model unknown) N2800 (15 January 1941)

Raid on Wilhelmshaven - Blitz

Crew of Wellington (model unknown) N2800 (15 January 1941) consisted of :

Plt/Off Harold Johnstone Paterson DFC, 83712 / 745714 / 742714, Pilot, Royal Air Force Volunteer Reserve, Nationality : United Kingdom, POW 20 April 1941
Wg/Cdr Peter Doig 'Scotty' Scott MiD, 104442, Rear Gunner, Royal Air Force, Nationality : United Kingdom
Sqn/Ldr A H 'Pug' or 'Sniffer' Smythe, Pilot

Source : Sheila Scott Byrne (daughter of Wg/Cdr Peter Doig Scott)

Date record last updated : 10 July 2011

Wellington (model unknown) N2800 (22 January, 4 February and 10 February 1941

Raid on:
22 January 1941 Dusseldorf
4 February 1941 Brest - Cruiser hit
10 February 1941 Hanover

Crew of Wellington (model unknown) N2800 (22 January, 4 February and 10 February 1941 consisted of :

Flt/Lt Sidney Dobson 'Tich' Meadowcroft, 102104, Pilot, Royal Air Force Volunteer Reserve, Nationality : United Kingdom, KIA 2 June 1944, Aged 26
Wg/Cdr Peter Doig 'Scotty' Scott MiD, 104442, Rear Gunner, Royal Air Force, Nationality : United Kingdom
Sqn/Ldr A H 'Pug' or 'Sniffer' Smythe, Pilot

Source : Sheila Scott Byrne (daughter of Wg/Cdr Peter Doig Scott)

Date record last updated : 10 July 2011


Wellington (model unknown) N2800 (11 June 1941) BU-P

Target : Düsseldorf. Bombed from 14,500 ft between "PQWP" [- typo for 01.20 ?] and 01.40. No results seen except flashes due to haze. Op duration 23.30 to 03.45.

Crew of Wellington (model unknown) N2800 (11 June 1941) BU-P consisted of :

Sgt Nicholls, Co-pilot
Flt/Lt Walter Ronald Nisbett Sturdy DFC & Bar, 42906, Pilot, Royal Canadian Air Force, Nationality : Canadian

Source : Ian Hunt

Date record last updated : 3 October 2010
Wellington (model unknown) N2802 BU-A

In mid November 1940 Jack Wetherly took over as Captain of a new crew from OTU. Together this crew flew ten or so operations during the bitingly cold winter of 1940 / 1941.
Sometimes Pockney was replaced by the most senior gunner on the squadron, Flight Lieutenant Culley.

Crew of Wellington (model unknown) N2802 BU-A consisted of :

Sgt Hubert William John Barr, 759105, Wireless Operator, Royal Air Force Volunteer Reserve, Nationality : United Kingdom, KIA 12 May 1941
Plt/Off Ian Douglas Napier Lawson CB, CBE, DFC & Bar, AE, 86354, Co-pilot, Royal Air Force Volunteer Reserve, Nationality : United Kingdom
Sgt Albert Livesey, 970744, Air Gunner, Royal Air Force Volunteer Reserve, Nationality : United Kingdom, KIA 12 May 1941, Aged 19
Plt/Off Ewart Duncan Pockney, 76925, Rear Gunner, Royal Air Force Volunteer Reserve, Nationality : United Kingdom, KIA 19 August 1941, Aged 35
Sgt Nigel Firth Walker DFC DSO, Navigator, Royal Air Force Volunteer Reserve, Nationality : United Kingdom
Flt/Lt Jack Harold 'Shorty' Wetherly DFC MiD, 82716, Pilot, Royal Air Force Volunteer Reserve, Nationality : United Kingdom, KIA 30 March 1943, Aged 28

Source : Christopher Jary, Author - Portrait Of A Bomber Pilot and Ian Hunt

Date record last updated : 19 April 2009


Wellington (model unknown) N2802 (Date unknown) BU-A

Crew of Wellington (model unknown) N2802 (Date unknown) BU-A consisted of :

Plt/Off Gordon Crampton, Pilot, Nationality : British, POW 14 July 1941
Flt/Lt J H Waite, 87654, Observer / Bomb Aimer

Source : Peter Waite (son of Flt/Lt J H Waite)

Date record last updated : 8 March 2019

Wellington Mark I N2993 BU-?

Crashed near Ely, UK after the pilot was blinded by the glare of searchlights whilst on a training flight

Date of loss : 6 June 1940

Crew of Wellington Mark I N2993 BU-? consisted of :

Sgt Peter Frederick Kay, 742168, Pilot, Royal Air Force Volunteer Reserve, Nationality : United Kingdom, KIA 6 June 1940, Aged 20
Fg/Off John Freeman Nicholson, 70501, Pilot, Royal Air Force, Nationality : United Kingdom, KIA 6 June 1940, Aged 22
Sgt Augustine Daniel Flurence O'Driscoll, 580123, Observer, Royal Air Force, Nationality : United Kingdom, KIA 6 June 1940, Aged 30
LAC Maurice Pelling, 749447, Royal Air Force Volunteer Reserve, KIA 6 June 1940
Sgt Bernard Raper, 548176, Wireless Operator, Royal Air Force, KIA 6 June 1940
Sgt Ernest Albert Revell, 514831, Air Gunner, Royal Air Force, Nationality : United Kingdom, KIA 6 June 1940

Source : Nightjar Newsletter Spring 2006 and Chorley and Jock Whitehouse and Gary Bick (Researcher)

Date record last updated : 21 March 2019