No. 214 (Federated Malay States) Squadron
Royal Air Force

Gift shop
The following are a collection of items that are directly or indirectly related to the 214 and would make great gift ideas for the historian, aviator or veteran in your family. Or, be greedy and "indulge yourself" with a good book or proudly show off your connection to the squadron with the various insignia and badges available.
A WORD OF CAUTION - BUYER BEWARE The Squadron site does not sell anything to anyone, neither does it receive any commission of any kind. The items listed for sale here are links and information that have been passed to us by various reputable sources. Note , all the links on this page take you away from this site, to get back here simply keep clicking the back button on your browser.

---
BOOKS, E-BOOKS & MAGAZINES
---
RAF LIBERATORS OVER BURMA

Book Title: RAF Liberators over Burma
Author: Bill Kirkness and Matt Poole
To Order from Amazon: https://www.amazon.co.uk/RAF-Liberators-Over-Burma-Squadron-ebook/dp/B0776CCC62/ref=sr_1_2?s=books&ie=UTF8&qid=1511784964&sr=1-2&keywords=RAF+Liberators+Over+Burma

Synopsis :

British RAF wireless operator/air gunner Bill `Enoch' Kirkness of Horsforth, Yorkshire, flew thirty-two B-24 Liberator bomber sorties, twenty-eight of which were against Japanese targets in Burma. He was credited with downing the night fighter that killed a crewmate and severely damaged his Liberator in April 1944; his aircraft's crash-landing abruptly ended his first tour of operations. He was awarded a prestigious Distinguished Flying Medal for his heroism. Bill's memoir of Wellington ferry flights, Liberator training, and operations with 159 Squadron typifies aspects of the human spirit-including fear and anxiety, focused determination, numbing boredom, brotherly camaraderie, heart-wrenching anguish, and comic relief-which any young man immersed within such a conflict would have likely experienced. Bill wore his heart, not just his sergeant's stripes, on his sleeve. Bill's story is a compelling, dignified account of an average man's war from 1942 to 1944 in the UK, the Mediterranean, Africa, and onward through his first operational tour based in India. Matt Poole, an expert on 159 Squadron and RAF Liberator activities against the Japanese, seamlessly enhances Bill's narrative with added historical detail. Although Bill passed away in 1994, Matt vowed to help bring the memoir to a wider audience.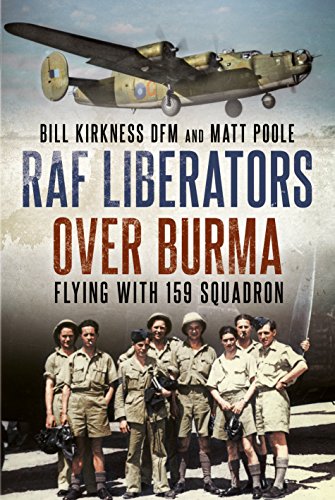 ---
FLYING AMONG HEROES


Book Title: Flying Among Heroes
Author: Norman Franks and Simon Muggleton
To Order from Amazon:
https://www.amazon.co.uk/dp/B008D30T8Y/ref=dp-kindle-redirect?_encoding=UTF8&btkr=1
Synopsis :
T.S.C. Cooke joined the RAF as war began in 1939, aged 18, and trained to be a bomber pilot. Rising to the rank of squadron leader and decorated three times, Cooke bombed Berlin on 7 October 1940 in a Whitley Mk V, nearly ditching in the North Sea. Throughout this tour he faced the usual dangers of wartime aircrew, his aircraft being hit by AA fire on several occasions, once almost having to order his aircrew to bail out but landed safely at the last minute. They were also attacked by night fighters, encountered icing and even shot up a train and bomber station at tree-top level. Flying Wellingtons and Stirlings, Cooke took part in the infamous 1,000-bomber raid on Cologne and Essen, before returning to operations flying Special Ops Halifax aircraft, dropping agents into enemy-occupied France. After a dozen missions, he was shot down but he and his navigator survived and evaded capture. Helped by the French resistance, they got into Spain and returned home via Gibraltar. Both men received the DFC for their bravery. While their story is not totally unique, their adventures and courage make this tale akin to an adventure novel.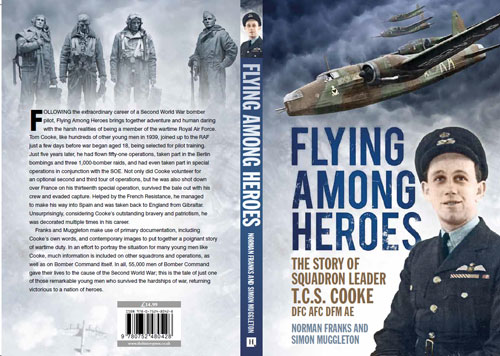 ---
ESCAPE The Best Sport Ever!


Book Title: ESCAPE The Best Sport Ever!
ISBN Number: 978-0-473-40433- 8
Publisher: Arthur J Gatland, New Zealand
To Order: Contact A J Gatland at gatlandaj@gmail.com or visit the Facebook page
https://www.facebook.com/EscapeTheBestSportEver/
Synopsis:
Frank Gatland was a decorated Kiwi Stirling bomber pilot with 214 Squadron (RAF). He was awarded the DFM for a daring low-level night attack on Genoa in 1942. A few weeks later, the Stirling was shot down by a Me110 over France. Frank evaded capture for 10 days while travelling 200km towards Switzerland, but was captured and became a POW. He escaped multiple times, with varying success, managing to cover over 1500km through Nazi-held Europe. In January 1945 he was part of the Great march of POWs west away from the approaching Russians. He survived the war and returned to New Zealand.
This book is his personal record of his war history. It is an amazing and enthralling record of his exploits, demonstrating courage and determination, coupled with his unique sense of humour throughout. His story is supported by over 100 photos and documents from the time, many from his personal wartime collection. It has received rave reviews, and sales have exceeded expectations. Such is the level of interest that it is already starting to appear in Libraries and schools in New Zealand.
Frank passed away aged 90 in 2007. The book has been published by his son Arthur Gatland, and ex-RAF Harrier pilot and current Air New Zealand B787 instructor, to recognise and preserve the historical significance of Frank's record – and so everyone can enjoy this great story!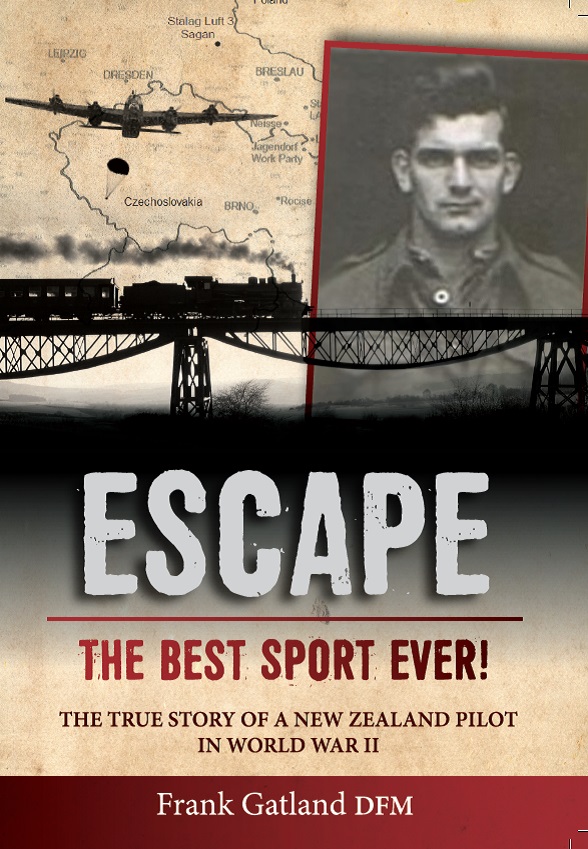 ---
Avenging the Shadows

Ronald James
A history of 214 Squadron

---
I was one of the Brylcreem Boys


Ronald James
An autobiography of his time in the RAF. ISBN 9781481089593.
---
The March East - The final days of Oflag 1X A/H and A/Z


Peter Green
---
B-17 - The Fifteen Ton Flying Fortress


Graham Simons and Harry Friedman Price: £19.99 ISBN: 9781848845381, Type: Hardback, Pages: 256
The Boeing B-17 Flying Fortress was the first American heavy bomber to see World War action when it was supplied to the RAF in 1941. Laden with abundant armaments, it had a massive and distinctive tail designed to improve its performance during high-altitude bombing, and went on to become one of the most famous and best-loved bombers of World War Two. The design of the B-17 originated in 1934 and included many highly advanced features for the time. Boeing continued to develop the aircraft as experience of the demands of long distance flying at high altitude was gained. When the USA entered World War Two, production of the aircraft was rapidly escalated and the Flying Fortress became the backbone of the USAAF in all theatres of war. This impressively researched book describes how the B-17 was built and utilises many previously unpublished photographs from the design studio and production lines. It illustrates and explains the many different roles that the aircraft took as the war progressed - heavy bomber, reconnaissance, anti-submarine and air-sea rescue operations - there were few tasks that this solid design could not undertake. Although other books exist which chronicle the history of this famous military aircraft, B-17: The Fifteen Ton Flying Fortress offers a fresh new approach that is as illuminating as it is fascinating. Using primary source documentation, it recounts the undoubted achievements alongside the shortcomings of design and operation that have otherwise received scant attention. It also delves into the surrounding murky world of power politics to deliver an intriguing account of all you never knew about the B-17. It will appeal to all with an interest in aviation or military history.
Graham Simons is a highly respected aviation historian and author. He has many contacts within the aviation industry that have resulted in him accessing the previously unpublished photographs shown in this book. American neuro-surgeon Dr Harry Friedman is a past-president of the Memphis Belle Memorial Association and a leading light in B-17 Co-Op, the B-17 aircraft owners and operators organisation.
To use images from the book or for further information, please contact Laura Wilkinson at
Pen & Sword Books
on Tel: 01226 734267 or via email at
publicity@pen-and-sword.co.uk
.
---
---
Flypast Magazine

FlyPast is internationally regarded as THE magazine for aviation history and heritage. Having pioneered coverage of this fascinating world of'living history' since 1980. FlyPast still leads the field today.

http://www.flypast.com

---
Pathfinder Cranswick by Michael Cumming

Michael Cumming's original work, based on family archives, official records and interviews of those who knew Cranswick, has been extended and updated with new material and previously unpublished photographs. Flying High Publishers presents the 50th anniversary edition of Pathfinder Cranswick as an ongoing tribute to one of the Royal Air Force's most distinguished and accomplished pilots, who flew the most operational missions. 'To look back at a boy-man so simply courageous and so selfless is an inspiration both rare and elevating' - Air Vice-Marshal D.C.T. Bennett, C.B., C.B.E., D.S.O. Squadron Leader Alec Cranswick, D.S.O., D.F.C., was an 'unsung hero', yet he reached a unique position in command of a bomber crew, exceeding 100 operational missions, latterly with Path Finder Force with whom he flew Halifax and Lancaster aircraft to pinpoint major targets as far afield from the P.F.F. bases in Britain as Pilsen in Czechoslovakia, Peenemunde on the Baltic coastline, and Berlin. Carefully-crafted and interwoven with the experiences of other flyers linked to him through the school he attended or the squadrons with whom he flew, Pathfinder Cranswick is a narrative in aviation history that makes compelling reading for succeeding generations.

Available from 15 March 2012
ISBN 9780956269676

---
Stay the Distance: The Life and Times of Marshal of the Royal Air Force Sir Michael Beetham
by Peter Jacobs
Sir Michael Beetham enjoyed a long and distinguished career in the Royal Air Force. He joined the RAF as a pilot in 1941 and was awarded the DFC whilst serving with Bomber Command during 1943/44. Remaining in the post-war RAF, a number of flying and staff appointments followed. Notably he drafted the first specification for the ill-fated TSR 2 and later joined the V-Force as commanding officer of 214 Squadron at Marham. Beetham then served at the heart of Bomber Command s affairs when the V-Force was at the forefront of the Nation s defences. The most critical moment came with the Cuban Missile Crisis in 1962. In 1964 he was given command of Khormaksar in Aden, the RAF s biggest overseas station. His arrival coincided with the start of a terrorist campaign against British forces in Aden. More senior appointments followed, notably as Commander 2nd Tactical Air Force and Commander-in-Chief RAF Germany, but the big prize came in 1977 when Beetham was appointed Chief of the Air Staff. In 1982 came the Argentine invasion of the Falkland Islands; as acting Chief of the Defence Staff, he was involved in the decision to send the Task Force to battle. After victory in the Falklands, Sir Michael Beetham handed over as CAS and was appointed Marshal of the Royal Air Force.
Sir Michael is currently the President of the 214 Squadron Association
ISBN 978-1848325524
Available from Amazon:
http://www.amazon.co.uk/Stay-Distance-Marshal-Michael-Beetham/dp/1848325525/ref=sr_1_1?s=books&ie=UTF8&qid=1298496828&sr=1-1

---
Chocks Away; World War II Memoirs and Letters

Wing Commander John Leighton Beck's memoires "Chocks Away" recall his service in 214 Squadron and later 159 Squadron.
ISBN 978-1846830389
The book is available from Woodfield Publishing
http://www.woodfieldpublishing.co.uk/contents/en-uk/p235.html
Also available from Amazon
http://www.amazon.co.uk/Chocks-Away-World-Memoirs-Letters/dp/1846830389/ref=sr_1_2?s=books&ie=UTF8&qid=1298511056&sr=1-2
---
P.O.W. Wartime Log of F/Sgt. T.D.Glenn
Roz Glenn writes : My father-in-laws (Tom Glenn) POW Diaries are available from the link below. Rod, Toms grandson has published it for the family but so many people expressed an intererst in it that it is stocked through Tesco, Waterstones and Amazon.
ISBN 978 0956373373
http://www.amazon.co.uk/P-O-W-Wartime-Log-Sgt-T-D-Glenn/dp/0956373372/ref=sr_1_fkmr2_2?ie=UTF8&qid=1284292018&sr=1-2-fkmr2

---
Sway War Memorial 1914-1945
by Tony Blakeley, John Cockram, Nick Saunders and Richard Williams
See website
http://www.natula.co.uk/Book_SwayatWar.htm
You can contact Richard Williams directly at XXXrtwilliams@orange.net (remove the XXX before you send email) The cost is £8 plus £4 p&p
---
IMMIGRANTS OF WAR - Americans serving with the RAF and RCAF during Word War II
by Wally Peter Fydenchuk
Self published by Wally.
You can contact Wally directly at XXXwpf13@hotmail.com (remove the XXX before you send email)
---
Portrait Of A Bomber Pilot
by Christopher Jary
The biography of Flight-Lieutenant Jack Wetherly, DFC, who was killed in action in a raid on Berlin in 1943, during his second tour of operations. The book has been revised and edited with new information.
The son of Peggy and Captain Sydney Jary MC of The Royal Hampshire Regiment; Christopher, and his mother wrote Portrait of a Bomber Pilot.
More than an entertaining good read, the book is also a valuable research tool for those looking for further information on the squadron and a deeper understanding of life in the RAF during WW2. Group Captain Leonard Cheshire VC DSO DFC wrote the Foreword while Ian Lawson, Geoff Cole, Ray Glass, George McKeand, Nigel Walker, Ray Holmes, Don Smith, John Leighton Beck, Mervyn Leyshon and many of Jack's friends and contemporaries breathed life into the book with their vivid memories of those brave, sad times.
ISBN 978-0951207871
Available from Amazon http://www.amazon.co.uk/Portrait-Bomber-Pilot-Christopher-Jary/dp/0951207873/ref=sr_1_1?ie=UTF8&qid=1298510197&sr=1-1

---
A Thousand Shall Fall : The True Story of a Canadian Bomber Pilot in World War II by Murray Peden
During World War II, Canada trained tens of thousands of airmen under the British Commonwealth Air Training Plan. Those selected for Bomber Command operations went on to rain devastation upon the Third Reich in the great air battles over Europe, but their losses were high. German fighters and anti-aircraft guns took a terrifying toll. The chances of surviving a tour of duty as a bomber crew were almost nil. Murray Peden's story of his training in Canada and England, and his crew's operations on Stirlings and Flying Fortresses with 214 Squadron, has been hailed as a classic of war literature. It is a fine blend of the excitement, humour, and tragedy of that eventful era.
Murray Peden was the first Chairman of the Manitoba Securities Commission. A bestselling author, his articles have appeared in aviation magazines and newspapers in Canada, England, and the United States. He was a bomber pilot in World War II, and his autobiography has been hailed as one of the finest war memoirs ever written.
ISBN 978-1550024548
---
ESCAPE AND EVASION by Squadron Leader Cyril Penna DFM




The fascinating true story of Sqn Ldr Cyril Penna and his epic journey to freedom after his Stirling bomber was shot down near the French town of Soisson. Many photos and memorabilia .

ISBN 978-1852000080

---
Even When The Sparrows Are Walking: the Origin and Effect of No 100 (Bomber Support Group) RAF 1943-45 by Laurie Brettingham.
---

DVD & VIDEO

---
Into the Wind DVD
Electric Egg are delighted to announce the release of Into the Wind on DVD. The DVD will be released on November 30th and is available to pre-order from today. The film is initially available in the UK, Australia and New Zealand, but theyare working on making it available in other territories.
The film is an insightful and touching documentary relating the experiences of Second World War aircrew veterans of Bomber Command through their own words and sadly in many cases for the last time.
As well as a document of unique historical value and significance, Into the Wind is a record of deeply personal stories, tales of friendships gained and lost, the perpetual possibility and proximity of death, the importance of love and family, the moral implications of warfare
and their shared love of flying.
Into the Wind features a evocative original score by composer Hugh Cowling, previously unseen archive material and is director, Steven Hatton 's first feature length documentary. It will be broadcast on UK TV on Yesterday Channel in 2012.
The DVD includes the 72 minute director's cut of Into the Wind, exclusive extras short documentaries and trailers, chapter selection menus and optional subtitles.
Extra features include:
•New Zealand at War: A 22 minute documentary looking at New Zealanders in Bomber Command. This film was made for the opening of the new aviation display hall at the Museum of Transport and Technology in Auckland, New Zealand.
•Ken Wallis. Aviator: A 13 minute documentary portrait of Ken Wallis' career in aviation from his days in Bomber Command to his ground breaking autogyro designs.
•Into the Wind trailer.
•The trailer for Steven Hatton 's new documentary, Heilig.
•A short film in which former Halifax pilot Dick Smith talks through the workings of the aircraft.

The DVD is priced (including postage & packaging) at £14.99 for UK delivery or £18.99 for Australian or New Zealand delivery.

To order please visit their website http://www.intothewind.co.uk/#/dvd/
---
A one hour video has been produced on the history of RAF Chedburgh mainly covering the period of No.218 Gold Coast Squadron, (Lancasters, December 1944 - July 1945) with special interest in the "then" last complete surviving Lancaster crew of WW2. The producers claim to profile in some detail the other squadrons that were based at Chedborough during the war, which of course includes the 214 FMS Squadron.
Copies are available from :
Ochreon Productions Ltd.
West Bank House, School Street,
Honeybourne Evesham, Wores. WR11 7PL
Tel: +44 (0) 1386 832665
---

BADGES

---
Blazer badges are available for most British regiments and many specialised units and R.A.F. Squadrons. All the blazer badges listed are in bullion wire, although silk versions are available. Military ties are available for most British regiments in silk or in good quality polyester, they are British made. Stripes and/or crests are available depending on the regiment or corps.
27 Post House
Wynd
Darlington
County Durham
DL3 7LP England
Tel. +44 (0) 1325 489820
XXXdiamondmerchants@btopenworld.com (remove the XXX before you send email)
---