No. 214 (Federated Malay States) Squadron
Royal Air Force

HISTORY

Motto: "Ultor in umbris" ("Avenging in the shadows")
Badge: A nightjar volant affrontée. The nightjar was chosen because it is a bird
which is active at night and is indicative of the role of the squadron.
Authority: King George VI, March 1938
TIMELINE




WW1

The squadron was originally formed at Coudekerque, near Dunkirk, on 28th July 1917, asNo. 7A Squadron, RNAS, and from the beginning its role was heavy night bombing. On the 9th December 1917, it reformed as No. 14 Squadron; RNAS, and on 1st April 1918, the same day the Royal Air Force was formed, 200 was added to its number "14" and it became No. 214 Squadron, RAF. Equipped with Handley Page twin-engined bombers, they flew from coastal airfields in France, mainly engaged in night attacks against naval and army targets in Belgium, but also bombed targets in France. At the start it operated under the Dunkirk Naval Command, then from March to June in the 7th Brigade under the control of the Army, and lastly, from 4th June to the Armistice in the 82nd Wing, again under the Naval Command. In April and May 1918, it assisted in the Naval blocking operations at Zeebrugge and Ostend. An interesting event during its wartime career was the night of 24/25th July 1918, when it dropped the RAF's first 1,650-lb. bomb on the enemy. (see note A) Posted to Egypt in 1919, No. 214 disbanded the following year.




WW2

214 squadron was next resurected in 1935 at Boscombe Down as a bomber squadron again. Later it arrived at the newly built Feltwell airbase from Scamton on April 13th 1937. From here it flew Harrows from April 1937 to July 1939 but began switching to Wellington I's in May 1939. The squadron then moved to Feltwell satellite station, Methwold in Sept 1939 and remained there untill moving to Stradishall in Feb 1940. It is interesting to note that Methwold was nothing more than a field with some tents at the time. 214 squadron officially entered the war on June 14, 1940 flying Wellingtons and the first raid was a fire raising attack on German forests by 2 Wellingtons on 14/15 June 1940.




In September 1941 the squadron was honoured by being adopted by the British Malayan Federation and had "Federated Malay States" officially incorporated in its title. The FMS put up the funds to raise the squadron and equip it.




For the most part of the Second World War the squadron served in No. 3 Group and over this period flew some of the bloodiest missions of the war against naval, industrial and other targets in Europe. Many never returned. The 214 provided completely unbroken service throughout the war in Bomber command (though not on Ops for first nine months) and had the highest percentage of losses of 3 Group. It also played an active role in Gardening or minelaying operations.




In April 1942 the Squadron converted to Stirlings. It is little known, but the nucleus of the recently re-forming 215 Squadron destined for the Middle East, was to a large extent, made up from experienced crews pulled away from the 214 Squadron beginning sometime in the fall of 1941 and continuing untill the spring of 1942.




In Oct 1942 the Squadron moved to Chedburgh then on to Downham Market in Dec 1943, continuing with Stirlings until January 1944 when its tour of duty with No. 3 Group ended. The squadron was later transferred to No.100 (Bomber Support) Group where it was subsequently re-equipped with American Flying Fortress aircraft. Here it was engaged in radio counter-measures (detection and jamming of enemy radio and radar equipment) until May of 1945.




On 27 July 1945, 214 squadron disbanded. Later the same day, 614 Squadron, a Liberator unit at Amendola Italy, was renumbered 214 Squadron and moved to Palestine in August where it converted to Lancasters before being renumbered 37 Squadron on 15 April 1946. On 4 November 1946, 214 reformed at Upwood as part of post war bomber command, later re-equipping with Lincolns in February 1950. A detachment of these was based in Kenya during the Mau-Mau uprising and the squadron disbanded again on 30 December 1954. On 15 June 1955, it was reformed at Laarbruch with Canberras for photographic reconnaissance duties but was renumbered 80 Squadron on 1 August 1955.




On 21 January 1956, No.214 reformed at Marham as a Valiant squadron of the V-bomber force and in September 1956 was detached to Malta for attacks on Egyptian airfields during the Suez campaign. In April 1962, it became a tanker squadron and was disbanded on 28 February 1965, with the grounding of the Valiant force. * See FIRST CONTACT below for an in depth look at In-Flight refuelling.




On 21 July 1966, 214 squadron reformed at Marham with Victor tankers which were used for refuelling both fighters and bombers during long-range moves and in maintaining fighter patrols beyond their normal range. It disbanded on 28 January 1977.




A\ The aircraft that dropped the big bomb was an HP 0/400 piloted by Sergeant LA Dell with Middelkerque being the intended target of the attack. The following account of the effect of this raid as extracted from the records of the 5th Group, Dover Patrol: ". ..[The bomb] functioned successfully and all the lights in the town immediately went out and AA fire (which had been intense) stopped and was not renewed although a subsequent photograph showed that the bomb had dropped in a field about half a mile east of the town. The crater caused by the bomb had a diameter of over 50 feet and the spread of earth displaced covered an area over 100 yards in diameter."





First Contacts T

his excellent, well researched article written by

Author F/Lt Gary Weightman

traces the history of in flight refuelling and references the role the 214 Squadron had in the development of this technology. This is quite an interesting story on an important part of aviation history. Written in an easy going style, it focuses on the history of the technology and spares the reader the actual technical details.


The Valiant Years This is an insight into what progress was made in those early days of inflight refuelling and the wonderful places around the world that the RAF used to have bases.

Flying down to RIO The trial and tribulations of a planned trip to RIO!.

The Flying Fortress The article is a narrative completed by Flight Lieutenant Gordon Carter and his son in 2001 for 'Through Eyes Of Blue', a book written by Wing Commander A E Ross (pages 176 and 177, published by Airlife in 2002. ISBN 1 84037 345 8)


214 Air Bases:
Boscombe Down: 1935
Scampton:
Feltwell : Apr 13 1937-Sep 1939
Methwold : Sep 1939-Feb 1940
Stradishall : Feb 1940-Jan 1942
Honington : Jan 1942
Stradishall : Jan 1942-Oct 1942
Chedburgh : Oct 1942-Dec 1943
*Downham Market : Dec 1943-Jan 1944
*In Jan. 44 the squadron transferred from Downham Market & No. 3 Group to Sculthorpe & No. 100 Group and became known as No. 214 (BS) Sqdn and had a radio counter-measures role.
Sculthorpe : Jan 1944-May 1944
Oulton : May 1944 onwards
Commanding Officers
Sqn Cdr/Maj Herbert G Brackley DSO, DSC; (later A/Cdre) 9 December 1917
Maj William L Welsh DSC; (Later AM) 26 March 1919
Maj Brown July 1919
Absorbed into no. 216 Squadron on 1 February 1920
W/Cdr David F Luckling;(later A/Cdre) 19 September 1935
W/Cdr O C Bryson MC, DFC, AM 29 October 1937
W/Cdr W. Sanderson 28 September 1938
W/Cdr F.E. Nuttall February 1940
W/Cdr G.H. Loughnan October 1940
W/Cdr Richard B Jordan DFC;(later AM) March 1941
W/Cdr G.L. Cruickshanks August 1941
W/Cdr R.D.B. MacFadden 17 September 1941
W/Cdr E.J.P. Davy 12 February 1942
W/Cdr Kenneth Duke Knocker April 1942
W/Cdr A.H. Smythe DFC AFC 15 July 1942
W/Cdr M.V.M. Clube March 1943
W/Cdr Des J. McGlinn July 1943
W/Cdr D.D. Rogers August 1944
W/Cdr R.L. Bowes March 1945
Squadron disbanded on 27 July 1945
On 4 November 1946 the Squadron reformed again but no names have been discovered for this period.
Squadron disbanded on 30 December 1954
W/Cdr L H Trent VC, DFC 21 January 1956
W/Cdr Sir Michael James Beetham DFC, AFC, GCB, CBE, DL:( later Marshall of the Royal Air Force) 10 February 1958
W/Cdr P G Hill 1960
W/Cdr K Smith DFC 1962
W/Cdr P B MaCorkindale 1964
Squadron disbanded on 1 March 1965
W/Cdr D Mullarkey MBE 1 July 1966
W/Cdr C D Preece AFC 10 June 1968
W/Cdr J R Tucker June 1970
W/Cdr Anthony G Skingsley; (later ACM) 12 June 1972
W/Cdr David Parry Evans; (later ACM) 5 July 1974
W/Cdr John D Lomas 11 July 1975
Sqn Ldr Godfrey W Moffatt 24 December 1976
Squadron finally disbanded on 28 January 1977

Source rafweb.org
Ian Lawson comments on the numerous changes in command: "One other aspect worth mentioning, as far as the inexperienced junior officer was concerned, and I suppose the NCO aircrew as well, was the constant changes that took place in the senior appointments in the Squadron. When Wing Commander Nuttall left, Squadron leader Baldson acted as C/O while Squadron Leader Sharp moved to command A Flight from B Flight, and Squadron Leader Kitchen took over B Flight. In the meantime Wing Commander Loughnan took over as C/O and Squadron Leader Smythe left to join the Wellington OTU at Hartwell. In March Wing Commander Jordan took over as C/O. We barely had time to get to know them nor, for that matter, they us.
(From "Portrait of a Bomber Pilot" by Christopher Jary) - Recommended reading !
214 Squadron Aircraft:
Handley Page : 1918
Harrow : Apr 1937 - July 1939
Vickers Wellington I, IA, IC, II : May 1939-Apr 1942
Short Stirling I and III : Apr 1942-Jan 1944
Boeing Fortress II : Jan to Nov 1944
Boeing Fortress III : Feb 1944 onwards
*MkI from April 1942 to Dec 1943
*MkIII from Feb 1943 to Jan 1944
*source http://www.stirling.box.nl/sqdn.htm
Code Letters:
During the 1938 Munich crisis No. 214 was allotted the code letters "UX". In WW2 it's aircraft were coded "BU" (and, in the case of "C" Flt's Stirlings, "PX").
*214 Squadron code: BU and PX
*Source http://www.stirling.box.nl/sqdn.htm


First Bombing Mission in WWII:
14/15th June 1940 : 2 Wellingtons bombed, with incendiary bombs, part of Black Forest east of line Oberkirch-Geubach.
Last Operational Mission in WWII:
2lst/22nd January 1944 : 3 Stirlings bombed an unknown "special" target.
Last Mission before VE Day
:
2nd/3rd May 1945 : Window patrol by 11 Fortresses in Kiel area.
SOURCE: much above 214 Squadron history from http://www.raf.mod.uk/history/h214.html and numerous secondary sources. Compiled, edited & written by Kevin.
Raids flown
3 Gp Wellingtons - 184 bombing, 1 minelaying
3 Gp Stirlings - 131 bombing, 88 minelaying, 3 leaflet
100 gp Fortresses - 192 RCM
Losses
Wellingtons - 1532 sorties 45 aircraft lost
Stirlings - 1432 sorties 54 aircraft lost
Fortresses - 1225 sorties 13 aircraft lost
29 Stirlings lost in crashes
The 214 flew a total of 4,189 sorties during which they lost 112 aircraft or 2.7%
Suffered the highest percentage losses in 3 Group
Source: 'The Bomber Command War Diaries' by Martin Middlebrokk and Chris Everitt
End of 214 Squadron newspaper article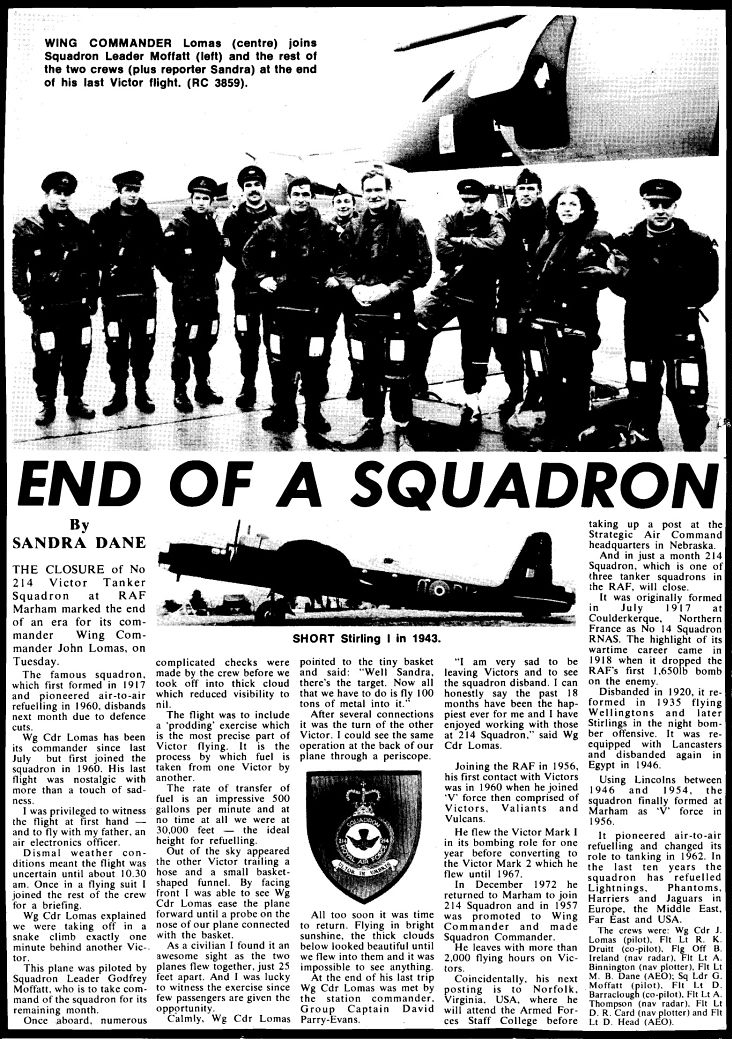 Article written by Sarah Dane, reporter from the Kings Lynn News and Advertiser and daughter of Flight Lieutenant Michael Dane
Source: Flt/Lt David Card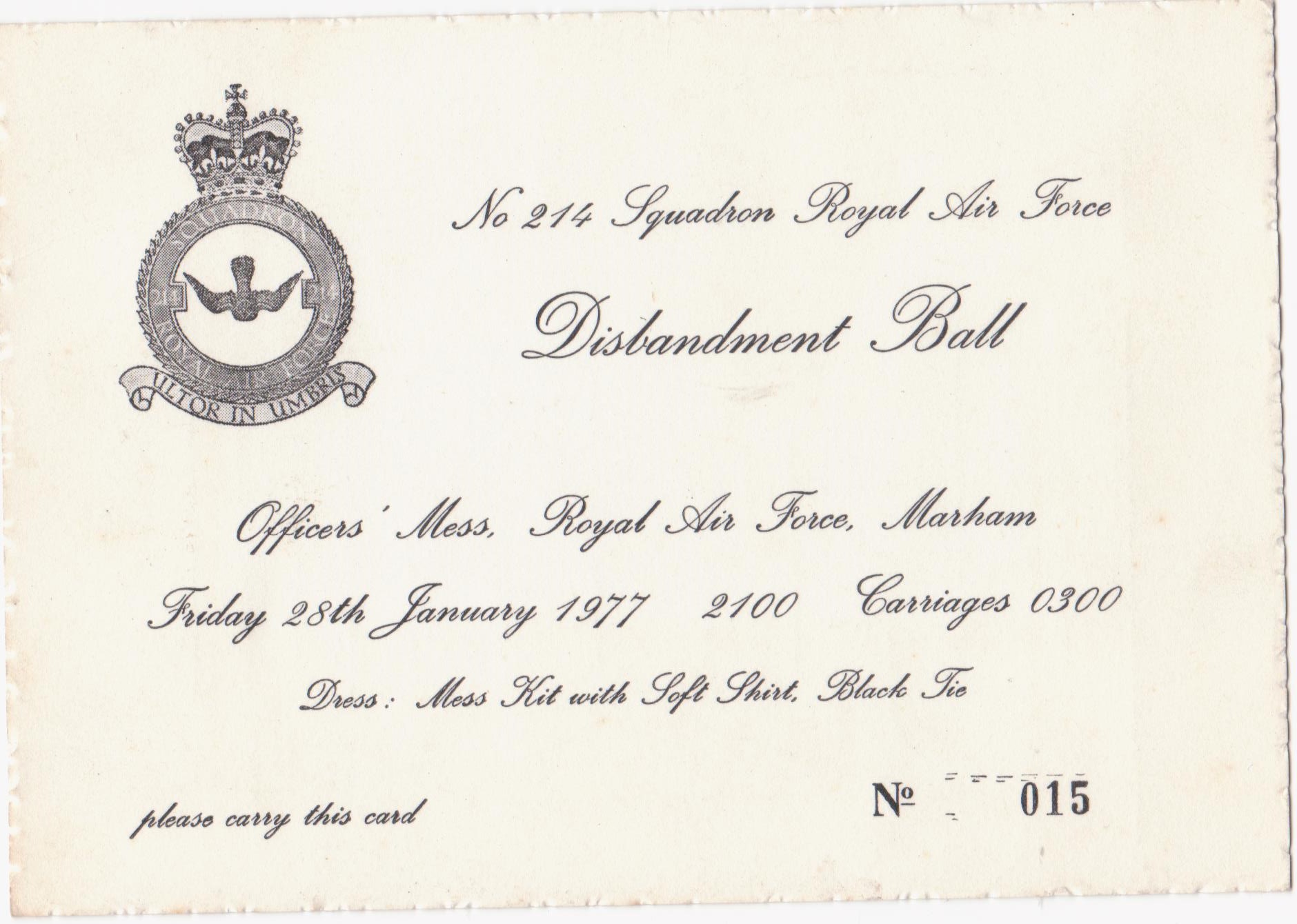 Source: Flt/Lt David Card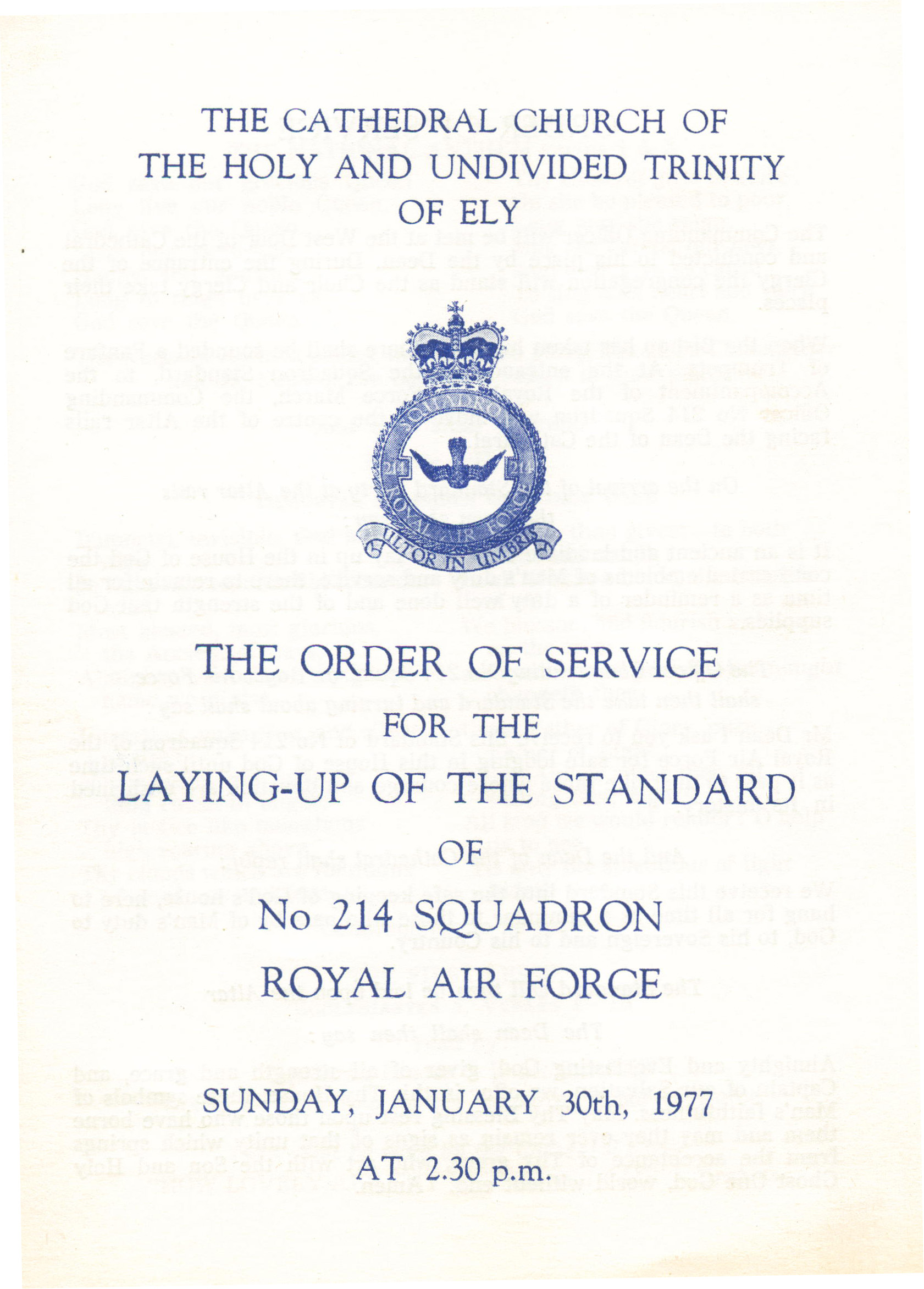 The order of service for the laying-up of the standard of 214 Squadron at Ely Cathedral

TOP OF PAGE