'You are posted to RAF Marham'! The year is 1959 and fresh out of armament mechanic training the clerk advises me of my posting; 'Report to the general office on arrival'. I am posted to a Bomber unit with the first of the V Bombers, the Valiant. Leaving Melksham for Marham all kinds of visions pass across the mind, but you have to feel that a posting to a Squadron would be much better, as it would be more exiting and a chance to see the world. On arrival at Marham it took a few months to settle in and attend the Valiant Ground Servicing course at RAF Gaydon and the Martin Baker Ejection Seat course Type 3A at Higher Denham and then it happened, I was posted to No 214 Squadron, what joy.
Just to put you in the picture, concerning 214 Squadron and Marham, I think a little history would not go amiss.
On the 21st January 1956, 214 Squadron re-formed at Marham with Valiant B1's, first of the V Bombers. Powered by four Avon 204 axial-flow turbojets rated at 10,050 lb.s.t. Estimated performance: speed 610 mph at 40,000 ft cruising speed 530 mph service ceiling 50.000 ft initial rate of climb 4,500 ft/min and range was 3,000 plus miles.
The same year 207 Squadron disbanded on 27th March and re-formed at Marham on 1st April with Valiants. (During that month a party of VIP's arrived on the station and included; Mr N Kruschev, Marshall Bulganin, Mr I V Kurbachov (a nuclear scientist) and Mr A N Tupolev, the Russian aircraft designer). 148 Squadron also re-formed at Marham on the 1st July with Valiant aircraft.
During September/October 1956 all three squadrons were detached to Luqa airfield in Malta to take part in the Suez operations. In October, 214 Squadron carried out raids with 1000lb bombs on El Adem airfield, Almaza and Abu Sueir, and in November the targets were Kasfrit, Huckstep Barracks and El Agami. All of these squadrons returned to Marham in November/December 1956. Also, with the arrival of the nuclear capability in 1957, RAF Marham was awarded its own Station Crest, a Blue bull with the motto "DETER".
In-flight refuelling was not a new concept in 1956, history records that as early as 1919 some people were beginning to think that by transferring fuel from one aircraft to another in flight, thereby extending their flight times, that this idea could be used for trans-continental flights and many combinations of aircraft have been used through the years trying to prove the benefits of in-flight refuelling.
Flight Refuelling Ltd (FRL) has had a long association with the RAF but the company was about to end its long association with propeller-driven aircraft. In May 1953, following a decision to equip the RAF's 'V' bomber force for aerial refuelling, Canberra B.2, WH 734 arrived at FLR and after installation of the prototype Mk. 16 Hose Drum Unit (HDU), then being developed for the Valiant tankers, it became Britain's first jet tanker.
Further studies in flight refuelling led to trials of a modified Valiant bomber, which started flying from Boscombe Down in 1956 and after clearance for Service was obtained from the Aircraft and Armament Experimental Establishment (A & AEE) 214 Squadron began Valiant-to-Valiant flight refuelling trials in 1957, which were in the main dry contacts. Then in March 1958, whilst retaining its bombing role, 214 Squadron became the trials and development unit for flight refuelling trials number 306 and 306A, Trial No 306 was to test the capability of aircraft tanker and receiver equipment, and Trial No 306A was for developing modern rendezvous (RV) procedures and techniques. (These Trials were to last until May 1960). The initial training of both air and ground crews was carried out at Flight Refuelling Ltd. at Tarrant Rushton, while a Flight Refuelling School was developed at Marham - and all subsequent training for flight refuelling in the Royal Air Force was to be carried out at this School.
During this evaluation period Wg. Cdr. Michael Beetham commanded the Squadron; who as we all know became Chief of the Air Staff in 1977 and eventually retired from the service as Marshall of the Royal Air Force in 1982.
Conversion of the Valiant Bomber entailed the fitting of a probe to the front of the NBS scanner bay and connecting it internally to the aircraft fuel system and installing a Mark 16 HDU internally in the rear of the bomb bay and a 4500 lb fuel tank in the front of the bomb bay. The HDU control panel was positioned beside the Navigator Radar who became in addition the fuel panel operator. External floodlights were fitted to give the aircraft the capability of flight refuelling at night.
The modification to the Valiant bomber gave the aircraft in the tanker role the facility of transferring 45,000 pounds of fuel at a maximum rate of 4000 pounds per minute with a maximum drogue fuel pressure of 50 pounds per square inch. Although there were early teething problems, these were overcome, and in January 1959 two fully modified tankers began wet transfers.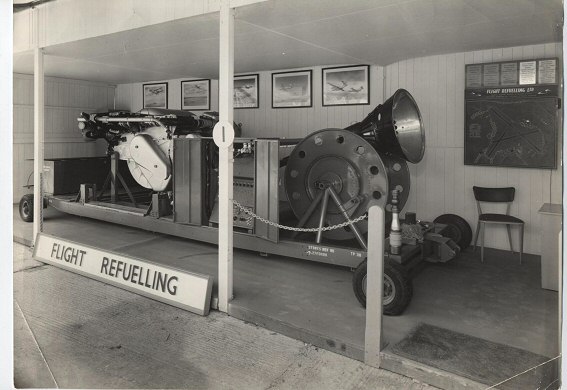 The Mark 16 Hose Drum Unit and Drogue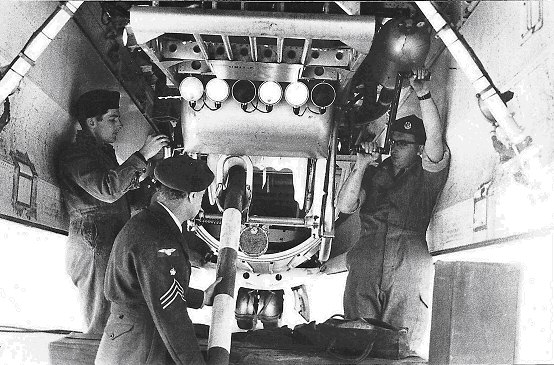 Hose Drum Unit (HDU) installed in the bomb bay; winding in the hose.

The 214 Squadron Valiants actually gave their first public demonstration of air-to-air refuelling at the 1958 Society of British Aircraft Constructors (SBAC) Flying Display, after which, during the Trial No 306 they were involved in many long distance proving flights and various interesting unofficial records were made:
a. Marham to Aden in 7 hrs 10 mins.
b. Marham to Nairobi 4,350 miles in 7 hr 40 mins.
c. Marham to Salisbury 5,320 miles in 9 hr 42 mins.
d. UK to Johannesburg 5,845 miles in 11 hr 3 mins.
e. UK to Capetown 6,060 in 11 hr 28 mins.
f. Capetown to UK 6,060 miles in 12 hr 20 mins.
g. The longest jet flight (at that time) by an RAF aircraft, (214 Sqn Valiant) of 18hr 5 mins, which covered 7400 nautical miles, around UK.
Sqn Ldr J H Garstin flew this aircraft.

As recalled, 'IN COBHAMS' COMPANY' by Colin Cruddas ISBN 0952449907;
Sir Michael was particularly inspired to make a two-way, record-breaking flight from England to South Africa in 1959, by Sir Alan Cobham's journey to the Cape thirty -four years earlier. His Valiant was the first aircraft to fly to Capetown and back, non-stop in each direction, being refuelled by two Valiant tankers over Kano, Nigeria on both flights.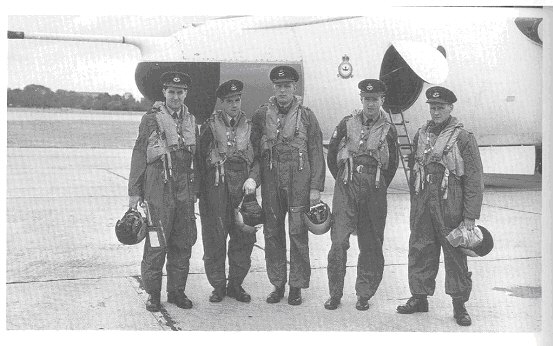 Wg. Cdr. Michael Beetham (left) and crew of the Valiant, which undertook the first non-stop flight to Cape Town, 1959.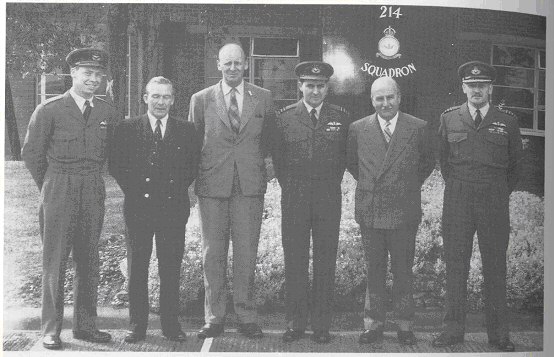 Pat Hornbridge, Dickie Dickenson and Sir Alan Cobham, visit 214 Sqn, Marham, 10 June 1959. With Sqn Ldr Garstin, Wg Cdr Michael Beetham and Gp Capt Wilf Burnett
By now both aircrew and ground crew were enjoying flight refuelling. The main challenge to the aircrew was the exacting task of learning to fly as receivers whereas the ground crew had many opportunities for visiting exotic places such as Malta, Cyprus, Bahrain, Karachi, Mauripur, Nairobi, RAF Gan, RAAF Butterworth, Singapore and Darwin. Of course they also enjoyed flying in the Bristol Britannia, which usually stayed with the Squadron throughout the detachment. You can imagine the enthusiasm when the next detachment was mentioned; almost all the ground crew personnel were quick to volunteer for the trip, knowing all too well that some were going to be disappointed.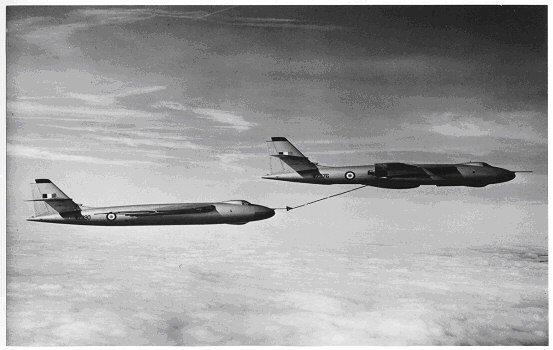 WZ 390 and WZ 376 During Trials
May 1960 saw the completion of the Trials No 306 and 306A, it also heralded the arrival of Wg Cdr P.G. Hill the new Squadron C O. The Squadron were kept busy with training and deployments overseas as well as taking part in trials with the Royal Navy Scimitar and Sea Vixen fighters and a compatibility exercise with a USAF Destroyer, Super Sabre and Voodoo aircraft.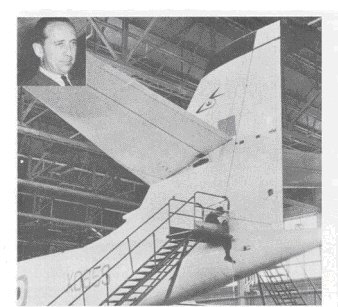 214 Valiant on servicing; Inset photograph Wg Cdr P G Hill

Other long distance flights during this period include:
a. Marham to Offutt 4,336 miles in 9hr 30 mins 19 Jan 1960
b. Offutt to St Mawgan 4,400 miles in 9 hr 3 mins 25 Jan 1960
c. Marham to Changi, 8110 miles in 15 hr 35 mins 25 May 1960
d. Butterworth to Marham, 7,700 miles in 16 hr 16 mins 1 June 1960
e. Marham to Vancouver, 5007 miles in 10 hr 28 mins 5 July 1960
f. Vancouver to Marham, 5007 miles in 9 hr 35 mins 8 July 1960
Another interesting exercise in which the Squadron took part was the refuelling of a Scimitar aircraft from the Royal Naval Air Station (RNAS) at Lossiemouth to the Aircraft Carrier Ark Royal 'somewhere in the Mediterranean'. We did find it!
The Javelin crews of No 23 Squadron from RAF Coltishall started receiver training in 1960 with practice flights to Akrotiri and back in August, then in October four Javelins were flight-refuelled from the UK to RAAF Butterworth in Malaysia via Akrotiri, Bahrain, Mauripur, and Gan.
It was on this trip that a number of the squadron ground crew suffered the usual tummy upset at Mauripur, fortunately we had the Javelin Squadron medical officer with us. To ensure we did not drink any more water, I recall him giving authorisation for the squadron to obtain soft drinks from a local soft drinks distribution firm for the duration of the detachment. This ensured that we all made it to Butterworth without further mishap. Ernie Hill, the squadron Sgt Electrician, was very ill at this time and it was doubtful whether or not he would make it to Butterworth. However, with good nursing and plenty of fizzy drinks, he recovered enough for the onward trip to Gan and after medical treatment carried on to RAAF Butterworth with the Squadron.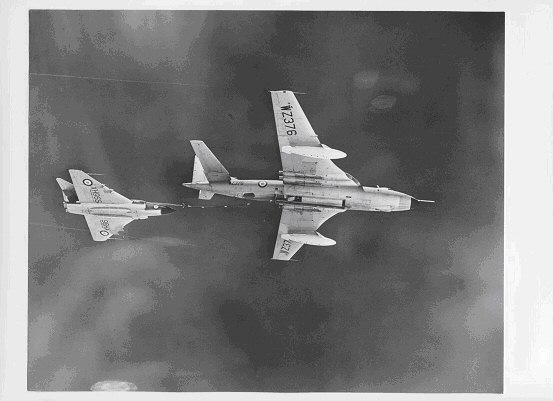 Valiant Tanker of 214 Sqn refuelling a Javelin of 23 Sqn

It was about December of 1960 that Vulcan crews started receiver training for the proposed non-stop flight to Sydney in Australia. Training progressed with non-stop flights from Scampton to Nairobi, and to Karachi and back then finally in June 1961 with the first non-stop flight from Scampton to Sydney, a distance of 11,500 miles in 20 hours 3 minutes at an average speed of 573 mph, the aircraft was refuelled overhead Cyprus, Karachi and Singapore. If memory serves me right we had nine Valiants on this trip and all remained serviceable for the duration of the exercise.
After this significant achievement Sir Alan Cobham presented trophies to the officer commanding of No's 214 and 617 Squadrons. It was also memorable in that the double 'Speed Bird' logo used by FRL was now incorporated in the 214 Squadrons emblem emblazoned on the tail fins of the tankers. (See picture page 9)
Other memories are of the boss, during one of the many training trips to Nairobi, coming home with a bomb bay pannier full of fruit for the squadron personnel. My wife and I recently visited Kenya and arrived at Nairobi airport only to find the aircraft parked opposite the RAF Detachment Office that we used, still proudly displaying the RAF sign. The bomb bay pannier was also handy for the Christmas run to Malta, when orders were taken for the Christmas bottle.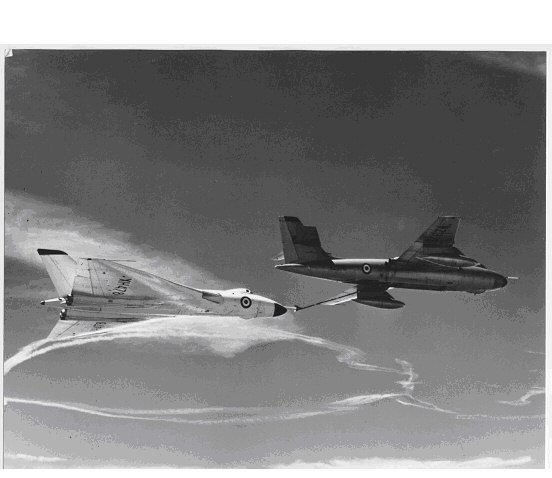 Valiant tanker of 214 Sqn refuelling a Vulcan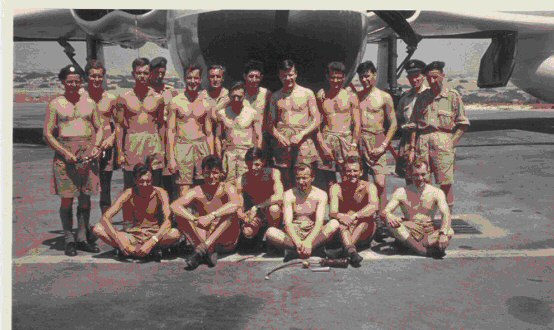 Happy Days - 214 ground crew with a Valiant tanker - staging through Malta on the way to the Far East -1961. Author; is front row, third from left.
It should be noted for the squadron enthusiast that on the 1st April 1962 (44 years after the formation of the RAF) No 214 (FMS) Squadron and No 90 Squadron officially became tanker squadrons, losing their bomber commitment and so becoming the first tanker squadrons in the RAF. HQ 3 Group retained operational control of these squadrons.

Tank Change using Simons Bomb Hoist mounted on a 4 Ton Bedford Chassis
It was during the loading of a HDU to one of our aircraft that we nearly had a serious
accident, although at the time we all fell about laughing. I used to drive and operate the Simons Bomb Hoist, the corporal, (Cpl Blower) would get in the cage and I would manoeuvre him onto the spine of the aircraft and with the chief in the bomb bay we would carryout the loading procedure, during this time we would be in contact through a throat mike head set. After the load was completed it was standard operating procedure for the corporal to stow the equipment, remove his headset and throat mike and before placing them in the cage, hold the mike to his throat so as give me the instruction to withdraw the boom and remove the vehicle, (you must bear in mind that you could not see the top of the aircraft from the vehicle), he would then come down via the aircraft rear hatch. The instruction given I started to swing the boom, only to hear a strange noise in my headset; that's right, he was still attached and I was pulling him along the spine of the aircraft, I hate to think what would have happened if I had decided to raise the boom first.
It was about this time that the RAF Mk VI probe and drogue equipment was replaced with the Standard NATO Mk VIII probe and drogue. There was further training with the Vulcan's and this was to lead to yet another trip to Australia. This time with three Vulcan's of 101 Squadron who flew non-stop from Waddington to Perth in 18 hr 7 mins. Operational training was in full flow and the Sqn was to carry on training with the Vulcan's, Sea Vixen's, Victor's and the Lightning aircraft, which would be the next aircraft to be tanked to the Far East. There was never a dull moment on the Squadron. One day we had a Valiant return with the hose and drogue still extended, some electrical fault had prevented it from being wound in, but the crew being professional landed safely. There was also an incident when a Lightning lost its probe, you've guessed it, it was still in the drogue when the Valiant landed.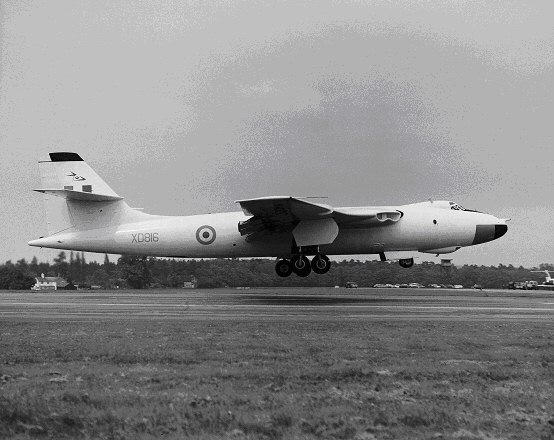 XD 816 Note the Squadron Crest within the Speed Logo
In December 1964 the Valiant aircraft were grounded because of severe metal fatigue in the main wing spars and were officially withdrawn from service at the end of January 1965, many of the squadron personnel were posted during December 64 and the rest during the early part of the new year. I consider myself to be one of the lucky ones as I was posted, in March 65, to RAAF Butterworth, a unit I had visited regularly during our tanking exercises. Now my wife could see for herself the terrific hardship we suffered in the Far East!
214 Squadron disbanded on 28 February 1965, a sad day for all on the squadron and those associated with it. During the tanker years the squadron had a record that anyone would be proud of and history will recall that the first tanker squadron; 214 (Federated Malay States) Squadron played a significant role for the future of air-to-air refuelling.
214 Squadron was to reform at Marham on the 21 July 1966 with Victor tankers. However, that is another story.
WO Shaun P Broaders MBE RAF Ret
I would like to offer my grateful thanks to the following, for their help and contribution.

Photographs from Cobhams Archives and quotations from In Cobhams' Company by Colin Cruddas ISBN 0 9524488 0 7
Photographs from Aerofax Vickers Valiant by Eric Morgan available from Midland Counties Publications 0145 254450