FS Spencer Sidney Dawes
, R/67521, Royal Canadian Air Force, Nationality : Canadian, KIA 1 April 1942, Aged 25
SEE CREWS AND LOSSES for Wellington Mark I C X9939 BU-E
SEE CREWS AND LOSSES for Wellington Mark I C Z8842 BU-?
Named on the following Memorial : RUNNYMEDE MEMORIAL Panel 103
Son of Stanley Sydney Dawes OBE and Katherine Ellen Dawes of Bournemouth, England
Prior to the war, Spencer moved to Canada to work and then at the outbreak of War joined the RCAF and came to 214 Squadron
Source : Simon Dawes (relative of FS Dawes) and CWGC

Date record last updated : 29 December 2009
---
Service No 128846
Bob Davies was born in Gravesend, Kent on 11 July 1920. He enlisted in the Territorial Army in 1938 shortly after Prime Minister Chamberlain's return from Munich after his meeting with Adolf Hitler with the message "peace in our time". From the outbreak of war in September 1939 Bob served with No 313 Company, Royal Engineers (TA Searchlights) on sites in central Kent and on the mud cliffs several miles east of Sheerness on the Isle of Sheppey.

He transferred to the Royal Air Force - 17 July 1941
No 1 Aircrew Reception Centre, Regents Park. London - 17 July 1940 to 28 July 1941
No 8 Initial Training Wing, Newquay, Cornwall - 29 July 1941 to 30 September 1941
No 3 Elementary Flying Training School, Watchfield, Berks - 30 September 1941 to 20 November 1941 (DH82A Tiger Moth)
Air Crew Holding Unit, Heaton Park, Manchester - 10 December 1941 to 4 January 1942
BY SEA TO CANADA
No 3 Aircrew Holding Unit, Monckton, New Brunswick - 19 to 21January 1942
BY TRAIN TO USA UNDER THE ARNOLD SCHEME TO TRAIN RAF PILOTS
Ground Training Unit, Turner Field, Georgia - 21 January 1942 to 22 February 1942
Primary Flying Training, Carlstrom Field, Albany, Florida - 23 February 1942 to 29 April 1942 (Boeing Stearman PT17A)
Basic Flying Training, Gunter Field, Montgomery, Alabama - 30 April 1942 to 2 July 1942 (BT13A)
Advanced Flying Training, Craig Field, Selma, Alabama - 3 July 1942 to 6 September 1942 (AT6A Harvard)
AWARDED WINGS - 5.September 1942 (Class of 42H)
RETURNED TO CANADA
No 1 Aircrew Holding Unit, Toronto - 8 to 18 September 1942
RETURNED TO USA
Flying Instructors Course, Maxwell Field, Montgomery, Alabama - 20 September to 24 October 1942 (BT13A)
Army Air Force Basic Flying School, Shaw Field, Sumter, South Carolina (Instructing American Aviation Cadets) (BT13A) - 26 October 1942 to 24 June 1943
RETURNED CANADA
No 31 PD Holding Unit, Monckton, New Brunswick - 12 July 1943 to 2 August 1943
REURNED TO ENGLAND BY SEA VIA NEW YORK
No 1 Personnel Reception Centre, Harrogate, Yorks - 11 August 1943 to 5 September 1943
Aircrew Officers School, Sidmouth, Devon - 6 to 28 September 1943
No 6 Pilot Advanced Flying Unit, Little Rissington, Glos - 29 October 1942 to 24 October 1943 (Twin Conversion Unit) (Airspeed Oxford)
No 6 Pilot Advanced Flying Unit, Windrush, Glos - 25 October to 30 November 1943 (satellite airfield of Little Rissington)
Beam Approach Training Flight, Docking, Norfolk (no flying) - 30 November 1943 to 20 December 1943
Returned to Windrush, Glos (Airspeed Oxford) - 21 December 1943 to 17 January 1944
Was Operational Commander A Flight as recorded in P/O Bill Fosketts log - 06 December 1944
Aircrew Disciplinary School, Sheffield - 18 January 1944 to 8 February 1944
Returned to Windrush (Airspeed Oxford) - 9 February 1944 to 6 March 1944
No 19 Operational Training Unit Kinloss - 7 March 1944 to 17 May 1944 (Armstrong Whitworth Whitley)
Air Training School (escape/evasion training) Ancaster Malbis, Yorks - 25 May to 9 June 1944
1658 Heavy Conversion Unit, Ricall, Yorks - 10 June 1944 to 25 July 1944 (Handley Page Halifax Mk II)
578 Sqn Burn, Selby, Yorks No 4 Group Bomber Command - 25 July 1955 to 2 October 1944 Flew 18 day and night operations (Handley Page Halifax Mk III)
171 Sqn North Creke RCM Sqn 100 Group - 3 to 23 October 1944 (newly formed Sqn, did not fly as aircraft had not been delivered)
O\C "A" Flight No 214 (FMS) Sqn. Oulton, Norfolk. 100 Group RCM Bomber Command - 23 November 1944 to 8 August 1945 Flew 12 night ops but did not finish tour because of advent of VE Day (Fortress B17F & G)
No 17 Aircrew Holding Unit, Snaith, Yorks - 19 August 1945 to 8 September 1945
B24 Liberator Ground School, Bourn, Cambs - 9 to 30 September 1945
102(?) Sqn Bassingbourne, Cambs. Transport Command - 1 to 23 October 1945
51527 Beam Approach Training Flight, Prestwick, Scotland - 24 to 31 October 1945
102(?) Sqn Bassingbourne Transport Command (trooping to Karachi) (Liberator B24) - 1 November 1945 to 27 February 1946
53(?) Sqn, Upwood, Hunts. Transport Command - 28 February to 25 June 1946 (trooping to Karachi)
Conversion Unit, Waterbeach, Cambs Transport Command - 26 June 1946 to 19 September 1946 (Avro York C1)
242 Sqn Oakington, Cambs Transport Command, (trooping to Singapore) (Avro York C1) - 20 September 1946 to 22 November 1947
40 Sqn Abingdon Berks (Transport Command) (Avro York) - 23 November 1947 to 15 June 1949

Bob was court-martialled at Abingdon for allowing his York aircraft to collide with another York over Karachi at 1500ft.He was found guilty and given a reprimand. The other pilot, Flt Sgt Heald was also found guilty and was dismissed from the RAF. During this period Bob operated from Wunsdorf in the Berlin Airlift flying 330 round trips carrying mainly coal and dehydrated potatoes.

HQ Home Command White Waltham Berks - 20 June 1949 to 7 October 1951
Operational Conversion Unit, Dishforth, Yorks - 8 October 1951 to December 1951
2nd Tactical Air Force Communications Sqn. - 28 January 1951 to 8 January 1955

Personal pilot to Commander-in-Chief Air Marshall Sir Robert Foster (Devon, Anson, and Proctor) (Vickers Valetta C2 VIP) Bückeburg and (from 1 December 1954) Widenrath
(Valetta C2 VIP Devon and Vampire)

Transport Command Examining Unit, Dishforth, Yorks - 24 January 1955 to 24 June 1957 (Visiting Units in Cyprus, Fayad (Egypt), Aden and Singapore and the Queen's Flight at RAF Benson examining the proficiency of pilots, navigators, wireless operators and flight engineers)
No 1 Initial Officers Training School, Kirton-in-Lindsay, Lincs - 26 June 1957 to 21 July 1957 (Chipmunk and Anson)
No 1 Initial Officers Training School, South Cerney, Glos - 21 July 1957 to 24 March 1960
Air Ministry, Department of Personnel (P4C) - 2 April 1960 to 4 July 1963

4 July 1963 Retirement (aged 43) with the rank of Squadron Leader in the General Duties Branch
(with a gratuity of £2200 and a pension of £805 which was not index linked for ten years)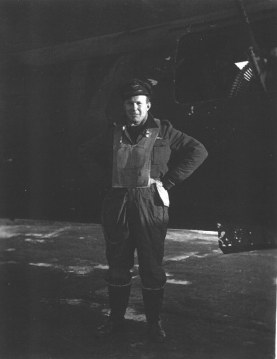 S/Ldr Bob Davies (I believe the aircraft behind Bob is coded K)

AIRCRAFT FLOWN
| | |
| --- | --- |
| De Havilland Tiger Moth | 130hp de Havilland Gipsy Major |
| Airspeed Oxford | 370 hp Armstrong Siddeley Cheetah X |
| Armstrong Whitworth Whitley Mk V | 1010hp Rolls-Royce Merlin X |
| Handley Page Halifax Mk 11 | 1280hp Rolls-Royce Merlin XX |
| Handley Page Halifax Mk III | 1800hp Bristol Hercules 100 |
| Boeing Fortress Mk 11 (B17F) | 1200hp Wright Cyclone GR-1820-97 |
| Boeing Fortress Mk III (B17 G) | 1200hp Wright Cyclone GR-1820-97 |
| Taylorcraft Auster | 130 Lycoming 0-290-3 |
| Avro Lancaster Mk 1 | 1640 Rolls-Royce Merlin XXIV |
| Consolidated Liberator (B24) | Pratt & Witney Twin Wasp R-1820-43 |
| Avro York C1 | 1620hp Rolls-Royce Merlin XXI |
| Percival Proctor Mk IV | 219hp De Havilland Gipsy Queen II |
| Avro Anson | 350hp Armstrong Siddeley Cheetah |
| De Havilland Devon C1 | 240hp De Havilland Gipsy Queen 70 |
| De Havilland Chipmunk | 145hp De Havilland Gipsy Major 8 |
| Vickers Valetta C2 (VIP) | 1975hp Bristol Hercules 230 |
| Hunting Percival Pembroke C1 | 550hp Alvis Leonides 127 |
| Vickers Viking KF | 1690 Bristol Hercules 634 |
| De Havilland Vampire FB5 | 3350 thrust De Havilland Goblin |
| De Havilland Vampire T11 | 3500 thrust De Havilland Goblin 35 |
| Voltee BT13A | 450hp Pratt & Witney Wasp R-985-1 |
| Boeing Stearman PT17 | 220hp Continental R-650-5 |
| North American AT6A (Harvard) | 600hp Pratt & Witney Wasp R-1340-49 |
Also see CREWS & LOSSES for FORTRESS HB 815 BU-J at RAF OULTON on 3-4 MARCH 1945 where BOB DAVIES witnessed the incident

Address given by SQUADRON LEADER GODFREY W MOFFATT at Bob's Funeral

`Bob' Davies was born on 11th July 1920 at Gravesend where his father was a Trinity House river pilot. His father had served in the Royal Navy commanding a destroyer in World War One and a flotilla of mine sweepers in World War2. He was awarded the DSC.
Bob was actually christened `Bevis Denton' However, from a very young age Bevis Denton Davies knew his own mind and assumed the Christian name of Bob, which stuck.
He was educated at Gravesend Grammar School, `matriculated' and gained a place at the College of Aero and Auto Engineering in Sidney Street, Chelsea. Whilst there he joined a Royal Engineer TA Searchlight Battery and then in 1940 volunteered for aircrew training, Offered pilot training he accepted happily.
His flying training started in September 1941 on the Tiger Moth'. He was selected to complete his training in the United States, and travelled there by sea.
Bob was awarded his wings and commissioned on 5th September 1942. It was at this stage of his flying career that his exceptional flying skills were first recognised and he was, in today's jargon, "creamed off" to become a Qualified Flying Instructor: so after collecting his officer's uniform, he moved to California, and, then South Carolina where he spent the next 8 months, up to the summer of 1943, honing his QFI flying skills.
He returned to the UK in summer 1943. It was a frustrating time as he had to go through the whole British retraining process not joining his Squadron until July 1944.
Bob and his crew then completed 18 day and night operations on the Squadron over a period of very heavy losses for all of the RAF bomber fleet Bob was a great believer in `luck', and over this period he had his fair share:- in September 1944 a bomb dropped by a Lancaster flying above them fell through his aircraft just aft of the top gunner's position. Apart from the tail gunner losing his oxygen supply, the aircraft continued to behave normally. They set course for home, but as they approached, although losing height, they decided to try to make base - they were, after all, going on leave the next day!. Weather, in the end, forced a landing at Old Buckenham south of Norwich.
A man of independent spirit he did not have too much respect for `rules', demonstrated in an earlier episode when an unauthorised long weekend led to some days of reflection in the `bad boys' detention centre at Shedfield. He was also admonished for inadvertently wrecking his COs nearly new `runabout' aircraft.
None of this though was considered particularly important as Bob was promoted to acting Squadron Leader and posted as A flight Commander to 214 Squadron flying from Oulton. Bob's luck continued to hold. Returning on three engines from one countermeasure operation, he was given priority to land and the aircraft ahead was instructed to `go round again'. Unfortunately, this aircraft was shot down by a German night fighter intruder. A short time later, the intruder returned and shot up the de-briefing room just as Bob and one of his crew were leaving, somehow missing them. Bob remained on 214 Sqn until the end of the war, completing some 12 operations, including the Dresden raid, before VE day stopped all operational flying. He was recommended for a DFC by his Sqn and Stn Cdr, but it was refused at Group level for reasons unknown.
After the war, Bob wanted to remain flying and was offered a post as a Flight Lieutenant flying the B24 `Liberator' on a four year extension to his engagement. In September 1945 Bob was posted to the B24 Ground school and in October, joined No 102 Squadron engaged mainly in trooping flights to Karachi. Unsurprisingly it was Bob who flew the last operational Liberator sortie.
In 1946, Bob converted to the Avro `York' and joined No. 242 Squadron at Oakington flying lengthy trooping flights to Singapore. It was on this route in 1947 that he collected his Court Martial. On one trip flying down the Gulf, he caught up with another of the Squadron aircraft, and indulged a little unauthorised formation flying - which might have passed unnoticed had they not been involved in a slight collision. Both aircraft landed safely but disciplinary procedures were inevitable. Bob returned home under close arrest, and was fortunate to receive only a reprimand and loss of his B/VIP flying category from the Court Martial. He was grounded for a period working in squadron ops and then only allowed to fly freighting sorties. But In the summer of 1948, the Berlin Airlift changed everything and in some 10 months he flew 330 sorties, an average of 1 a day.
After his outstanding efforts on the airlift, he was posted to White Waltham, as the personal pilot to the CinC Home Command - Air Marshall Sir Robert Foster, flying the De Havilland `Dove/Devon'. Bob and his navigator were exceptional aviators - a necessity in the VIP role. Their skills were highly regarded by the Air Marshal despite some unusual but successful bad weather approach techniques and when he was promoted to Air Chief Marshal and posted to RAF Germany, Bob and his Navigator went with him.
Bob was to fly some famous politicians/world leaders including the German leaders, Conrad Adenauer and Willi Brandt, who always rewarded him with a case of Rhine wine. During this period he was awarded his AFC recommended by his ACM, but in his usual stubborn way insisted that if he was to be decorated, then so should his Master Navigator who was duly awarded the AFM.
In early 1955, Bob returned to the UK to join the Transport Command Examining Unit, where he qualified to examine pilots all over the world.
In 1958, he was posted to his first real ground job as a Flight Commander at the Officers Initial Training School. At this time he met Eunice and they were married in 1961. His final posting was to the Personal Department of the Air Ministry in Theobalds Road, which he stuck until the summer of 1963, when he was able to retire at age 43
Apart from flying, Bob had two other great passions in his life: one was his beloved Bull Terriers, of which he had nine consecutively over 45 years; the other was cars, particularly owning and driving large American cars. Apart from a very brief sojourn in the insurance industry, the next few years all involved driving and chauffeuring using his own and others cars until finally he became a chauffeur with the Bahrain Embassy, for whom he worked for 13 years until his final retirement in 1990 at age 70.
In retirement, Bob did a lot for Squadron Associations, in particular that of No 214 Squadron. He served on the committee from the beginning,
Bob's final years were trying; his rapidly failing eyesight meant he had to give up the pleasure of owning and driving his special cars. As his eyesight continued to deteriorate he could no longer read, and had to rely on `talking books'. Bob bore all of this with stoicism and fortitude, his dry sense of humour always to the fore.
I have briefly covered the life and deeds of a friend and fellow airman but what of the man that we and others knew; those that flew with him and entrusted their lives to him and to his decision making.
Bob was an exceptional pilot - one of the top 10% - and more importantly, a thinking but risk taking pilot - he was also lucky and brave!! He was a man of his time - taking life in his 2 hands and embracing it - this led at times to mistakes and heartache but he never lost the twinkle in his blue eyes. He had no respect for self important, self serving authority - but he nevertheless rose above some difficult times to become a highly respected senior officer in his Service.
In an RAF career spanning some 23 years, of which nearly 20 had been in the cockpit, Bob flew 30 wartime operations and 330 flights on the Berlin Airlift; in a total of 23 different aircraft types and 7315 flying hours.
He still felt that he - a survivor - had a responsibility to those who didn't finish the course and he completed a great act of pilgrimage, identifying and recording the graves of all those airmen who had died flying on our 214 Squadron. Bob to the end was a truly lucky man.

Plt/Off Harry Dent
, 109483, Pilot, Royal Air Force Volunteer Reserve, Nationality : United Kingdom, KIA 31 May 1942, Aged 23
SEE CREWS AND LOSSES for Stirling (model unknown) W7534 BU-E
Buried in
REICHSWALD FOREST WAR CEMETERY
. Reference : Coll. grave 19. E. 7-14.
Son of Maurice Arthur and Harriet Dent, of Marylebone, London.
Harry left school at 16 and worked in a stockbroker's office in the City. He disliked the job and joined British International Pictures as a trainee at Elstree Studios.
When war started in 1939 he could have remained in a reserved occupation but instead volunteered for the Royal Air Force the day after war was declared. He wanted to be a fighter pilot but was rejected on medical grounds because he had flat feet. Obviously discouraged but eager to serve, he volunteered for the Army and was commissioned into the KOSB (King's Own Scottish Borderers) an infantry regiment that marched at 160 paces to the minute (Army No. 156431). In 1941 he applied for transfer to the RAF for pilot training. He was accepted and after training was posted as a bomber pilot instead of the fighter pilot that he had always wanted to be.
It is uncertain whether Operation Millenium was Harry's first mission. SEE CREWS AND LOSSES for Stirling (model unknown) W7534 BU-E for further details.
Plt/Off Harry Dent served with 214 at Stradishall.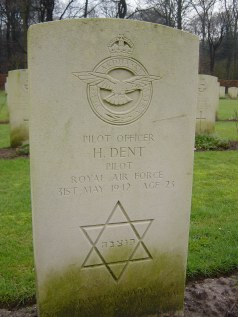 Bottom Inscription
Darling Harry, We knew you were Mortal
Source : Emrys Jones, and immediate family members of Harry's and CWGC

Date record last updated : 27 July 2010
Plt/Off Robert Leslie Dodds, 172519, Navigator, Royal Air Force, Nationality : United Kingdom, KIA 15 September 1944, Aged 23

SEE CREWS AND LOSSES for Flying Fortress Mark III HB767 BU-A

Named on the following Memorial : Alnwick Duke's School

Buried in CALAIS CANADIAN WAR CEMETERY, LEUBRINGHEN. Reference : 3. A. 11.

Son of Mr. and Mrs John Dodds, Police Station, Wooler

Plt/Off Robert Leslie Dodds, was a navigator aboard Fortress III, HB767, BU.A 214 Sqn when it was shot down over the coast of N France on 12th/13th September 1944. He managed to survive for several days thanks to the bravery of a French family.

Robert attended the Dukes School in Alnwick. Please follow this link in memorials above to their roll of honour site.

The following article was published on
http://www.rafcommands.com/forum/showthread.php?11753-Details-for-these-casualties-Duke-s-School-Alnwick/page2

"R.L. DODDS is something of an enigma in that he is buried in a Canadian War Cemeterary (Calais) and the C.W.G.C. does not record his next of kin. In "Forty Years On - the DSOB casualties",it states that his father was an inspector in the Northumbria Police and presumably moving with his parents around Northumberland and Tyneside he had a number of addresses and schools. The record shows him attending schools at Wooler, Alnwick and then Lemington, Newburn. He then worked for Carse and Goodger before becoming a member of the Alnwick Gazette, the weekly newspaper. In the acknowledgements for information for the book, the Gazette is credited as the main source for the info on Dodds. Admittedly, he does not appear on the Wooler, Alnwick or Newburn war memorials but from my research over the years I know that many of these "frequent movers" are not so recorded."

Plt/Off Dodds is listed in the London Gazette in issues 36503, 36712 & 36744.

Source : CWGC and Anthony Crouch (Nephew of Plt Off Dodds) and John Cripps and Chorley and Simon Glancey and the London Gazette

Date record last updated : 1 December 2017
Sgt Stanley Frederick Dean, 1445870, Flight Engineer, Royal Air Force Volunteer Reserve, KIA 13 May 1943, Aged 27

SEE CREWS AND LOSSES for Stirling Mark I BF381 BU-P2

Buried in REICHSWALD FOREST WAR CEMETERY. Reference : 5. B. 5.

Son of Walter and Emily Maria Dean; husband of Ada Dean, of Leicester.

Source : Ian Hunt and CWGC

Date record last updated : 29 October 2010
Sgt Norman Douglas, 1411154, Air Bomber, Royal Air Force Volunteer Reserve, KIA 13 May 1943, Aged 21

SEE CREWS AND LOSSES for Stirling Mark I BF381 BU-P2

Buried in REICHSWALD FOREST WAR CEMETERY. Reference : 5. B. 4.

Son of William Isaac and Catherine Douglas, of Waunarlwydd, Glamorgan.

Source : Ian Hunt and CWGC

Date record last updated : 29 October 2010
Sgt William Duthie, 1349970, Air Gunner, Royal Air Force Volunteer Reserve, KIA 13 May 1943, Aged 20

SEE CREWS AND LOSSES for Stirling Mark I BF381 BU-P2

Buried in REICHSWALD FOREST WAR CEMETERY. Reference : 5. A. 17.

Son of William and Georgina Duthie, of Fraserburgh, Aberdeenshire.

Source : Ian Hunt and CWGC

Date record last updated : 29 October 2010
Sgt John Dodd, 1107057, Air Gunner, Royal Air Force Volunteer Reserve, Nationality : New Zealand, KIA 24 May 1943, Aged 22

SEE CREWS AND LOSSES for Stirling Mark III MZ261 BU-T

Buried in REICHSWALD FOREST WAR CEMETERY. Reference : 3. N. 18.

Son of John and Rose Dodd, of Greenock, Renfrewshire.

On the 23 May 1943 at 23.15, Stirling MZ261 coded BU-T lifted off from Chedburgh, in Suffolk on the nights operations. The target for the night was a bombing raid on Dortmond which included several other 214 squadron aircraft. This was destined to be their last flight. It is unknown exactly what happened, possibly flak or a nightfighter, but Stirling MZ261 crashed at Unna about 15km ENE of Dortmund. Initially the crew were buried here but they were later taken re-interred in the Reichswald Forest War Cemetery.

Source : Martin Alford, nephew of Donald Alford & CWGC

Date record last updated : 10 November 2017
---
---
---
---
.