Flight Lieutenant Mulhall has been navigation officer in his squadron for eleven months, during three months of which he has also performed the duties of bombing leader. Despite his duties as squadron navigation officer, Flight Lieutenant Mulhall has taken part in a large number of operational sorties. Twice on recent occasions he has returned with excellent photographs of the aiming point. The high standard of navigation attained in the squadron is largely owing to the untiring efforts of this officer, while his personal example has been a source of inspiration to his fellow navigators.
NOTE: Public Record Office Air 2/8950 has recommendation drafted 21 March 1943 when he had flown 32 sorties (173 hours 35 minutes). Sortie list and text add to the record:
23 Aug 41 Le Havre 10 Feb 42 Brest
25 Aug 41 Karlsruhe 12 Feb 42 Sweep for cruisers, North Sea
28 Aug 41 Duisburg 08 Mar 42 Essen
31 Aug 41 Cologne 09 Mar 42 Essen
07 Sept 41 Kiel 10 Mar 42 Essen
12 Sept 41 Frankfurt 23 Mar 42 GARDENING
28 Sept 41 Genoa 25 Mar 42 Essen
14 Oct 41 Nuremberg 28 Mar 42 Lubeck
20 Oct 41 Bremen 02 Apr 42 Poissy
24 Oct 41 Brest 17 May 42 Vichy (Nickel raid)
01 Nov 41 Brest 04 Sep 42 Bremen
07 Nov 41 Berlin 13 Sep 42 Bremen
23 Nov 41 Brest 17 Dec 42 GARDENING
25 Nov 41 Essen 13 Feb 43 Lorient
11 Dec 41 Cologne 01 Mar 43 Berlin
15 Dec 41 Brest 08 Mar 43 Nuremberg
Flight Lieutenant Mulhall has been Navigation Officer in this squadron for over eleven months, during three months of which he has also performed the duties of Bombing Leader. He has carried out 32 operational sorties (involving 173 hours 35 minutes) and is an excellent practical navigator. His work in this squadron has been of a high order, and it has been largely due to his untiring efforts that the standard of navigation has reached such a high level, particularly in astro work. Despite the fact that his work as a Squadron Navigation Officer has entailed his being on duty for long periods, he has continued to operate.
Twice in his recent sorties he has been responsible for obtaining excellent photographs. These were obtained in Bremen on two different occasions and were both close to the aiming point. Flight Lieutenant Mulhall's personal example has been an inspiration to the navigators of this squadron.
---
---
---
Sgt Murphy remained in the Middle East following the war and served in the palestine police. He then emigrated to Australia when his son Mike was about 5 or 6, where he enlisted in the RAAF. serving a tour of duty in Vietnam. ( Robert obviously had a love for the far east or something that pulled him there considering he stayed there after the war and years later went back to the same area to serve in a different war. Sgt Robert George Murphy passed away in 1990.
His son Mike currently holds all of his medals, silk escape scarf burma, an original chindit cloth badge, plus a book about the chindits, dated india 1944.
SOURCE: Mike Murphy, Harrogate, North Yorkshire.
Policing and the RAF is in the Murphy blood, Mike himself spent his life in the RAF and Policing as did his father. Mike is rtd RAF REGT, 27 laa sqn, 1966 1971, Royal Military Police 1971 1989, retiring from HMP after 10 yrs service.
A photo of Sgt Murphy taken with his sister exists and it is hoped to add this to the site soon.
---
---
---
---
---
---
---
---
---
---
---
---
---
---
---
---
---
---
---
---
---
crew as:-
F/Lt J W Lucas
F/Lt W H Taylor
F/O N W Manners
F/Sgt R Jeffcock
W/O S C Hopkins
Sgt W C Heley (spelt Healey in the first entry but Heley in the next four)
F/Sgt J Parkinson
Sgt C W Pearson
Sgt J Burchell
This crew seems to be listed consistently in this order in the ORB, although it doesn't give their individual crew functions. HOWEVER, the tenth crew member (possibly the jamming equipment Special Operator?) changed a bit over the first 5 ops.
- Firstly it was Sgt J S Reid (1st op);
- then F/O W E Gronau RCAF (2nd op);
- then Sgt C Kerr (next 3 ops).
It may be that this was how the crew settled down to be (ie with Kerr).
SOURCE & RESEARCH: Ian Hunt
---
---
Fg/Off Marcus M Marsh, Date taken POW 9 May 1941, POW number 1344

See Crews and losses for Wellington R1447 BU-Z?

Imprisoned at POW camp Dulag Luft, Germany
Imprisoned at POW camp Sagan (Zagan) & Belaria, Germany
Imprisoned at POW camp Spangenberg bei Kassel, Germany

SEE PRISONERS OF WAR

Before and after World War 2 he was a famous racehorse trainer and had several famous winners.
1932 Epsom St Leger - Firdauss-Jockey was Freddy Fox - Owner was 6th Earl of Rosebery
1950 Epsom St Leger - Scratch - Jockey was Rae Johnstone - Owner was Marcel Boussac
1934 Epsom Derby - Windsor Lad - Jockey was Charlie Smirke - Owner was Maharaja of Rajpipla
1952 Epsom Derby - Tulyar - Jockey was Charlie Smirke - Owner was HH Aga Khan 3rd

---
---
---
---
Sgt Lionel Martin, 1294190, Wireless Operator / Air Gunner, Royal Air Force Volunteer Reserve, Nationality : United Kingdom, KIA 24 May 1943, Aged 21

SEE CREWS AND LOSSES for Stirling Mark III MZ261 BU-T

Buried in REICHSWALD FOREST WAR CEMETERY. Reference : 3. C. 16.

Son of George and Elizabeth Martin, of Stowmarket, Suffolk.

On the 23 May 1943 at 23.15, Sterling MZ261 coded BU-T lifted off from Chedburgh, in Suffolk on the nights operations. The target for the night was a bombing raid on Dortmond which included several other 214 squadron aircraft. This was destined to be their last flight. It is unknown exactly what happened, possibly flack or a nightfighter, but Sterling MZ261 crashed at Unna about 15km ENE of Dortmund. Initially the crew were buried here but they were later taken re-interred in the Reichswald Forest War Cemetery.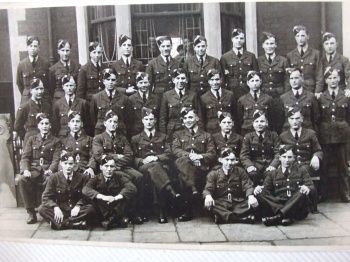 Can any one provide information on the other people in the picture and where/when it was taken?

Source : Martin Alford, nephew of Donald Alford & CWGC & Claire Old (Great niece of Lionel Martin)

Date record last updated : 10 November 2017
---
---
Plt/Off Gorgon McDonald, Wireless Operator, Royal Australian Air Force, Nationality : Australian

SEE CREWS AND LOSSES for Stirling (model unknown) ??Scantleton

Source : John Scantleton (son of Flt/Lt V L Scantleton)

Date record last updated : 4 August 2009
---
Sgt Reginald George Martin (Flight Engineer), 1171555, Nationality : United Kingdom. Royal Air Force Volunteer Reserve. KIA 26/27 March 1943.

SEE CREWS AND LOSSES for Stirling BF453 BU-L

Buried in Hanover War Cemetery

Sources : Ian Hunt and CWGC
---
Sgt Robert Victor Moorby, NCO 1287570 COM 185918, Wireless Operator, Nationality : United Kingdom

SEE CREWS AND LOSSES for Stirling Mark III BF516 PX-E

After volunteering for service Robert was sent for training to the Signals Schools in Blackpool and Yatesbury. After 6 months wait he was then posted to the Gunnery School in South Wales.
He was then posted to Egypt for 12 months in 1942.
Further postings were at :
9 AFU in North Wales
North Luffenham (OTU)
Stradishall (HCU)

He then joined the 214 Squadron at Chedburgh. Robert was on the crew of Flight Sergeant Harry Hall flying mining trips to the Frisian Islands and the Gironde River in the South of France. This was followed with main laid targets at Hamburg, Essen & Nuremburg.

On the Nuremburg mission they lost 2 engines and ditched into Pevensey Bay after running out of fuel.
After he was rescued Robert was taken to Naval Sick Quarters in Lewes, where he stayed for 2 weeks. 2 crew members died and the rest of the crew went back to the Squadron.

His letter of thanks to the Air Sea Rescue Launch captain for being saved from the crash is in the small museum at Brenzett, near New Romney in Kent, along with parts of the Stirling.

When he later returned to the Squadron he flew with Flight Lieutenant Bray.
On a mission to Mannheim they were badly shot up on the bombing run and had to make an emergency landing at West Malling in Kent. It was later discovered that they had landed with ¾ of the bombs still on board. Air Traffic Control at West Malling said that if they had realised they would have ordered them to set the plane on course for the sea and the crew would have had to bail out over land.
Further missions were made to Berlin.

The 214 Squadron formed into the 100 Group in 1943 for special operations to be carried out. Robert flew with George Mackie DFC. He finished his tour on B17's in September 1944.
He then became a Briefing Officer with Transport Command.


Sgt Robert Moorby died in January 2008

Source : Robert Moorby and Shirley Whitlock

Date record last updated : 8 August 2009
---
---
Sgt G D Morton, Royal Air Force, Nationality : United Kingdom, Date taken POW 11 June 1942, POW number 342

SEE CREWS AND LOSSES for Stirling Mark I R9326 BU-G

Imprisoned at POW camp Heydekrug (Silute), Lithuania
Imprisoned at POW camp Sagan (Zagan) & Belaria, Germany
Imprisoned at POW camp Thorn (Torun), Poland OR Oerbke (Fallingbostel), Germany - dates unknown

SEE PRISONERS OF WAR

The crew of R9326 were filmed as part of a Pathe News Gazette wartime film called 'Take it on the Chin' about the bombings raids over Germany, which they took part in. This can be viewed by visiting : http://www.britishpathe.com/record.php?id=22954

Source : Ian Tonkin and Nightjar Newsletter Summer / Autumn 2004 and "Footprints on the sands of time" by Oliver Clutton-Brock

Date record last updated : 3 October 2008
Fg/Off John Tudor 'Johnny' Mills