---
---
---
---
F/Lt J W Lucas
F/Lt W H Taylor
F/O N W Manners
F/Sgt R Jeffcock
W/O S C Hopkins
Sgt W C Heley (spelt Healey in the first entry but Heley in the next four)
F/Sgt J Parkinson
Sgt C W Pearson
Sgt J Burchell
This crew seems to be listed consistently in this order in the ORB, although it doesn't give their individual crew functions. HOWEVER, the tenth crew member (possibly the jamming equipment Special Operator?) changed a bit over the first 5 ops.
- Firstly it was Sgt J S Reid (1st op);
- then F/O W E Gronau RCAF (2nd op);
- then Sgt C Kerr (next 3 ops).
It may be that this was how the crew settled down to be (ie with Kerr).
---
---
Sgt Francis 'Frank' Godfrey 'Lucky' Truscott
, 1168521, Wireless Operator / Air Gunner, Royal Air Force Volunteer Reserve, Nationality : Canadian, KIA 28 January 1942, Aged 23
SEE CREWS AND LOSSES for Wellington Mark I C X9890 BU-F
Named on the following Memorial : Runnymede Memorial Panel 95
Born 28 June 1917
Son of Lewis Alexander Truscott and of Kate Evelyn Truscott (nee Foulds), of Toronto, Ontario, Canada.
Truscott attended Kew Beach and Norway public schools and Riverdale High. He was an active member of Kew Beach United church young men's bible class and was both a ski enthusiast, and had belonged to the Fairmount Cycle club. Prior to the war he had worked for a radiator company. He has two brothers Osmond and Jarvis, and four sisters, Mrs. Clifford Williams, Mrs. Baden Powell, Mrs. William Brown and Mrs. Harry Elmer.
See
W/O Harry Ward's memoirs for 26 January 1942
for his recollections of Sgt Francis Truscott.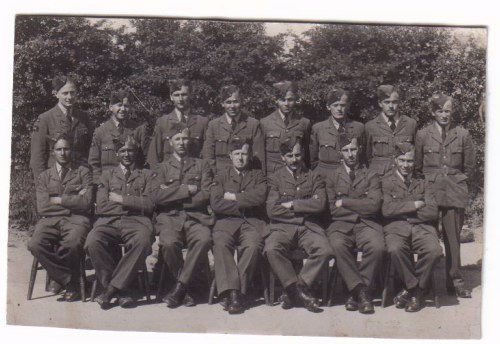 Sgt Frank Truscott back row, first on left. It is unknown where this picture was taken but it is obviously prior to his Sgt stripes and they are wearing an unusual arm patch. It is my guess it was taken at an OTU somewhere in England near or upon graduation as a Wireless Operator, note none are sporting the Air Gunners badge yet either.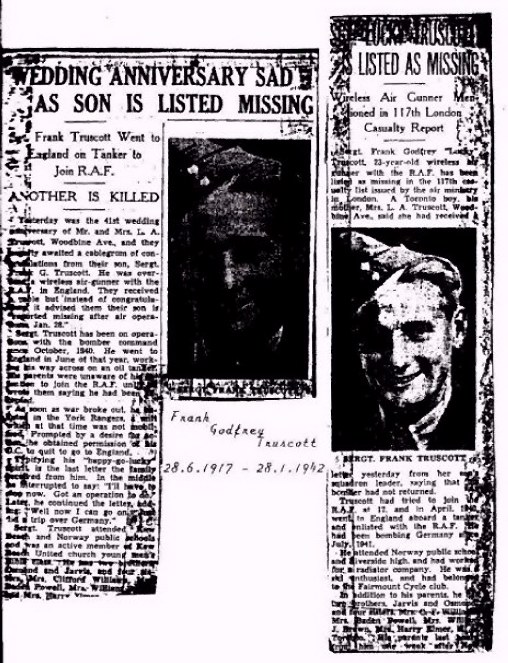 WEDDING ANNIVERSARY SAD AS SON IS LISTED MISSING
Sgt. Frank Truscott went to England on Tanker to Join R.A.F.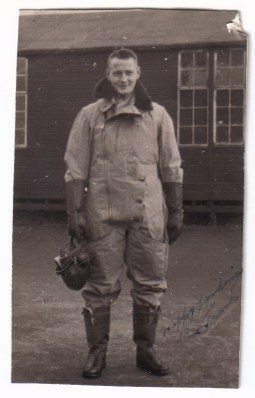 ANOTHER IS KILLED
Yesterday was the 41st wedding anniversary of Mr. And Mrs. L.A. Truscott, Woodbine Ave., and they eagerly awaited a cablegrom of congratulations from their son, Sergt. Frank G. Truscott. He was overseas, a wireless air-gunner with the R.A.F in England. They received a cable but instead of congratulations, it advised them their son is reported missing after air operations Jan. 28. Sergt Truscott has been on operations with the bomber command since October, 1940. He went to England in June of that year, working his way across on an oil tanker. His parents were unaware of his intention to join the R.A.F. Until he wrote them saying he had been accepted. As soon as war broke out, he enlisted in the York Rangers, a unit which at that time was not mobilized,. Prompted by a desire for action, he obtained permission of his O.C. To quit to go to England. Typifying his "happy-go-lucky" spirit is the last letter the family received from him. In the middle he interrupted to say: " I'll have to stop now. Got an operation to do." Later he continued the letter adding "Well now I can go on. Just did a trip over Germany."
NOTE: After quitting the Rangers, crossing the Ocean to England of his own arrangements and a year of intensive training, Frank looks justifiably proud sporting his new flight suit. The photo caption reads: Happy Landings, Love Frank. Note how much he has aged since his cadet photo at the top of his profile.
SGT. LUCKY TRUSCOTT IS LISTED AS MISSING
Wireless Air Gunner Mentioned in 117th London Casualty Report
Sergt. Frank Godfrey "Lucky" Truscott, 23-year old wireless air gunner with the R.A. F. Has been listed as missing in the 117th casualty list issued by the air ministry in London. A Toronto boy, his mother, Mrs. L.A. Truscott, Woodbine Ave., said she had received a letter yesterday from her son's squadron leader, saying that his bomber had not returned. Truscott had tried to join the R.A.F. At 17, and in April 1940 went to England aboard a tanker and enlisted with the R.A.F.. He had been bombing Germany since July 1941. He attended Norway public school and Riverdale High and had worked for a radiator company. He was a ski enthusiast, and had belonged to the Fairmount Cycle club. His parents last heard from him one week after (illegible).
Source : Andrea Muzzi of Toronto Ontario Canada. (Neice to Sgt Truscott, grandaughter of Heloise - Franks sister) and Wendy Truscott relative

Date record last updated : 8 June 2009