BASES
FELTWELL AND METHWOLD


The Station at Feltwell with it's distinctive 'C' type hangars was opened on 12th March 1937 with an establishment of Station Headquarters and two "3 Group" Bomber Squadrons (37 and 214) equipped with Harrow aircraft. No. 214 Squadron was the first unit to receive Harrows in January 1937, when the type began to replace Virginias, and by the end of that year four other squadrons had re-equipped with the new bomber: Nos 37 (Feltwell), 75 (Driffield), 115 (Marham) and 215 (Driffield). Wing Commander L.H. Slatter, OBE, DSC, DFC was the Station Commander. 214 arrived at Feltwell from Scampton on 13 April 1937 following which on April 26 1937 "B" Flight detached itself to become 37 squadron. Acording to Mr Bill Marshall of Northwold (37 Squadron electrician from 1939-1941) some electrical equipment was cannibalised from 214 in order that 37 could became operational. Both squadrons were re-equipped with Wellingtons 1A on May 6 1939 just prior to the outbreak of war. (Apparently 214 Squadron was never an operational squadron from Feltwell or Methwold)

The Commanding Officers of Nos. 37 and 214 were Wing Commanders H.V. Drew, OBE, AFC, and D.F. Luckling, respectively. Another pre-war C.O. of No. 37 Squadron was Wing Commander F.J. Fogarty, DFC, AFC. On 8 August 1939 Group Captain L.H. Slatter relinquished command of the Station to Group Captain C.O.Y. Modin, DSC.

On August 27,1939, 37 squadron became mobilized and 214, a reserve Squadron, moved to a new landing ground at nearby Methwold. Apparently a landing ground is all it was, as apart from tents and toilets, there was little else there.

William Walker of Nottingham, comments on this period: "We were issued with Wellingtons, and known as number 3 FTS. It was then that Methwold airfield opened, and one half of the Squadron moved there into tents, whilst the other half flew there daily from Feltwell to do the training , circuits and bumps mainly. The airfield at the time was exactly that, a field. On the right hand side of the opening to the field there was a wood. At certain intervals the trees in this wood were removed to form dispersal points. During our stay at Methwold, apart from this large hall in the background, there were no buildings of any description there. Trailers were used as flight offices, and at evenings, and weekends these were occupied by armed guards, and called telephone orderlies. These armed guards consisted of the tradesman servicing the aircraft. There was no such thing as the RAF regiment during those days. They were known as ground gunners, and wore khaki uniforms. At no time during my service did the RAF regiment or the ground gunners perform guard duties on aircraft. These duties were carried out by the tradesman of the aircraft in addition to their own duties". "During this time most tradesmen were training as air gunners in order to receive extra pay per day. The air gunners badge at the time was a winged bullet worn on the sleeve." He also states that around this time the new rank of Engineering officer came into being.

William goes on to give some idea of how crude the setup was at Methwold: "Of course, at this time there was no flair path as such. What we had was a vessel similar to a watering can with a long spout. Down the spout was a long Wick and the cans filled with paraffin. This Wick was ignited and the vessels alternated down each side of (so-called) runway. After a time Jerry used to get in the circuits as aircraft waited to land, and of course they became sitting ducks. They also had great fun picking off the aircraft tradesman whose additional duties consisted of lighting these flair paths, and whose job was to extinguish them during an air raid. In order to extinguish these monsters, one had to remove his field service cap and place it over the wick to douse it. Not content with being used as target practice by Jerry, the next morning, you were charged with destroying public property and made to pay for a new field service cap".

The war was on for less than a day when six crews of 37 Squadron left to attack enemy ships off Heliogen. This first operation was carried out on 15 November 1939 - a North Sea sweep against enemy shipping. They continued a series of operations against coastal and shipping targets and pamphlet dropping during the winter of 1939/40. Amongst these was the costly attack on the German Fleet in the Schillig Roads and Wilhelmshaven, from which only one Wellington, of the six dispatched returned safely.

In February 1940, No. 214 Squadron moved to Stradishall and a New Zealand Squadron was formed at Feltwell. This became No. 75 Squadron and remained on the Station until August 1942.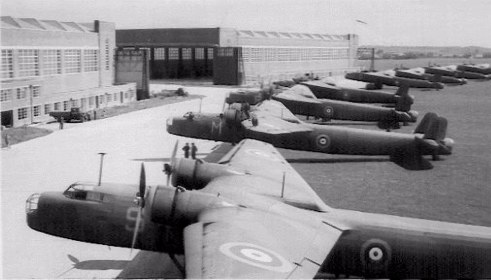 BRAND NEW HARROWS AT BRAND NEW FELTWELL EARLY 1937
Source : Great Feltwell site :http://www.garlandp.freeserve.co.uk/

RECOLLECTIONS OF BILL MARSHALL - FELTWELL / METHWOLD:

In 1939-40 Bill recalls that some aircraft were dispersed into the area behind the old mill on the other side of the Wilton Road. In addition he remembers being part of a detail to chop down some trees on the Old Methwold Road so that the planes could be dispersed properly in that area. At the time Lord Haw-Haw ** broadcast that the "Wellingtons were hiding in the trees."

No. 37 was dispersed to Methwold, not `working from'. Bill recalls a "train load of bombs being pulled by tractor up to Methwold. These were loaded onto a Wellington but it was too heavy to take off, the wheels had sunk into the ground!" Consequently Wellingtons did not fly out of Methwold whilst 37 squadron was there. This was experiment number one. Experiment number two involved loading a Wellington with bombs in a pit to minimise the risk of damage to other planes should something go wrong with the loading. Sixteen 250lb bombs were loaded but no available tractor was strong enough to pull the plane up the slope of the pit! No other choice existed but to load the planes on the airfield where they stood. This led to an accident in 1940. In Bill's words, "seven aircraft were bombed up for a Saturday night raid. Unfortunately an armourer pulled the pin of a photoflash bomb and all seven planes were damaged in the resulting explosion. The pilot of the plane was a Jock Watts. He was more upset by the loss of his mascot, a pair of boxing gloves, than by the loss of his plane."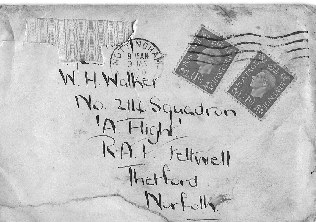 Feltwell, postmarked 9:15am January 3, 1940 (03/01/1940) Barely a month later 214 Squadron moved to Stradishall.

RECOLLECTIONS OF WILLIAM WALKER - FELTWELL / METHWOLD: "One night at Methwold, during circuits and bumps, my mate asked the CO for a flip. This was granted, and after a while we received a message from the skipper stating undercarriage trouble. No light on when lowered. We had to get all the vehicles with their lights on, plus everyone with a torch holding these aloft, while the Wimpy flew overhead in order to get an idea of what was wrong. It soon became apparent that only one leg was down, and after several attempts to lower the other one a decision had to be made whether to bale out. The CO reminded the instructor that in addition to a trainee crew, he also had a passenger, one of the tradesmen. The pilot offered to make a landing on one wheel if the remainder and the CO agreed. Everyone agreed, after several abortive attempts down he came making a perfect one wheel landing, stayed upright until she lost power, then down on one wing, the props dug into the ground, she spun around and never caught fire. My mate was an overnight hero, and the CO took him and all of the crew to the officers mess at Feltwell for a drink. It was a very skillful landing by the pilot, I don't remember whether or not he was decorated."

"Another incident that occurred at Methwold happened right at the side of me. I don't know whether it was reported in the Squadron history, but I am sure that it would be on the police records. For several nights the air gunners had been complaining that after firing a few rounds the belts were broken. Of course the armouries were blamed but it carried on. This particular night we were warming our hands around a fire, when there was a loud crack of a rifle being fired. We didn't take much notice, because there was a heck of a lot of poachers in these woods. However a soldier came running out of the woods screaming "I've shot my mate". We tried to calm him down and asked him to show us. He took us to where his mate was half in and half out of a rear turret on a Wimpy. He was in a bad way, and we carried him into the COs tent, Squadron Leader Thompson, who put him in his car to take to hospital, but he died on the way. Never did find out what had happened, but everyone hazarded a guess."

** LORD HAW HAW. American born William Joyce lived in England from 1921. In 1933 he joined the British Union of Fascists led by Sir Oswald Mosley. Attracted by Hitler's ideology, he moved to Germany in 1939 and began broadcasting Nazi propaganda from a Berlin radio station. British troops dubbed him Lord Haw Haw after a statement by Professor Arthur Lloyd James of London University, an authority on English language pronunciation, who said that he thought some BBC announcers were too 'haw, haw' in their diction. William Joyce was convicted of treason at the Old Bailey in London and hanged on January 3, 1946 (03/01/1946).



© Copyright No. 214 Squadron website and the families and contributors to the site.

All information, pictures and articles on this site, unless otherwise indicated, are the property and copyright of the families of the No. 214 Squadron collectively or of an individual member.

The use of any materials from this site for any commercial purpose whatsoever is strictly forbidden.

Privacy / Data Notice

This site was developed using