PHOTO ALBUM 4

The following are interesting photos and newspaper clippings of a general nature not specifically related to any one event or individual in particular. Neither do they particularly have to relate to the squadron. All have been kindly provided from many sources, the author or owner of which is indicated below each picture.


214 Squadron Group Photo (1941 ?)

Source : Jock Whitehouse and Sheila Byrne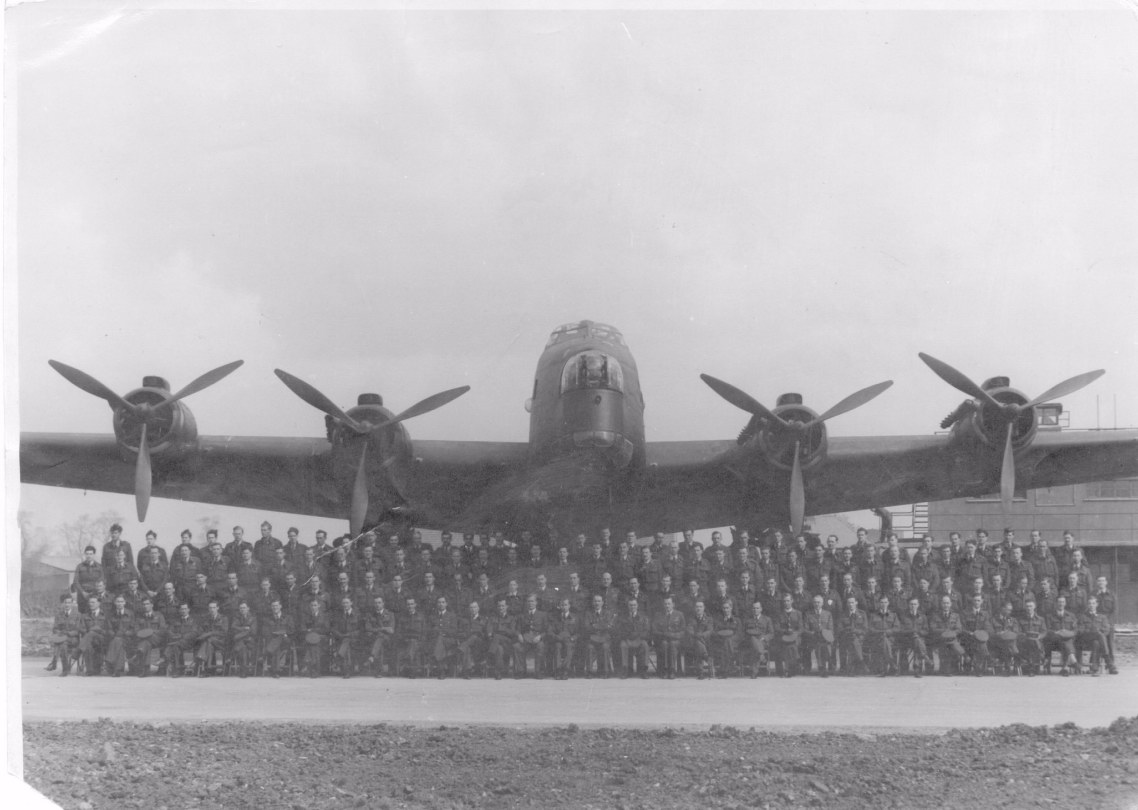 Taken at Chedburgh, Suffolk 1943 - no other details

Source : Dave Wallace (son of Flt/Lt A.C. Wallace)



The Exodus of 214 Squadron to 215 Squadron

It is little known, but the nucleus of the re-forming 215 Squadron destined for the Middle East in 1942, was to a large extent, made up from experienced crews pulled away from 214 Squadron beginning sometime in the fall of 1941 and continuing untill the spring of 1942. Among those who left 214 Squadron were some of the highest officers and seasoned crews of the Squadron. The void created on 214 Squadron was then filled by largely green crews straight from training. Although no one has done a study to determine the true impact this had on 214 Squadron, the very day one of these first groups left the squadron it experienced a tragedy of unimaginable proportions. On 01/04/1942 a group of the veterans and senior officers of 214 Squadron lifted off the runway enroute to Egypt to join the 215 Squadron in the Middle East, only hours later another group of the mostly green crews that were left on 214 Squadron lifted off from Stradishall heading to operations over Germany. Little could the first group know, but by the end of the day 41 of their former crewmates would never be comming home. Of the group that headed to Germany, 7 Wellington's and their entire crews were lost. Only one crew member of the 42 survived. Below is an exceptional and very rare photo of one of the first groups to leave 214 Squadron believed to have been taken in early April 1942.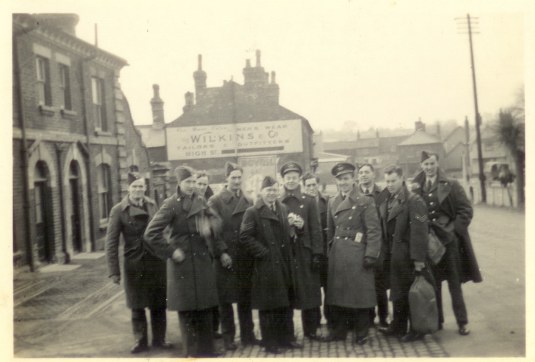 Photo Source and Copyright : Liam & FS William G Venner
This photo was taken outside Haverhill Railway Station, the nearest large station to RAF Stradishall. This has been confirmed by residents of Haverhill who Colin Burningham contacted through the local newspaper, the Haverhill Echo.

It seems fairly certain that it was taken on 11 March 1942 when 2 crews travelled to 15 OTU en route to 215 Squadron.

SEE CREWS AND LOSSES for Wellington Mark I C ??Smith
SEE CREWS AND LOSSES for Wellington (model unknown) ??Williams

The photographer was FS William Gordon Venner and four people have been confirmed as in the photograph :
Plt/Off R Fellowes , Sgt C T Enright , Sgt A N Jenkins and Sgt B G Brown.

The other crew members in this photo are believed to be :
FS J E Williams , FS C M Gills , Sgt G Hill , Sgt J A Dillow , Sgt F B Kershaw , Sgt H Smith and Plt/Off C Logan.

Source Colin Burningham and residents of Haverhill, Suffolk

In the book VOICES IN THE AIR 39/45 INCREDIBLE STORIES OF WORLD WAR 2 AIRMEN, referencing the short story, INDIAN NIGHTMARE. Ralph Fallows observer 215 Sqdn [ Winnepeg] states: "Before winter of 41/42 We had been opping with 214 Squadron in 3 Group from Stradishall East Anglia. We were used to ops against Germany but we were the first heavy bombers to arrive in India"
Although the date is not precise, 'Before Winter' would indicate that the drain from 214 Squadron went on from approx Oct/Nov 1941 to March 1942.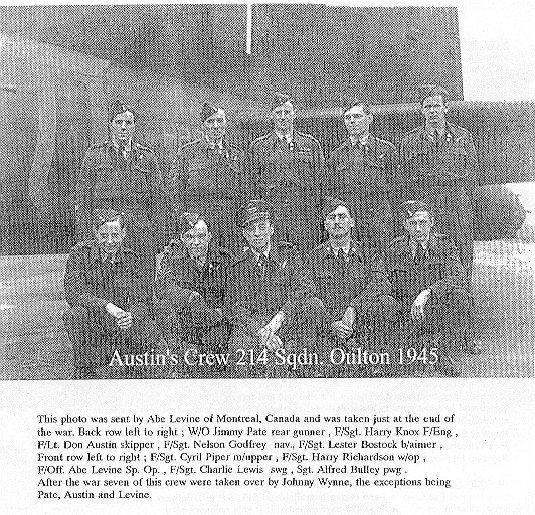 Source : Nightjar newsletter

Nice shot of a Wellington in flight belonging to 215 Squadron
taken over Punjab India

Source and Copyright : Liam and FS William G Venner



One of Canada's largest contributions to the war effort was training aircrew. They came from virtually every country and every airforce. The following is a sample of the identity card issued to new trainees arriving in Canada. RCAF Station Trenton is well inland at the start of the Ste Lawrence Seaway at the top of Lake Ontario and is accessible by ship from the Atlantic.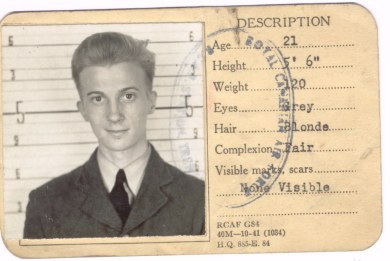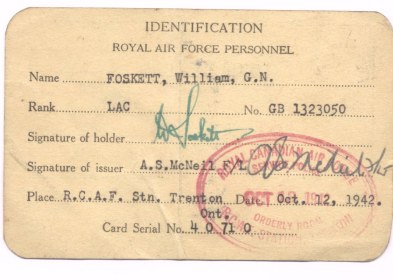 Source : Unknown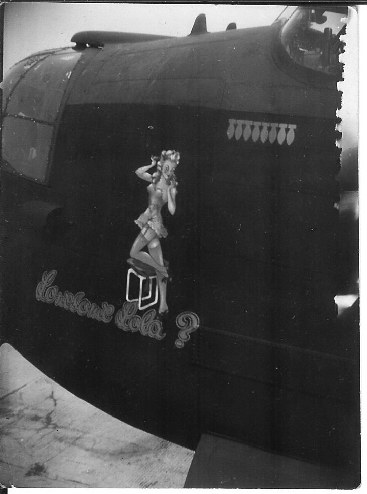 A very nice example of nose art. It is not known whose squadron this Wellington belongs to.
Lonesome Lola
This photograph was owned by our relative, Flt/Lt Sidney Clayden Matthews.
We have now discovered that Sidney was with 9 Squadron prior to serving with 214 Squadron and flew in this aircraft

Source : Carol and John Edwards

Researcher Ian Hunt passed along the following comments on the above photo: Looking at the 'photo album' pages on the site the other day I noticed in "Album 4" the photo of "Lonesome Lola". The caption says it's not known what sqn this 'Wellington' was from. My immediate observation and thus comment is that it's not actually a Wellington at all, but a Lancaster! 0/10. Then, and somewhat coincidentally, I've just picked up the latest copy of 'Flypast' magazine (September 2005's) in which there's an article about Lancaster W4964, 'WS-J' of 9 Sqn which flew 106 ops. Towards the end of the article there's a section about the raid on the Tirpitz on 15 September 1944 by 9 and 617 Sqns, in which it refers to: "9 Squadron's Sqn Ldr Pooley in 'WS-L', "Lonesome Lola". And a copy of a 9 Sqn Battle Order on the same page (albeit as at 5 October 1944), gives 'WS-L' as LL845. I'm therefore not 100% certain as there could have been two Lancs with the same name of course; and LL845 could have been lost and replaced by a new 'WS-L' between September and October '44, but maybe that's actually the true identity of the 'Wellington' in your photo: Lancaster LL845, 'WS-L', of 9 Sqn. Footnote: Regarding 'Lola', regret to have to confirm that I was right re the Lanc identity. Just after sending you the e-mail I found reference to it (and more photos) in a number of other books on Lancs and Lancaster squadrons. In fact it was rather a special aircraft as it flew 97 Ops.
Roger Audis of 9 Squadron writes:
I have researched your photograph and details and I can confirm that the photograph is Lancaster Mk1 LL845 WS"L" "Lonesome Lola" of IX Squadron based at RAF Bardney (5 Group) in Lincolnshire.
LL845 replaced Lancaster Mk111 W5010 WS"L" which failed to return from an operation to Leipzig on the 19/20th February 1944.
LL845 undertook its first operation with IX Sqn on the 15/16th March 1944 when P/O Clark and crew (including F/O Matthews) took it to Stuttgart, this was P/O Clarke's 10th operation.
The artwork on the photograph shows 8 bombs which indicates that it had carried out 8 operations, my records show that the 8th operation was carried out on the 10/11th April 1944 when Ft/Sgt Horne and crew took it to Tours. The 9th operation was carried out on the 11/12th April when P/O Clark and crew (including F/O Matthews) took it to Aachen . Assuming the art work (bombs) were added/painted after each operation the photograph must have been taken on the 11th April 1944 prior to P/O Clark undertaking the operation to Aachen. LL845 operated with IX Sqn until the end of the war.
On the 15th September 1944 S/L Pooley and crew flew it to Yagodnik in Russia for the first "Tallboy" operation against the German Battleship "Tirpitz" by IX and 617 Sqn's. W4964 WS"J" another IX Squadron Lancaster was the only aircraft to obtain a direct hit on the "Tirpitz" during this operation, this caused the Germans to take it further South to Tromso hopefully for repair, however this became within range of Lancaster's flying from a forward base in Scotland if the mid upper gunner was taken out and extra long range petrol tanks were inserted into the fuselage.
Two more "Tallboy" operations were undertaken by IX and 617 on the 29th October and finally on the 12th November 1944 when it was capsized. LL845 took part on the 29th October operation but was iced up and could not take off on the 12th November.
LL845 carried out its last wartime operation on the 25th April 1945 when F/L McIntosh and crew took it to Berchtesgaden.
On the 12th May 1945 15 IX Sqn Lancaster's including LL845 took part in Operation "Exodus", their cargo this time was not bombs but was 336 Ex POW's who were successfully repatriated to the UK.

Source : Carol and John Edwards and Ian Hunt and Roger Audis - Historian 9 Squadron Association



A Remarkable Coincidence

In one of lifes little coincidences, awhile ago I received a letter from Jennifer who had contacted me from New Zeland regarding her father and immediately afterward (in fact the very next email) I also received a letter from Kevin Green in Calgary Canada. Kevin had purchased a box of papers on Ebay, within which was a letter from a chap named F/O Baumfield written to a young lady in Canada during the war. Out of curiosity, or perhaps destiny, he decided to see if he could track down the writer and his search ultimately led him to the 214 Squadron website. Unbelievably, Fg/Off Baumfield was none other than Jennifer's father!!! What forces were at work to bring two total strangers from the absolute opposite ends of the earth together at precisely the same moment in time and precisely the same place. Sometimes truth is stranger than fiction. After an absence of sixty years the letter has now found its way back home.

Special thanks to Kevin Green for the wisdom to know this would be a treasure to the family, and for his thoughtfullness "against ridiculous odds" to try and search them out.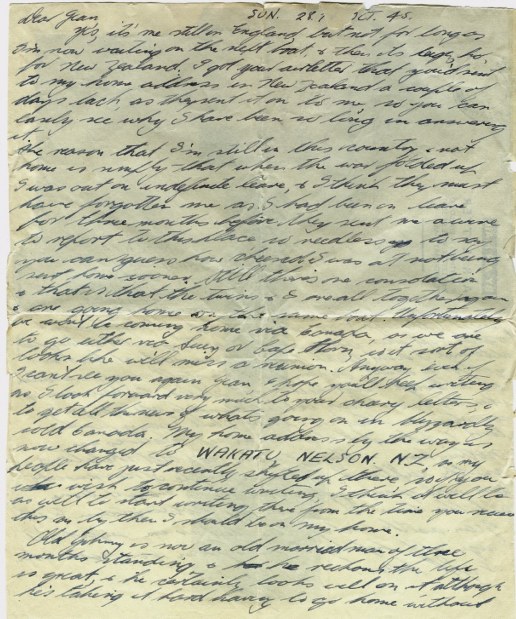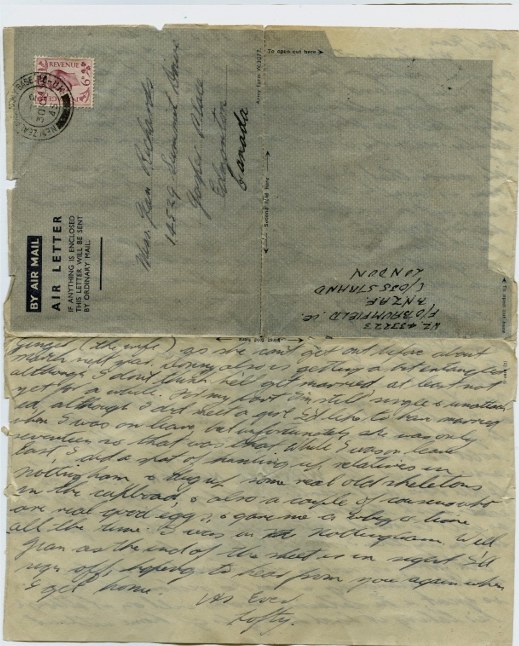 Source : Jennifer Baumfield and Kevin Green

This was taken at Pershore in February 1942, possibly after the completion of an OTU course. It is signed on the back as follows :
First crew - T E L Palmer, ??, W Edge, ?Moody, ?Webster, ??.
Second crew - H J Skelly, N Catt (on photograph but no signature), G Heath, D Hutchinson, A Hutton, J Wintrup.
Third crew - L Curtis, J Hurst, T Pearman, J Fletcher, G Littlejohn, J McLeod.

Skelly, Palmer, Heath, Littlejohn and Pearman all died in crashes.
Catt, Hutchinson, Hutton and Wintrup became POW's.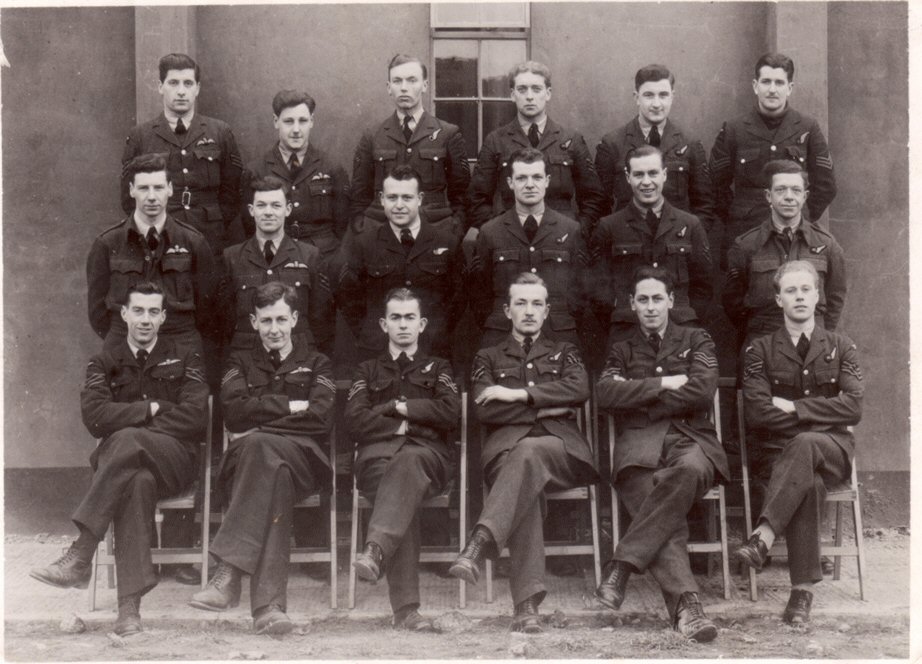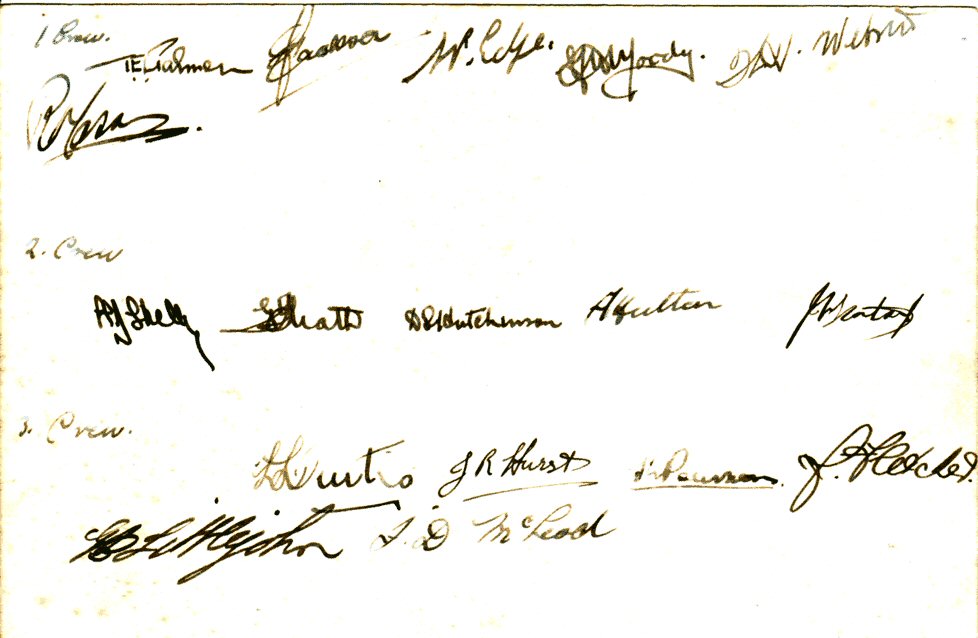 Source : Rick Catt (son of N Catt)

Avro Lincoln RF453

Source : Dave Gambold (son of John Gambold)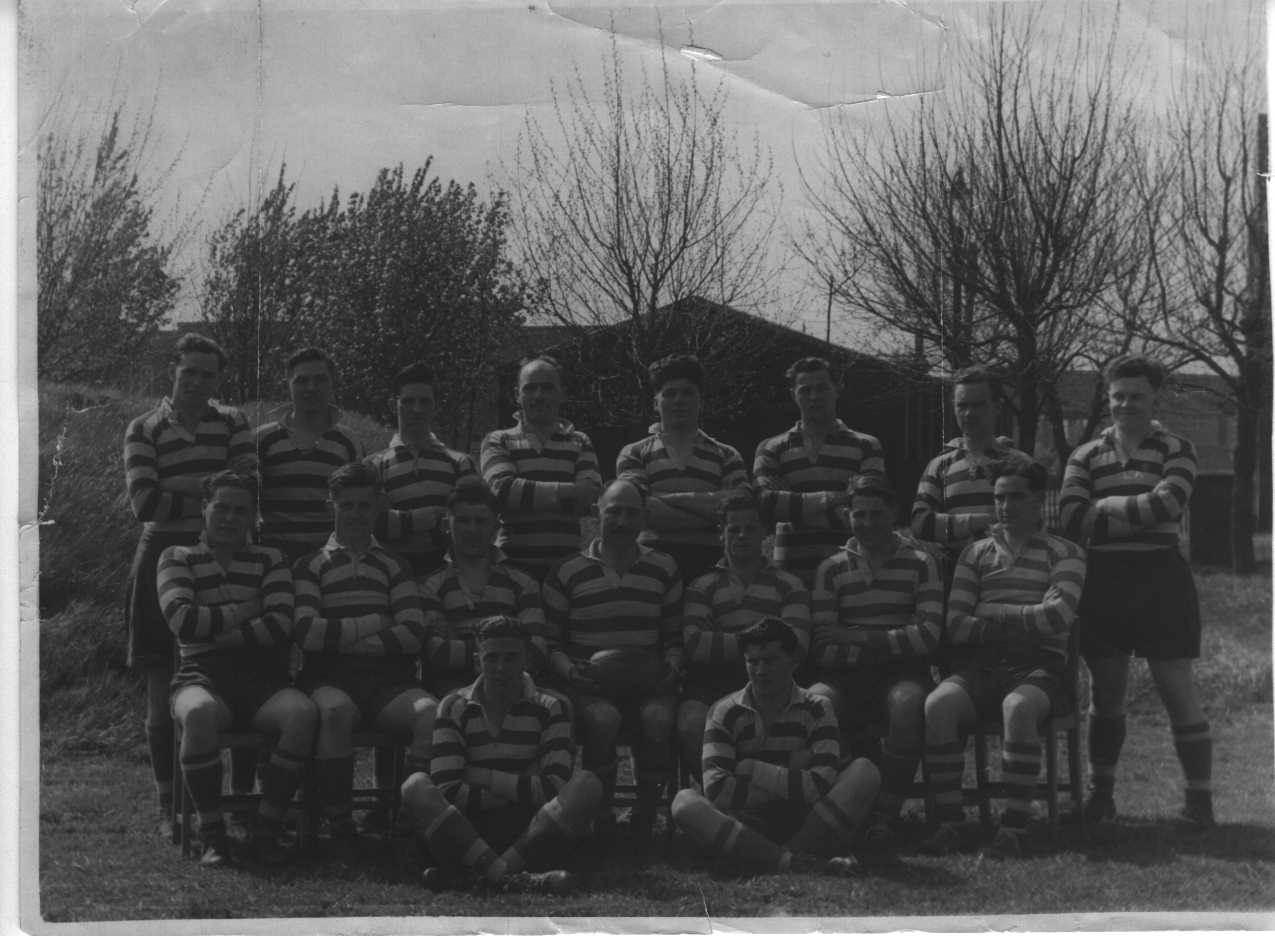 RAF Upwood Rugby team 1952
Taff Powell-Taff Lewis-Bill Low-John Gambold-Smithy-?-?-Jock Corbett-Paddy Tony Sloe-P.A.-Don Harman-Taff Howells?
Gerry Micklewright is third from the right in the middle row of the photograph

Can anyone else help with these names?

Source : Dave Gambold son of John Gambold and Ian Micklewright (son) of Gerry Micklewright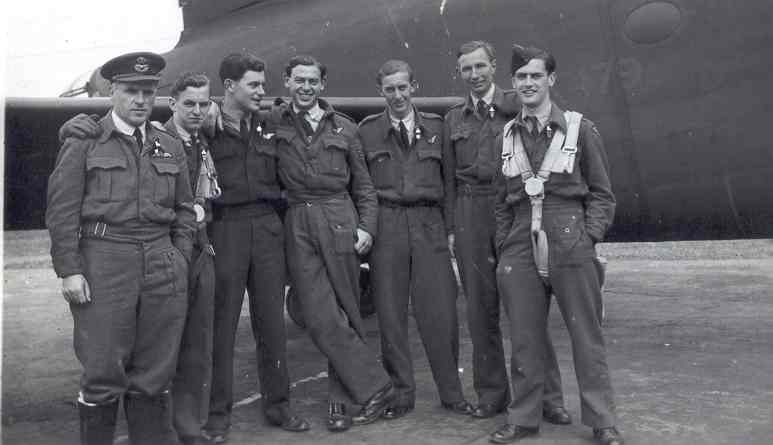 Marc Stainier and crew. Marc is first on the left and Angus Cameron is last on the right. Can anyone name the other crew members?

Source : Lt/Col Jean-Marie Stainier (son of Marc Stainier)



Nothing is known about the Photo below, anyone recognize it?





Source : Family of FS John Stelling

Murray Peden has identified a few people in the above photo, which was taken about March 1944.
In the row immediately behind the first seated row the second man from the left is the then Flt/Lt Jack Furner (later Air Vice-Marshall Furner)
Murray Peden is third from the left in the same row.
In the centre of the photo are Wing Commander Desmond McGlinn and Group Captain T.C. Dickens




The same picture as above identified as 214 Squadron personnel in front of Fortress SR386 BU-N, Oulton 1944

Source : Gerhard Heilig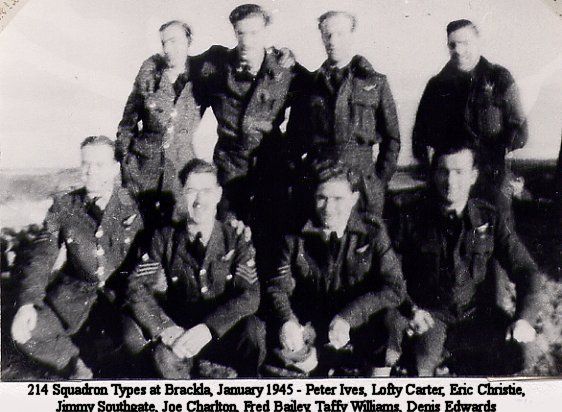 Source : Gerhard Heilig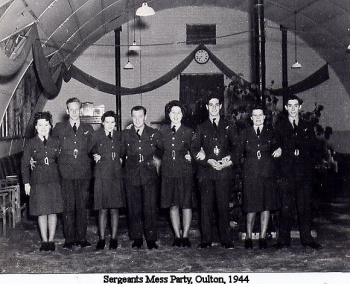 Source : Gerhard Heilig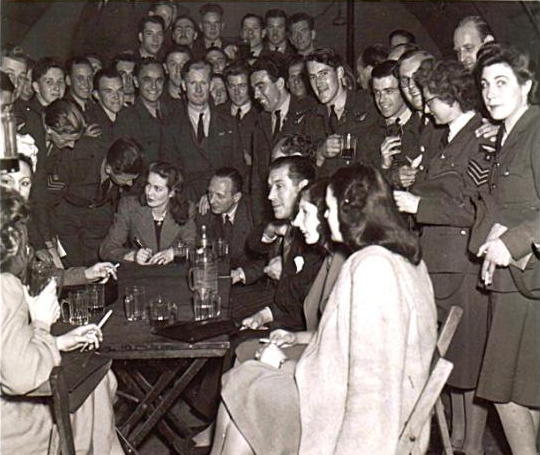 Les Bostock writes : It was the occasion of a visit to Blickling by a film crew to shoot scenes on location for the film 'The Wicked Lady'. The officers had entertained them so the sergeants not to be outdone followed suit soon after. Pat Roc one of the female leads is looking adoringly, (I wish) into my eyes as she is about to sign a crew photograph. We had quite a lengthy chat, given the circumstances. Immediately behind me is Harry Richardson and just behind him is Pip Piper, our top gunner. The remainder of the crew that were present are lost in the crowd.

Source : Les Bostock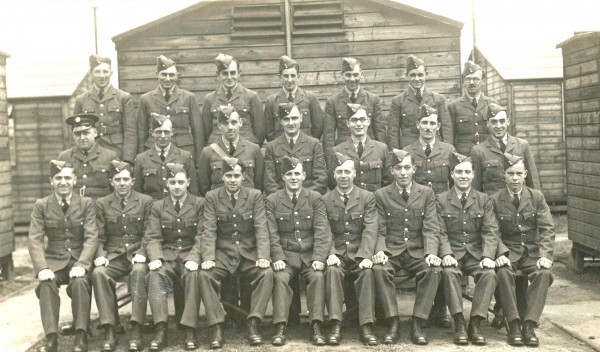 1941 Eric Cooper is third from left middle row. Does anyone recognise any one else in the photo?

Gary Troughton writes : Standing directly behind Eric Cooper (back row third from the left) is a service man who looks very much like my other late grandfather (not in 214 Squadron), Corporal Jack Troughton RAF. He mainly looked after the pigeons as well as other duties (RAF defence?).

Source : Eric Hallam and Gary Troughton (grandson of William Phillips DFM)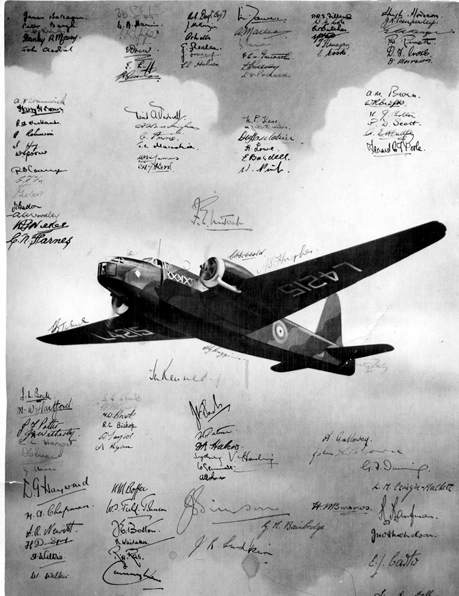 The picture of a Wellington surrounded by crew signatures above was presented to Wing Commander Nuttall, the CO of 214 Squadron when he was due to leave in August 1940. However he had to stay for another month until his replacement could take over. So, when it was finally presented to him in September 1940, the picture had the signatures of the crew of Wellington T2559, who were all killed on 30 August 1940.

Source : Kareth Paterson (daughter of Plt/Off Harold Paterson) and Sheila Scott Byrne (daughter of Wg/Cdr Peter Doig Scott)



Bylaugh Hall and War Time buildings in Norfolk - Wartime home of 100 Bomber Command Support

A wonderful collection of photographs.

Click on this link to see the pictures. Link

Source : Dave Reef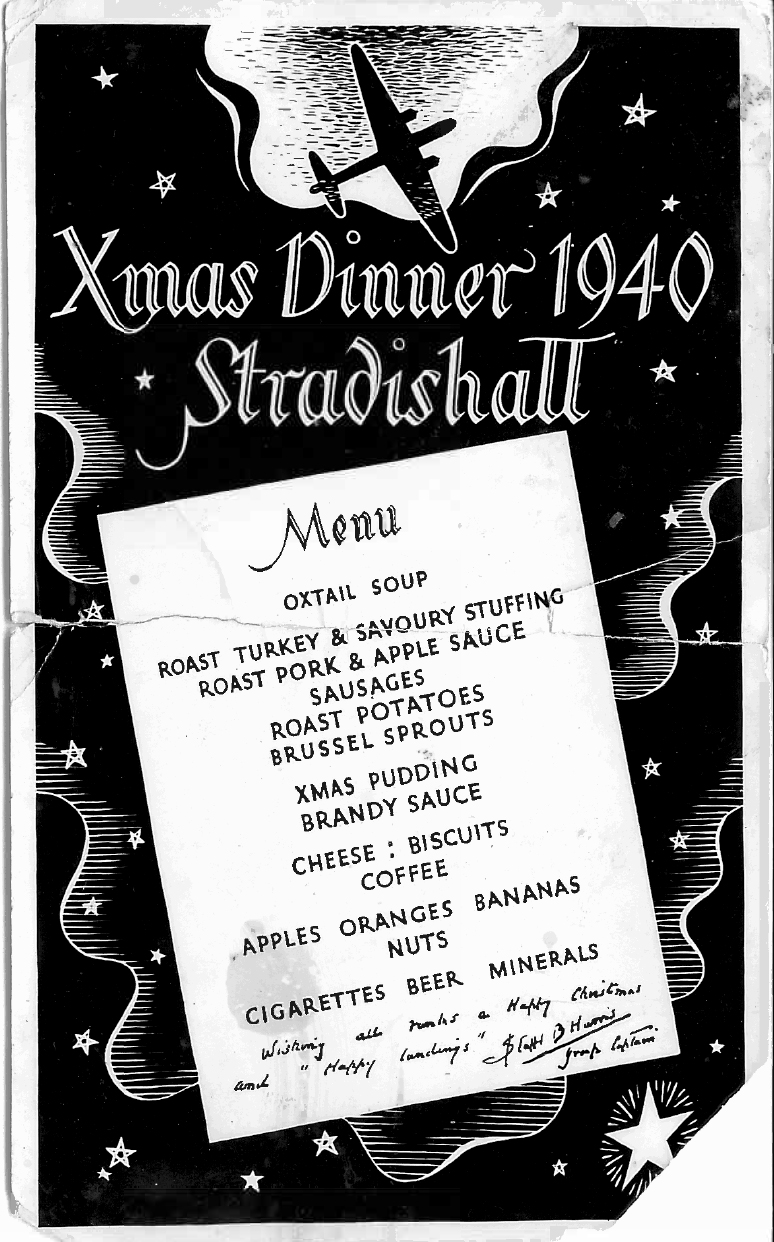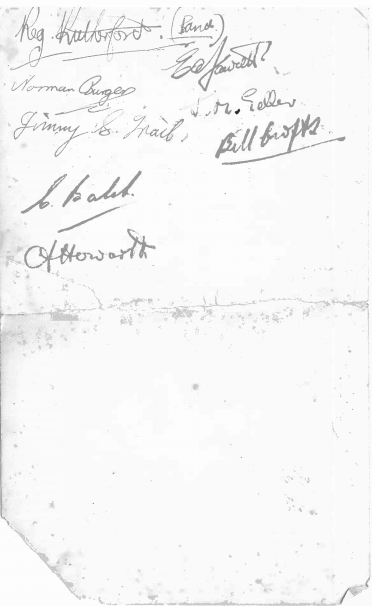 Christmas 1940 Dinner Menu from Stradishall with signatures

This is a more complete version of the one shown in Photo Album 2

Source : Kindly provided by someone who wishes to remain anonymous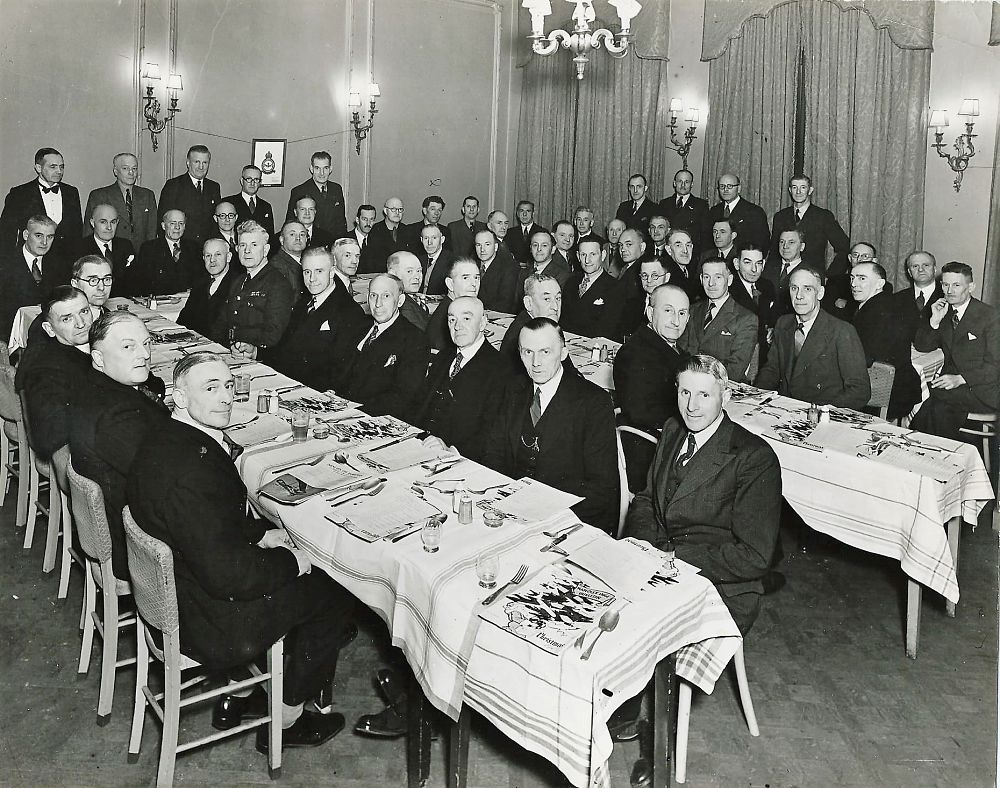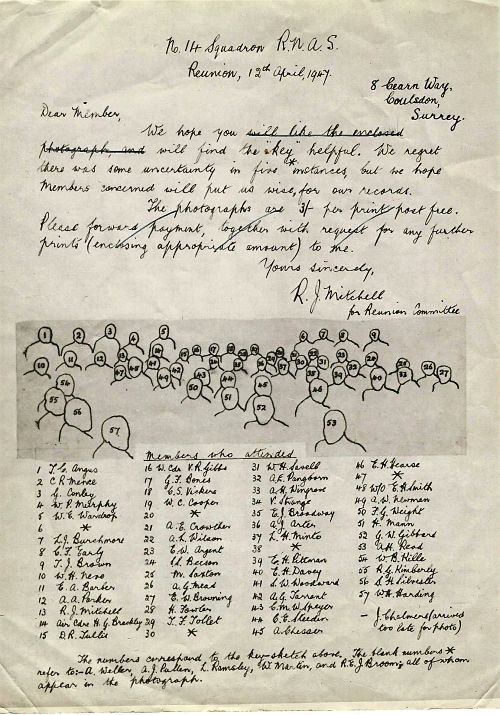 Key to the attendees shown in the picture above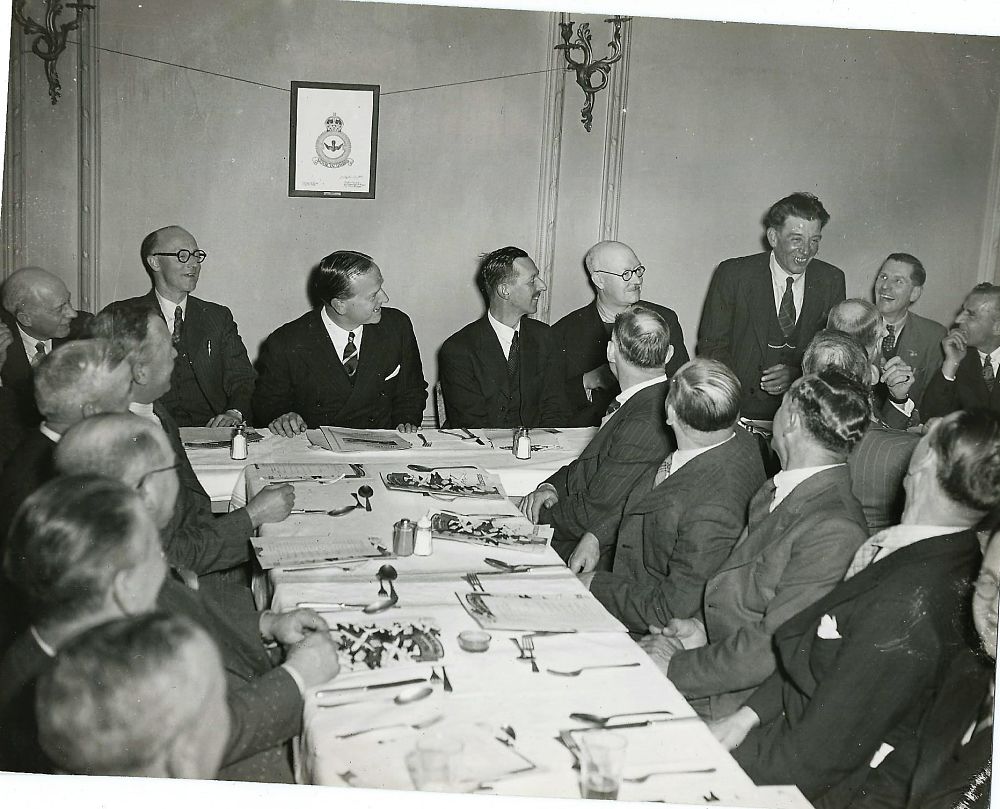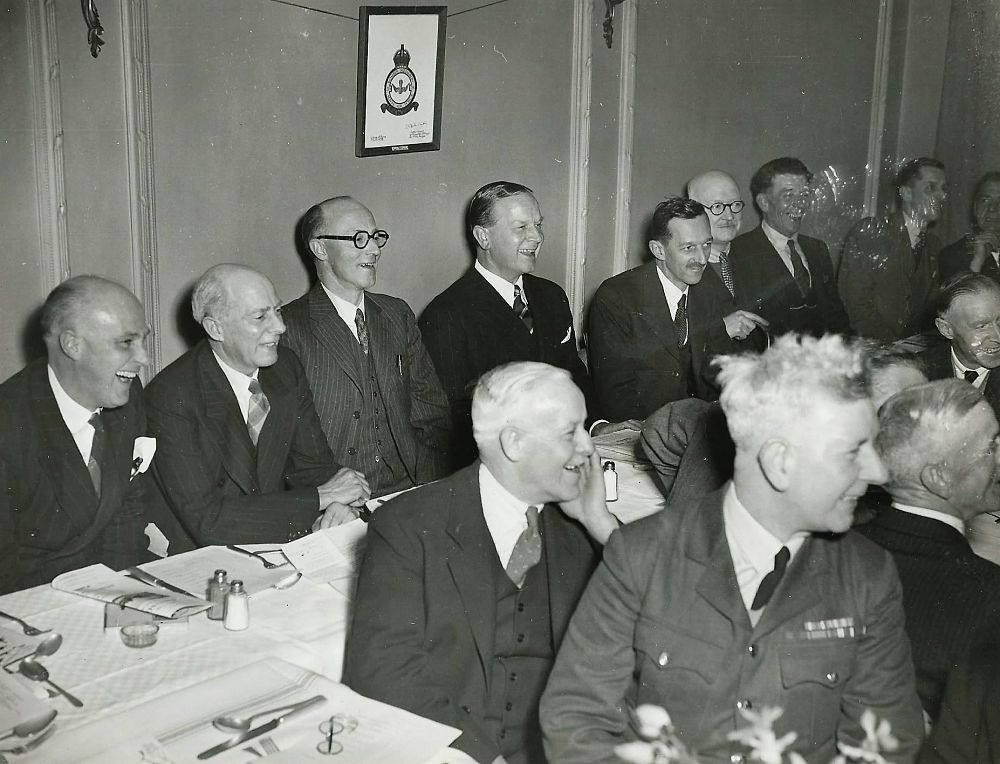 The above pictures are from the No 14 RNAS Reunion held on 12 April 1947

Source : Kindly provided by David Bones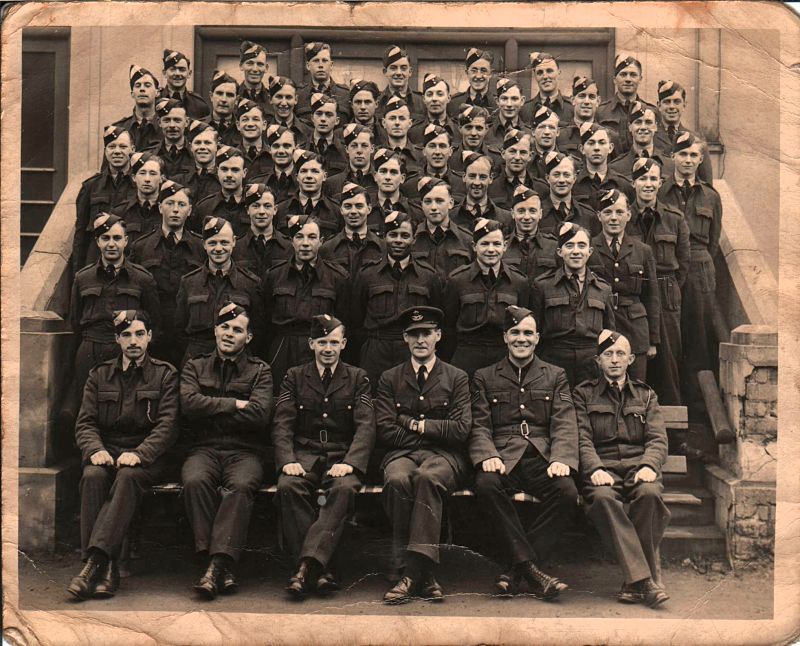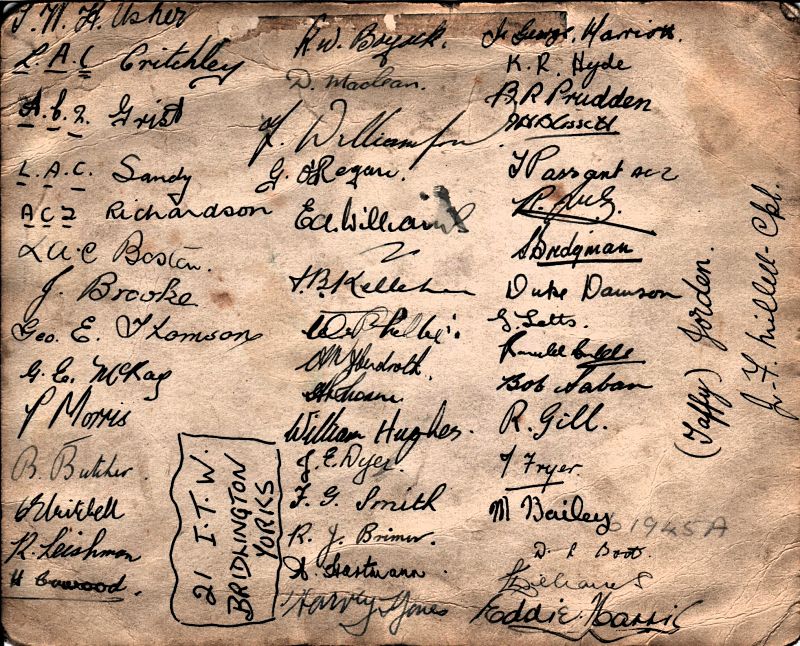 Members of ITW 21 Bridlington Yorkshire and their signatures

Source : Kindly provided by John Dixon and his Aunt Betty (relatives of Sgt Thomas Wilfred Henry Usher)



David Bones photo album (click on this link to see the pictures)

David Bones has provided the photographs above that were his Grandfather's ARM1 George F Bones
David Bones writes :
The album is full of very small photo's showing Handley Page Model 0's. There are pictures of crashed aircraft as well as at least one German aircraft. There are pictures of squadron members posing beside the aircraft as well as bomb damaged buildings. There are a few slightly larger pictures taken in flight. Looking at the history of the squadron after the war, I wonder if these were taken in Egypt as one of the pictures look like North African scenery. There is also some pictures of what is clearly St Peters Square and the Vatican. Maybe they stopped there en-route to Egypt? Would you have any info that backs this up?

Can anyone help with additional information please?

Source : Kindly provided by David Bones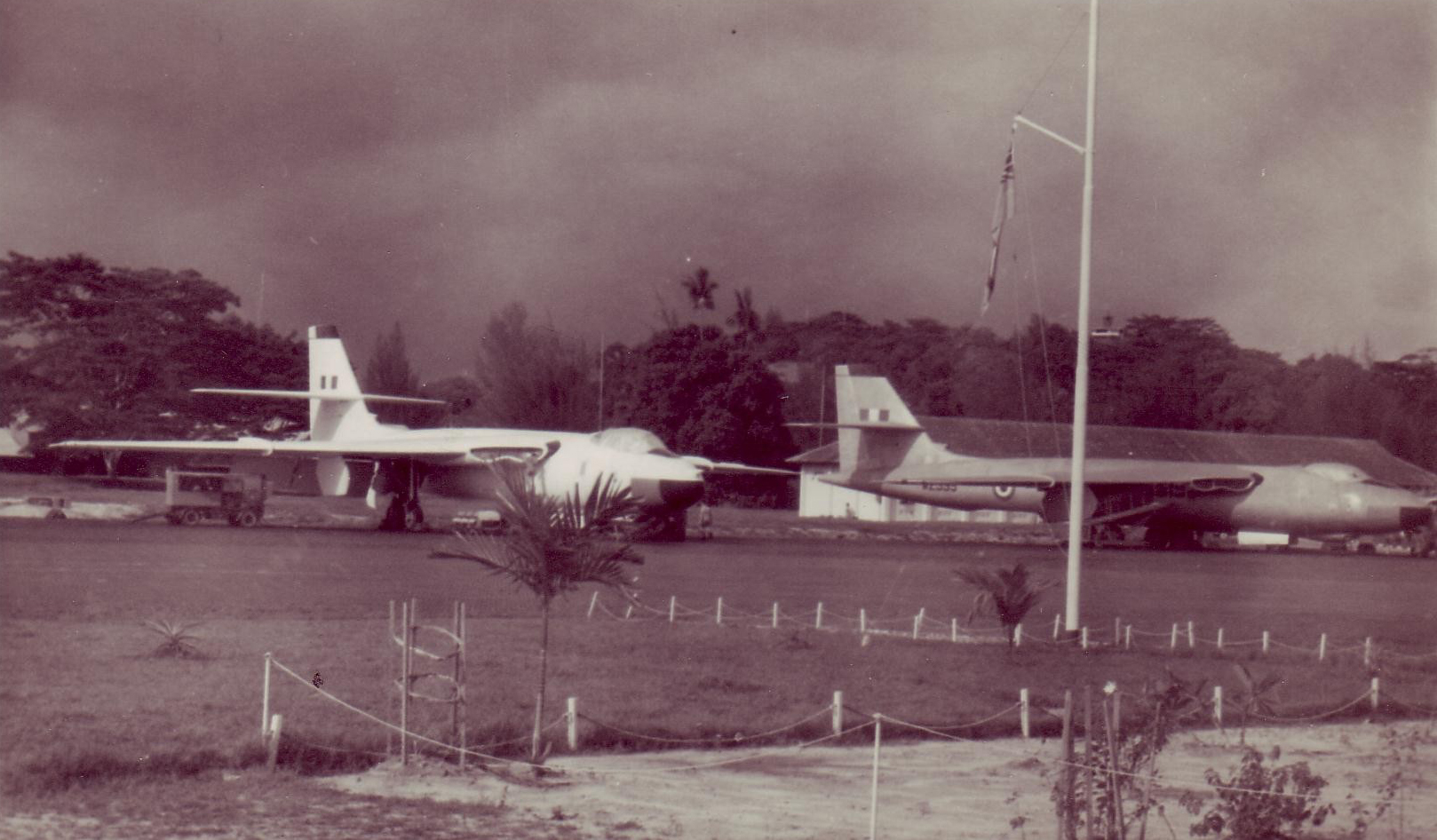 Valiant Bombers at Changi airport Singapore.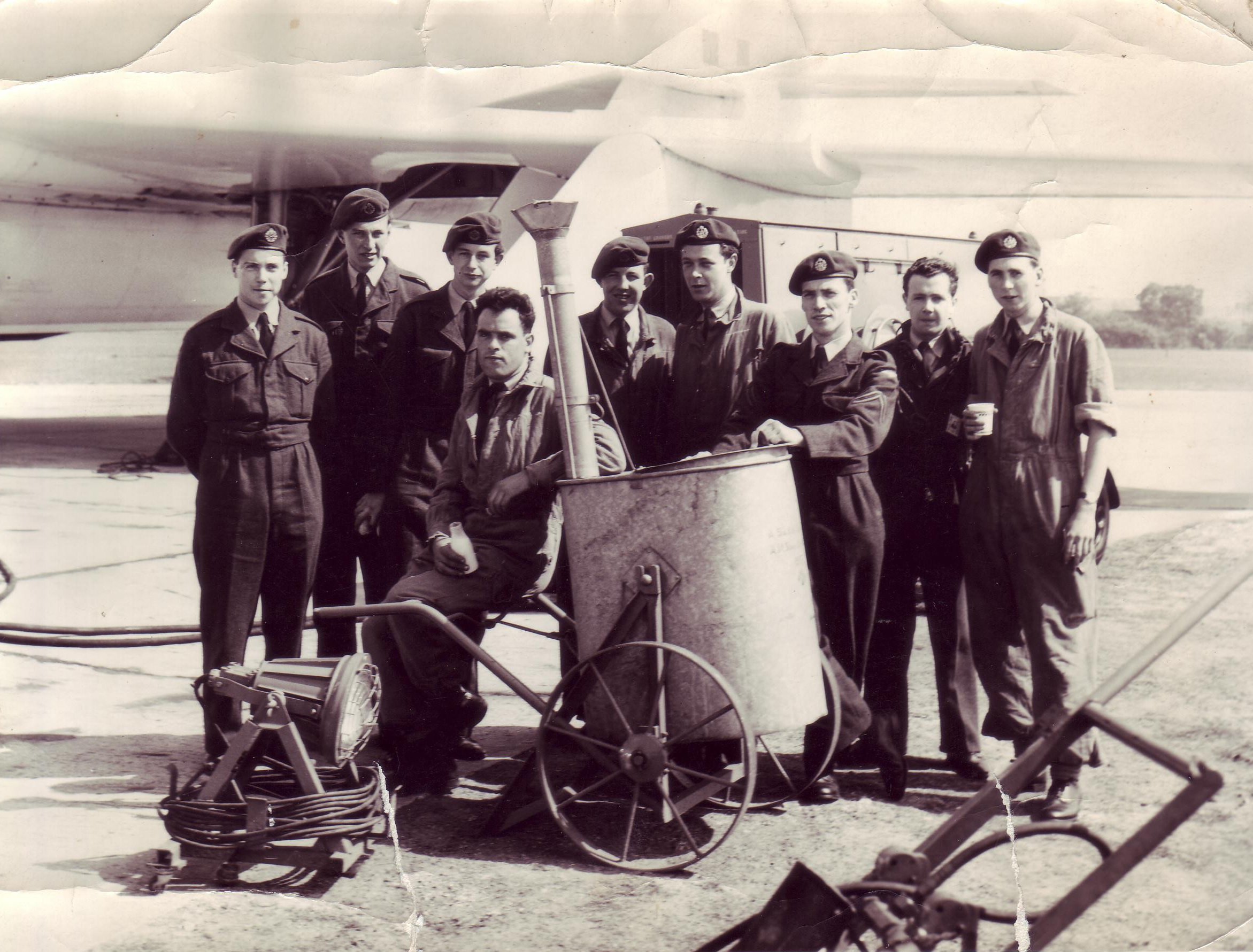 Ground Crew of the Valiant Bomber. Les Lee (with the cup) was a National Service Air Frame Mechanic with 214 Squadron in 1956

Source : Kindly provided by Les Lee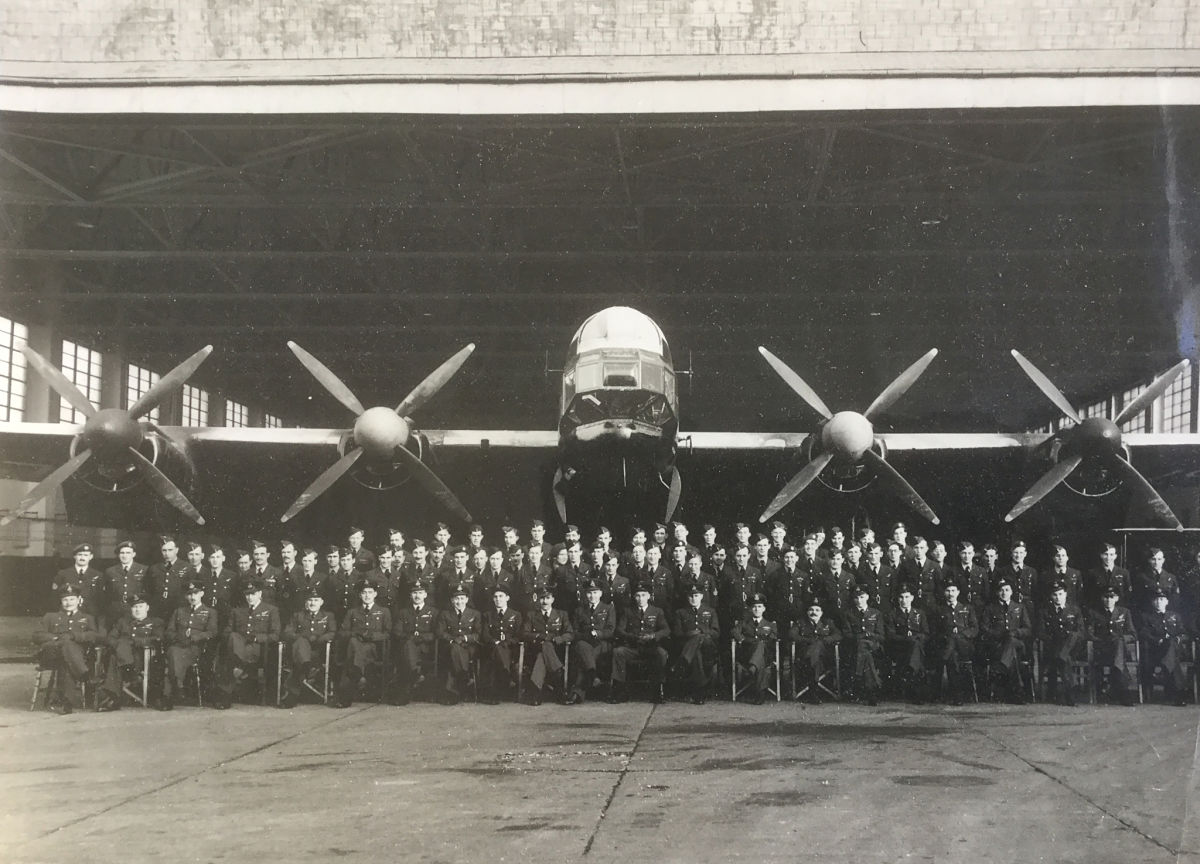 This photograph is believed to be 214 Squadron between 1950/51. Flt/Lt Frank Bentley Faulkner is 9 from the left in the front row.

Source : Max Faulkner (son of Flt/Lt Frank Bentley Faulkner)



© Copyright No. 214 Squadron website and the families and contributors to the site.

All information, pictures and articles on this site, unless otherwise indicated, are the property and copyright of the families of the No. 214 Squadron collectively or of an individual member.

The use of any materials from this site for any commercial purpose whatsoever is strictly forbidden.

Privacy / Data Notice

This site was developed using