PERSONNEL
I
To find the person that you want either scroll down the page or select them from the ranges shown below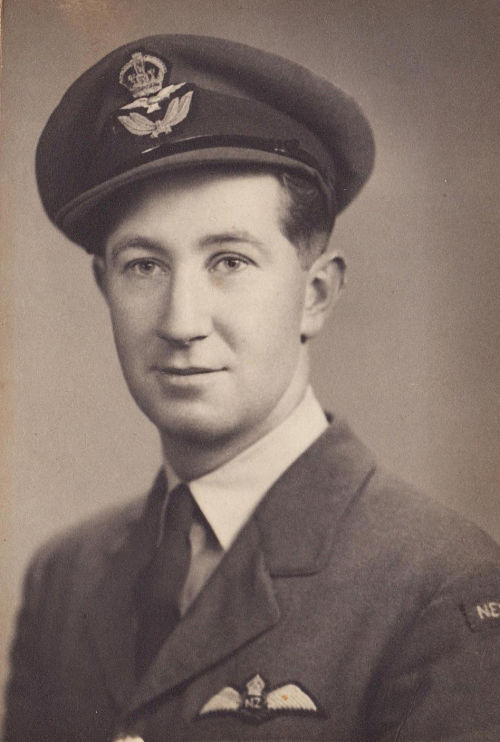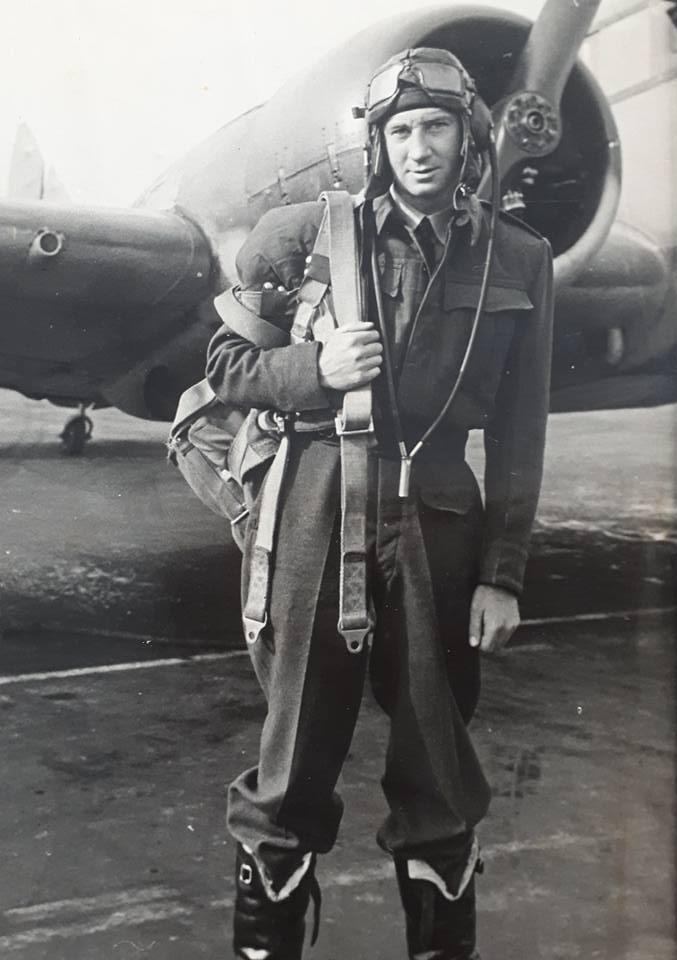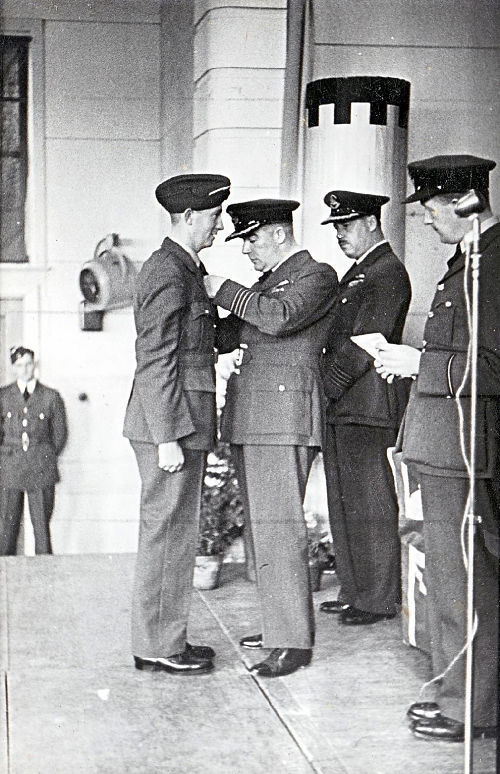 Receiving his DFC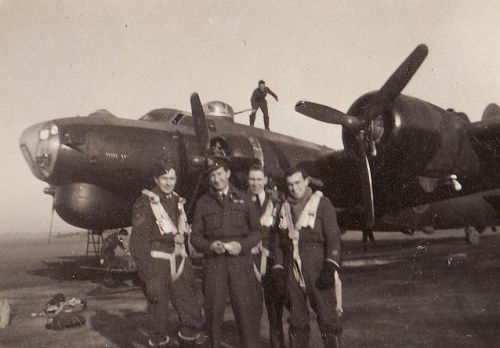 Douglas Ingham (second left) with some of his crew. Can anyone identify the other crew members?

Sqn/Ldr Douglas Alfred Ingham DFC, Pilot, Royal New Zealand Air Force, Nationality : New Zealand

SEE CREWS AND LOSSES for Flying Fortress Mark II ??Ingham BU-

The site administrators have a list of Flt/Lt Ingham's operations from 1 Nov 1944 to 17 Apr 1945. If you would like further details please contact us.

Tracy Britton writes :
My Grandfather went on after the war to own an Auckland landmark Ingham's Hardware. I grew up hearing many stories of him and his crew flying over Germany, blocking radar, putting out a fire in their engine, him passing out over Germany to awake with him crew taping his mask back onto his face and trying to revive him.

Click on this link to see Section A of the flight log of Sqn/Ldr Ingham
Click on this link to see Section B of the flight log of Sqn/Ldr Ingham

Source : John Ritchie (son of Sgt J Ritchie) and Tracey Britton (granddaughter) and Ian Hunt

Date record last updated : 30 November 2018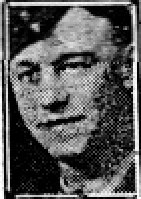 Sgt Peter Frederick Inman, 1108515, Wireless Operator / Air Gunner, Royal Air Force Volunteer Reserve, Nationality : United Kingdom, KIA 3 July 1942, Aged 20

SEE CREWS AND LOSSES for Stirling Mark I BF313 BU-T

Named on the following Memorial : Cartmel War Memorial

Born 31 July 1921

Buried in WESTERNIELAND GENERAL CEMETERY, DE MARNE. Reference : N 473

Son of Joseph Frederick and Margaret Inman, of Cartmel, Lancashire.

Peter lived in Cartmel until he joined the RAF. He attended Cartmel School and Ulverston Grammar. After leaving school he worked for Grange Motors, in the office at "Lymehurst" and booking office at Crown Hill, organising coach tours around the country and helping to run the local bus service. He also did duty as bus conductor.

Peter joined the RAF from home at Garrett Houses and went to Wilmslow and Blackpool for basic training. He was then posted to Wellesbourne-Mountford a Number 6 Group Operational Training Unit (OTU), Abingdon - 6 Group Headquarters, to Manby, Yorkshire for air-gunnery training, then Haverigg for three months, back to Abingdon and, finally to his operational base, Stradishall in Suffolk as a W O / Air Gunner.

The mission on 3 July 1942 was Sgt. Inman's 9th mission, four of them the famous 1000 bomber raids. He would have arrived back to enjoy a long, 2 month, leave.

Peter is fondly remembered locally, most people saying, "He was a nice lad, Peter." His mother died in 1966, his father in 1974. Peter's brother lives a few miles away. Joseph F. Inman was a member of the Border Regiment. He was conscripted in 1917 and won the Military Medal as a Lewis gunner in 1918.

The people of the area where Peter's aircraft came down sent a miniature Dutch flag to Cartmel, as a token of gratitude. Mr Inman places this flag on the War Memorial every Remembrance Day.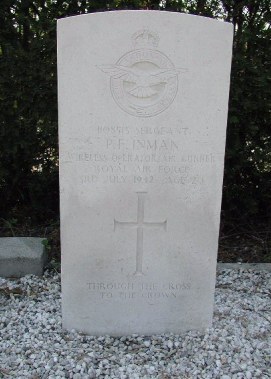 The following information regarding Peter Inman is the result of the tireless research of Howard Martin, without which, Peter's sacrifice would have been lost in time and simply another grave in another cemetery. Howard has kindly allowed me to copy this information from his site, and Peter once again can take his place among his comrades and friends.

Source : Howard Martin and Cartmel War Memorials and Priory Church website and Chorley

Date record last updated : 30 January 2017



Fg/Off Herome Alexander Innes DFC, 40227, Pilot, Royal Air Force, Nationality : United Kingdom, KIA 4 April 1940, Aged 27

SEE CREWS AND LOSSES for Wellington (model unknown) P9267

Buried in WEST ROW BAPTIST CHAPELYARD. Reference : Row 5 Grave 8

Son of Colonel Sydney Armitage Innes, D.S.O., and of Constance Edith Innes (nee Blain), of Perth.

Flying Officer Innes of Perth, Scotland, was attached to No. 149 Squadron when he died.

Source : Jock Whitehouse and Traces of WW2 website and CWGC

Date record last updated : 8 August 2011



FS R Instone, Air Gunner

SEE CREWS AND LOSSES for Wellington Mark II R1613 BU-G

Imprisoned at POW camp Heydekrug (Silute), Lithuania
Imprisoned at POW camp Lamsdorf (Lambinowice), Germany - until 1943 when it became Stalag 344
Imprisoned at POW camp Thorn (Torun), Poland OR Oerbke (Fallingbostel), Germany - dates unknown

SEE PRISONERS OF WAR

Source : "Footprints on the sands of time" by Oliver Clutton-Brock and Chorley

Date record last updated : 9 January 2017



WO A R Irvine, Wireless Operator, Royal Australian Air Force, Nationality : Australian, Date taken POW 14 March 1945, POW number Unknown

SEE CREWS AND LOSSES for Flying Fortress Mark III HB802 BU-O

SEE PRISONERS OF WAR

POW camp not known

Back in the UK on 8 May 1945

Source : "Footprints on the sands of time" by Oliver Clutton-Brock and Ian Hunt and 214 Squadron ORB

Date record last updated : 20 November 2020



Peter Ives

Named on a photograph of 214 Squadron members at Brackla, January 1945 - see Album 4

Brackla near Nairn in Invernesshire. It was the hutted camp of ACAC, Air Crew Allocation Centre, a clearing house for tour expired aircrew. In spite of heavy losses, far more had survived than could be used for further flying duties and it was quite a problem finding suitable niches for all.

Source : Gerhard Heilig

Date record last updated : 7 March 2008



© Copyright No. 214 Squadron website and the families and contributors to the site.

All information, pictures and articles on this site, unless otherwise indicated, are the property and copyright of the families of the No. 214 Squadron collectively or of an individual member.

The use of any materials from this site for any commercial purpose whatsoever is strictly forbidden.

Privacy / Data Notice

This site was developed using