PHOTO ALBUM 1

The following are interesting photos and newspaper clippings of a general nature not specifically related to any one event or individual in particular. Neither do they particularly have to relate to the squadron. All have been kindly provided from many sources, the author or owner of which is indicated below each picture.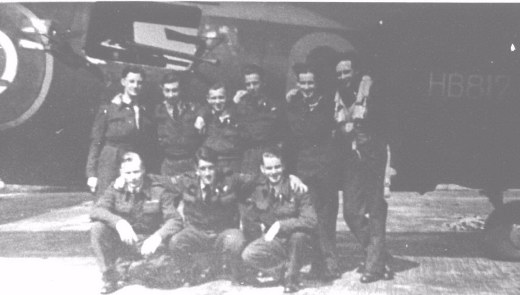 Crew of Fortress HB817 BU-B in the spring of 1945. They are Back Row Left to right Freddy Langhorn, Alan Mercer, Ted "Lofty" Baumfield, Ken "Chalky" White, Frank "Curly" Herlihy, Herbert "Smithy" Smith. Front Row Left to Right Ken Kemmett, Horace "Duke" Maddox, "Olly" Green
The final operation for the crew was also Bomber Command's last op of WWII, which was the subject of a recent book: "The Final Fling" by William J Rees.
See personal profiles of crew members for more photos.

Source : Jennifer Baumfield



The forgotten hero who saved a village
A story about Fg/Off Tom Tate and Fg/Off Norman Rix
by Wg/Cdr John Wynne DFC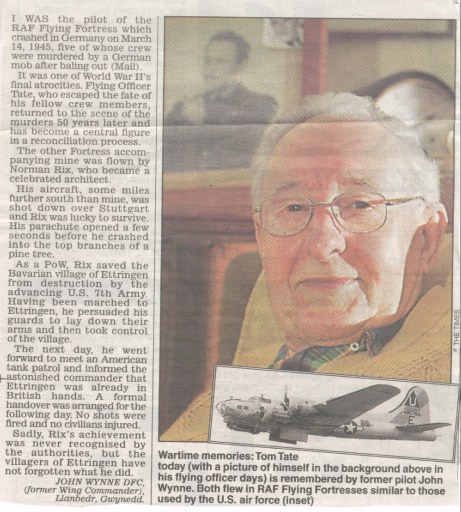 Source : Clipped from local newspaper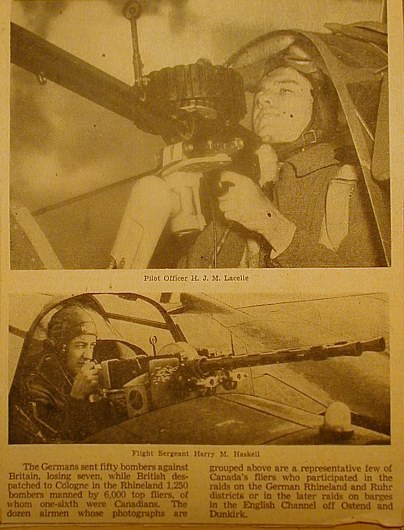 Fg/Off J.M. Lacelle and FS Harry M Haskell

Source : Flt/Lt Marshall Johnson

NOTE: The above must have been a widely distributed war propaganda picture issued by the government as I have seen this photo in numerous locations, including published books. They give a glimpse of how severely cramped it was for the gunners and it is difficult to imagine sitting in one of these turrets for hours on end and often in freezing temperatures.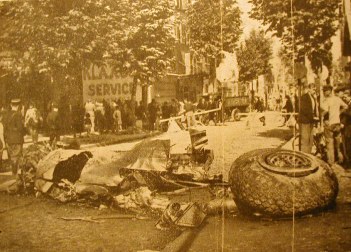 Crash of US bomber in a Paris street

Source : Flt/Lt Marshall Johnson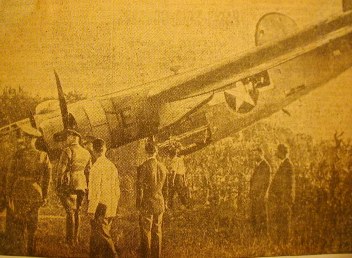 Crash of US bomber in Germany

Source : Flt/Lt Marshall Johnson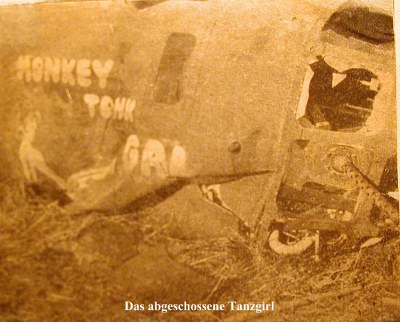 1 Aug 1943 crash of @Honkey Tonk Girl' in Germany
93 Group, 49 Squadron

Source : Flt/Lt Marshall Johnson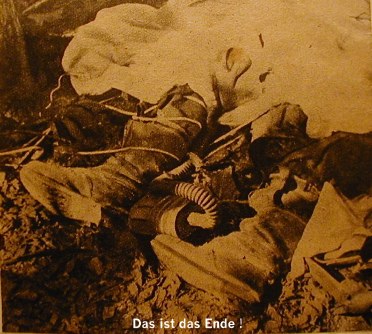 Body of crew member from 'Honkey Tonk' 'Girl'
Out of respect to the family, name is omitted

Source : Flt/Lt Marshall Johnson

The two photo's above are from a German newspaper published at the time, which was smuggled into the RAF prisoner of war camp where Marsh was held captive. The subtitles in German are the newsclip headings. I have noted, right or wrong, that the Germans seem to have had greater reservations about publishing distasteful photographs of their fallen enemy then the Allies did. In this "particular incident" they showed a rather bizarre contradictory sensitivity, in that they did not publish the victims name, purposefully took only a picture of his feet and draped a parachute over the body.



© Copyright No. 214 Squadron website and the families and contributors to the site.

All information, pictures and articles on this site, unless otherwise indicated, are the property and copyright of the families of the No. 214 Squadron collectively or of an individual member.

The use of any materials from this site for any commercial purpose whatsoever is strictly forbidden.

Privacy / Data Notice

This site was developed using